Americans in Paris Hate Trump as Much as Americans Back Home
"We're all scared," said one American expat in Paris following Monday's first debate between presidential candidates Hillary Clinton and Donald Trump. Even if the debate was broadcast at 3 a.m. during Paris Fashion Week, some Americans stayed up to watch.
---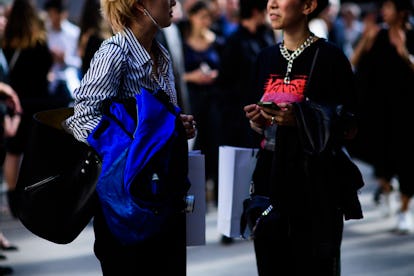 Photo by Adam Katz Sinding.
"I'll catch the highlights tomorrow," said American model Rachel Finninger, as she boarded the one-and-a-half hour flight from Milan to Paris late Monday morning. "My Facebook wall is blowing up right now."
The first presidential debate – on at 9 p.m. Eastern Standard Time on Monday – was live at 3 a.m. on Tuesday in the City of Light.
"If I was in New York, I'd definitely go to a viewing party, if I could," said the 22-year-old Dallas, Texas native, who had a full day of castings and fittings ahead. "But it's Paris Fashion Week."
Like many 20-somethings, she was "feeling the Bern," she said of her support for Bernie Sanders. "Then I was a Gary Johnson fan, but it looks like Gary isn't going to get into the debates. So now, I'm like more Hillary [Clinton] than [Donald] Trump, but it's kind of a toss up for me – not with Trump – but Hillary is probably not the candidate I would have chosen. She's probably the one I'll end up voting for, so I'm really interested in seeing the debates and how Trump behaves."
"It's one of my life regrets," said Bergdorf Goodman's Linda Fargo of missing the live presidential debate. It was Tuesday evening, as she rushed into the Jacquemus show in the Tuileries Garden. "I was flying into Paris this morning. But I've caught up on them now."
Reflections?
"I think Hillary –" she paused. "It's crystal clear to me what decision we should all make."
Tuesday night at Chez Justine in the Oberkampf area of the 11th arrondissement – the neighborhood of choice for the indie cool kids – a group of international friends were having dinner.
"I would say Hillary won," said 28-year-old Los Angeles-based Kathy Suarez, who streamed the debate from her Airbnb earlier in the day. "I think she could have done better. There were things that were brought up that she could have defended better, but at the same time, he went low. He was saying such sexist things – so patronizing. It'll be interesting to see the next one."
"Trump is just embarrassing," said Miyako Bellizzi, a 28-year-old photographer and stylist, who grew up in Oakland, California. "I'm disappointed in our country."
Bellizzi, a New Yorker of 8 years, came to Paris via Milan to experience fashion week – but also to get away.
"I was so depressed about everyone that's been getting killed," she said, referencing the continual police-involved shootings of African-Americans. "It was bringing me down. I can go to the protests and do what I can, but honestly, it's frustrating. I have long conversations with everyone at home about that. More so than I think the presidential situation, because that's so relevant to us right now. I know it's fucked up everywhere. Everywhere in the world is dealing with something, but I needed to gain perspective and come out here."
"We're all scared," she continued. "That's what everyone talks about, how scared we are for our future and what we're going to do if Trump gets elected."
Ideally, she'd stay in Paris, she said. "If not, London or back to Milan. I'd like to stay as long as possible. The one thing I've been thinking about lately is how I'm going to vote. How do you do an absentee here? I don't really have a set address. That's the one thing I'm concerned about."
Kashia Wolf-Christensen, a 27-year-old American currently living in London, has looked into the process in the UK. It took a lot of research and paperwork to arrange an absentee ballot, she said over email: "Eventually, I found a great website that walks you through it step by step. It's called usvotefoundation.org. They have an entire section dedicated to overseas voting, and I would highly recommend it."
"I'm not a huge fan of either candidate, but I would vote for Hillary a thousand times over before ever considering Trump," she shared. "Deep down, I'm still heartbroken over Bernie…Although I would give my right leg for [Barack] Obama to continue in as president."
Wolf-Christensen, originally from New York, is the retail relations manager for Capsule Tradeshow.
"It's pretty strange being oversees during the [election]," she said. "The majority of the information I get is through domestic news channels in the UK, and it's like reading and listening to it through a filter. And now I'm here dealing with the repercussions of Brexit, just holding my breath, hoping that both of my countries that I call home don't fall apart simultaneously."