Amy Adams Is a True Inspiration
The actress talks about being the face of Max Mara's new bag—and reveals her beauty secrets—at a party in New York.
---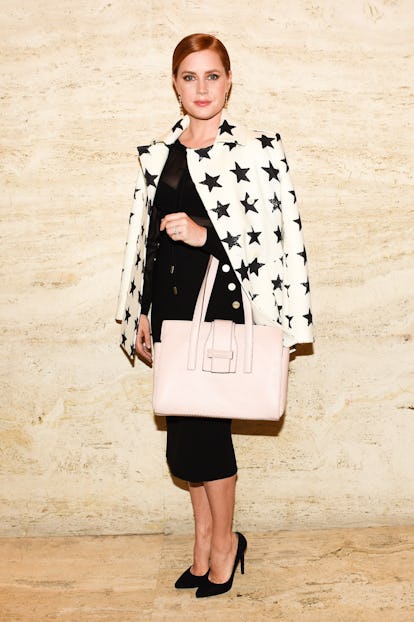 On Monday night, a stylish crowd gathered at the Four Seasons Restaurant in New York for a Max Mara's Spring 2016 accessories fete, which celebrated the launch of the Amy Adams-inspired "A" bag, and their fourth season collaborating with the actress. "She's the true Max Mara woman, both timeless and ageless – it's why we dedicated a bag to her!" exclaimed Max Mara's Worldwide President of Communications, Giorgio Guidotti. While the minimalist, structured handbag comes in a variety of hues, Adams admitted that she personally gravitates towards the soft cream pink shade, that she was carrying that evening. "I like neutrals that play with femininity. To me this shade is feminine but also very versatile which is key," she said. Here, Adams talks about why she's not a fashion designer, the secret to her perfect hairstyle, and her role in director Tom Ford's new film.
How did you collaborate with Max Mara on this project? I was in contact with their team a lot, but I was also in a mindset where I wanted to leave the experts to do their job. I've never had aspirations to design, to be honest. But they talked to me a lot about color and proportion, they asked me to think about how I live my life and what would make the most sense. Now I have a bag I can fit anything in.
What is the one thing that's always in your bag that you won't leave home without? My cell phone, hopefully! But I always bring a scarf – I tend to hate air conditioning and they're addicted to it everywhere in the states.
What is your one red carpet beauty tip? The key is a great makeup artist – I worked with a wonderful guy tonight who managed to make me look awake.
What is the one beauty product you can't live without? La Mer moisturizer. I have super dry skin so it's my go–to.
Is there a product you use in a surprising way? Yes! And I want to get the message out there. Women need to know this. Eucerin has this product called Skin Calming Body Wash, it's actually an oil, and I use it to shave –I promise you'll never get razor burn – for those who don't wax!
How did you discover that? I have hyper-sensitive skin and I ran out of soap one day, and had no shaving stuff so I used it and thought it was genius.
What is your hair secret? I leave my hair alone most of the time, but I throw it up in a bun often, like I did tonight. You have to sacrifice the blowout from time to time.
What is the key to fall style? It really all comes down to a good coat and a good pair of fall weather boots.
Tell me about your upcoming film with Tom Ford. It will be his second film since A Single Man, which came out over 6 years ago. I start shooting Wednesday and I'm ready to roll. We're shooting in Los Angeles. I've always been so intimidated by him from a fashion standpoint, he's so impeccable and has such refined tastes. I thought I'd be a mess around him. But getting to know him as an artist has been incredible.