Amy Schumer Responds to Anne Hathaway's Possible Role in the Barbie Movie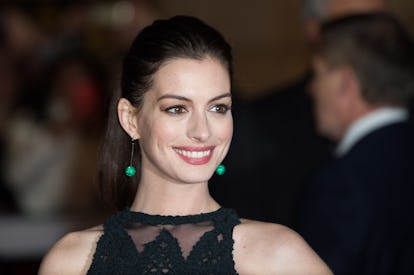 Photo: Samir Hussein/WireImage
Earlier this week, it was announced that Anne Hathaway is in talks to replace Amy Schumer as the titular Barbie in the forthcoming live-action movie. Schumer was originally slated to star in the feminist take on a beloved doll's life before dropping out in March due to "scheduling conflicts." She currently has two other films in the works, including one with Nicole Kidman.
In an official statement to Variety at the time, Schumer said, "The film has so much promise, and Sony and Mattel have been great partners. I'm bummed, but look forward to seeing Barbie on the big screen."
But never fear, Hathaway is all but officially stepping in. Schumer's recent response to the rumors of Hathaway filling the role are less polished, but just as positive. In an Instagram caption, she said, "Hathaway smathaway jkjk she's perfect!! Can't wait to see it!"
The big screen adaptation of the Mattel favorite was originally supposed to start production on June 23. But even though that date has come and gone, Sony is still sticking to the projected June 29, 2018 release. In the film, the main character is kicked out of Barbieland for not being perfect enough and lands herself in a real-world adventure—a plot that sounded very Schumer-like. Any official confirmation of Hathaway taking on the starring role (and, ahem, who will direct) has yet to be announced.
Still, we know Hathaway isn't afraid to change her look for a role, so the question is: Will she reprise her platinum blonde pixie cut?
Related: Nicole Kidman and Amy Schumer Are Making a Movie About Tug Boats and Opera
Amy Schumer and 22 other celebrities take on Drake's "Hotline Bling":
Anne Hathaway's Ever-Changing Hairstyles,From The Princess Diaries to Colossal
Attending the FOX TV Up Front Party, a young Anne Hathaway arrives fresh-faced with a swipe of mascara on the eye and a mauve lip. (1999)

Photo by Getty.
A sleek high pony with a bold berry lip and a hint of cream blush on the cheeks was the look Hathaway wore at the Nicholas Nickleby New York premiere. (2002)

Photo by Getty.
With luminous, sun-kissed skin, natural waves and glossy berry lip, Hathaway arrives at the 60th Annual Golden Globe Awards. (2003)

Photo by Getty.
Hathaway wears a hint of pink blush on her cheekbones with a stained cherry red lip at the 15th Annual Glamour "Women of the Year" Awards. (2004)

Photo by Getty.
At the 2005 Venice Film Festival premiere for Brokeback Mountain, Hathaway wears a simple, yet elegant up do with side swept bangs and a subtle cat eye.

Photo by Getty.
At the 32nd American Film Festival, Hathaway lets her natural beauty shine through with only a dusting of coral blush on the cheeks while keeping her hair in a sleek half up do. (2006)

Photo by Getty.
Wearing her newly chopped brunette locks in tousled waves with a sleek cat eye, Hathaway attends the screening of Rachel Getting Married in New York. (2008)

Photo by Getty.
Wearing her hair in a tousled up do with loose pieces framing her face and a nude satin lip, Hathaway attends the Friends Without Borders First Annual Los Angeles Gala. (2009)

Photo by Getty.
Wearing her highlighted locks in loose, romantic curls with a pink berry lip, the actress attends the 68th annual Golden Globe awards.

Photo by Getty.
Celebrating her Oscar win for her role in Les Miserables, Hathaway radiates in her ultra chic pixie paired with a light pink lip at the 85th Annual Academy Awards. (2013)

Photo by Getty.
Debuting her tousled platinum blonde pixie with a dark metallic smoky eye, Hathaway stuns at the Costume Institute Gala for the "PUNK: Chaos to Couture". (2013)

Photo by Getty.
With luminous skin, a taupe smoky eye and a satin pink lip, Hathaway glows at the Costume Institute Gala. (2014)

Photo by Getty.
Hathaway wears her dark brunette locks middle-parted in tousled curls with a dark grey smoky eye and a nude lip at the premiere of the Film Arcade & Cinedigm's Song One. (2015)

Photo by Getty.
Hathaway opts for a playful top knot with a luminous, sun-kissed skin and a glossy mauve lip at the Colossal premiere during the 2016 Toronto International Film Festival.

Photo by Getty.
At the New York premiere of Colossal, the actress wears her hair in a tousled up do with a light contour on the cheekbones and a satin mauve lip. (2017)

Photo by Getty.