Judging Amy
For comic chameleon Amy Sedaris, happiness is a custom-made fat suit.
---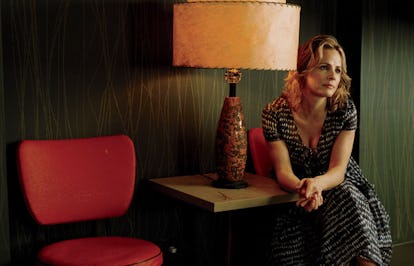 In the pantheon of high school misfits, there will always be a very special place for Jerri Blank, the wide-hipped anti-heroine of Comedy Central's cult hit Strangers With Candy. A former thief, junkie and cut-rate hooker, Jerri returns to the ninth grade for a fresh start and desperately tries to fit in with the popular crowd, despite the fact that she's in her mid-40s and has a two-inch overbite.
When it comes to Hollywood misfits, meanwhile, few can compare with Amy Sedaris, the comedian, actress and playwright who created Jerri for the TV series (which aired for three seasons beginning in 1999) and who this summer revives the character in a film of the same name. Sedaris, 45, spends much of her time in her cluttered West Village rental, where she bakes cupcakes that she sells to local cafés for $1 each, performs violent skits to disturb the neighbors who can see into her living room and writes letters to her deceased pet rabbit, Tattletale, whose ashes she keeps on a shelf above her bed. Major film roles? None to speak of, though Sedaris has stood out in about a dozen supporting parts, most recently as Mrs. Kravitz in Bewitched.
Fortunately, Sedaris possesses many attributes that Jerri doesn't—among them keen intelligence, a command of basic hygiene and, most crucially, talent. Despite her utter lack of interest in the conventional perceptions of success, she has managed to become one of the most popular girls in the high school otherwise known as show business.
"Amy is an art form unto herself," says Philip Seymour Hoffman, a longtime friend who often plays childish acting games with Sedaris in her apartment. "She's so utterly unique and shockingly funny. She's also more consistently creative than almost anyone I know."
Many people got their first taste of Sedaris's uniquely twisted humor in the autobiographical essays of her brother and occasional collaborator, David Sedaris (Naked, Me Talk Pretty One Day). Amy was the one who returned home for Christmas in a custom fat suit. (Her father, she recalls, was easily fooled: "I'd be reaching for a Christmas cookie and he'd literally slap my hand away.") Sedaris later donned the suit for the pilot of Strangers and now has five of them in her closet, alongside uniforms from previous jobs at Winn Dixie and Red Lobster.
The movie reunites Sedaris with her original collaborators Stephen Colbert and Paul Dinello, plus other friends such as Hoffman and Sarah Jessica Parker. Still, Sedaris isn't doing much to raise expectations for the film. "Well, I don't know many TV shows that became successful movies," she says. "Do you?" The show's best moments came during scenarios that were improvised on the spot—say, when Jerri waits in a Dumpster for a tryst with the school jock—but Sedaris, a veteran of famed Chicago improv troupe Second City, frets that the film's tight shooting schedule made it difficult to go off script. "We shot it in the summer, and it was really hot," she says. "And I was in a fatty suit and wig and turtleneck, so my mind was completely blank. And I'd just had dental surgery. I was stretching my stitches to do Jerri's overbite, so it wasn't really healing properly. I had a lot of setbacks, you might say."
Not that Sedaris has any intention of ever stealing an Oscar from Nicole Kidman. "I'm a clown, I'm not an actress," she says. "I can't play a real moment to save my life. I don't want to be sexy. I want to look unattractive and I want big laughs."
Even while off duty, the petite, pixieish Sedaris, who is in fact quite pretty, misses no opportunity to dress up in character. (She hates going to parties but loves working at them because it gives her a chance to play cocktail waitress.) According to her friends, the key to Sedaris's comic genius is that she takes all her endeavors extremely seriously, whether she's papering the walls of her apartment with Chinese candy wrappers or writing her upcoming hospitality cookbook, I Like You (Warner Books). "She's not doing these things so people will say, 'Oh, isn't that quirky,'" says Dinello, who directed Strangers. "She waitresses because she likes it and likes earning money from it. It's who she is."
Sedaris, who lives alone, freely admits that she has intimacy issues. "My first instinct when anything [bad] happens," she says, "is to think of something funny to protect myself." Although she has had several relationships, the latest with an imaginary, abusive Argentine boyfriend named Ricky, she is now single and has decided that's better for everyone.
"I'm always attracted to troubled people," she explains. "You know, alcoholics. People who don't want to be tied down. And that's just not going to change."