An Open Letter To Our Future Selves, by the Art Duo Ridykeulous
Artists Nicole Eisenman and A.L. Steiner, a.k.a. Ridykeulous, expand on the campaign poster they created for W's Art Issue.
---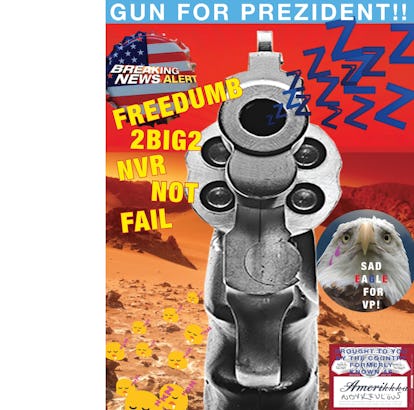 Humans, by now you're settled into your new planet after decimating the old one. Let's review: as Greenland melted and the Solomon Islands drowned, a rising throng of newfangled disaster-exploiter-supply-chain-docent-experts arose to exploit the raw-material-free-child-labor-consumerette-refugees, stumbling from the ashes of A Lepo-like pigeon cannibalizing a foie-gras infused duck. The petroleum-soaked wind beneath our wings kept us grounded on the former USS Miss Universe Pageant NavWeap, where we're currently grounded on Biosphere 3 Special Edition: Gilligan's Island Panopticon Revisited, aka our new "home" — Earth Deux. Original Edition Earth was fun while it lasted, putting aside war, slavery, historical reenactments, day-before-birth abortion, coal-rolling, genocide, pledge week, Us magazine, authoritarian militarized drone corporatocracy, shopping, deadstock, all forms of sexercise including couples yoga, halftime shows, fast fashion, life sentences for children, My Big Racist Redneck Vacation, etc… regardless of these things, it's been a good time, a practical 40-ton tractor pull out of the Dark Ages whenst burning someone at the stake seemed but a quaint microagression. Clad in our flammable tunics, we're now ready for the death-by-injection-Molotov-waterboard-cocktail, willy-nilly-shooting-of-everyone-and-anyone, of-all-of-us-by-all-of-us. What a time to be alive! The innocence of childhood can now officially be replaced by That Feeling When all carbon-based life form was finally successfully eradicated.
In a way, life on Earth Deux is simpler for our future selves. Pourqoui, you ask? The reset button has been pressed, leading us into a magical Arcadian landscape, where kittens in baskets work 80-hour days out of the goodness of their tiny fuzzy hearts; where there're capacious waterfalls of margarine-fracked brine with shallots, cornichons and an aioli drizzle, lit by brightly burning trash fires whispering, "Don't worry about toupee-touting heterosexist patriarchal fear mongering tardigrades, because your wise leaders will be whatever microbes are left after the Capitalocene!" (i.e., those who are typing similar screeds on their tiny yogurt-powered laptops, as we speak…). Where "Hello, nice to meet you" will be replaced by legitimate rape (not to be confused with 'affectionate rape') and a light pistol-whipped topping. Genus Homo Economicus will transform his beautiful self into a full-time shopper, housed inside of a recycleable Big Brown Bag, located in these rustic-modernist Pop-Up United States, approved of by retail therapists and life coaches alike. Where we all wear the Blue Vest and get locked inside the Great Warehouse of Life each night, whether we get paid or not. We've bundled our sub-prime packages and swiped our chip$ while patiently waiting for our masseuse-landlord-chauffer-handyman-Grindr-date-savior-childcare-provider-mortgage-broker to woManifest.
New Couple Alert! The right and the left are on a hot date and perpetually peaking on molly, as they clandestinely enter through the poor door and slide into home base using apartheid-laced garbage juice lube. It's a top-down policy agreed-upon by everyone because the two-party system was just simply annoying after awhile. We just need one big, bloody, violent, resounding YES WE CAN'T! We believers have come to believe in the one-party system, down to our last Cheetoh-dusted bodyhair follicle. We've suffered a traumatic polyvinylchloride carpet ride through Debateland and found ourselves – for a beautiful nanosecond of pleasure and confusion – mutually bonded with all fellow prisoner-citizens of Earth Deux in our menstrual-hormonal resignation. We endured a lot trying this democratic experiment, and now, isn't it relaxing to just let go? As the graduate class of 2017 says, embrace the full-frontal failure and never forget, it's nobody's fault!
The Art of Politics: What Happens When 15 Artists Take On the Campaign Poster
The Italian provocateur Maurizio Cattelan is best known for satirical art works that send up art history and notions of grandeur—institutional or national—such as his life-size wax effigy of Pope John Paul II downed by a meteor. For W, he created an original image suggesting the quackery threatening our most revered symbols.

Produced by Diane Solway
Nina Chanel Abney's large-scale paintings confront the social issues of the Black Lives Matter movement and the relationships between police officers and people of color. Irreverent, bold, and pop-savvy, they're layered with words and faces in a bright mash-up that recalls Matisse's cut-outs.

Photograph by Teddy Wolff. Produced by Diane Solway.
George Condo burst on the scene in the early 1980s alongside artists like Keith Haring and Jean-Michel Basquiat, helping to usher in a new age of painting that mashed up classical sources with a street-art edge. His most widely seen artwork is likely the five provocative covers he made for Kanye West's 2010 My Beautiful Dark Twisted Fantasy. He has titled his W poster All Saints All Souls Election Day…CAMPAIGN FOR FREE TIME.

All Saints All Souls Election Day…CAMPAIGN FOR FREE TIME. Produced by Diane Solway.
The Berlin-based artist duo Elmgreen & Dragset, who created the pool at Rockefeller Center in New York City this past summer and the Prada store in Marfa, Texas, explore identity, sexuality, and mortality in site-specific sculptures and works that are often tinged with dark humor. Their election poster is no different. (There's always hope, right?)

Produced by Diane Solway.
Marcel Dzama, 42, and Raymond Pettibon, 59, began collaborating in the summer of 2015, when they first swapped and completed each other's drawings. In this poster, as in their joint drawings, their styles combine so seamlessly that it's as if each artist absorbed and anticipated the approach of the other.

Oh beautiful tyranny: Courtesy David Zwirner, New York/London. Produced by Diane Solway.
Zoë Buckman and Hank Willis Thomas teamed up to produce a poster for the campaign of a powerful woman—in this case, Jemima Kirke, an artist and star of the HBO series "Girls." Here she wears rose-colored glasses made of specula to envision a brighter future. The London-born Buckman has focused on feminism in her work, while Thomas has long examined how race, class, and sexuality have been depicted in mainstream media and advertising.

Styling by Sarah Zendejas; hair by Johnny Rackleff at Marie Robinson salon; Makeup by Hiro Yonemoto for Dior at Atelier Management; Manicure by Yuko Wada for Dior at Atelier Management; lighting technician: Hai Ngo; digital technician: Marion Misilim; lighting assistant: Ben Berry; fashion assistant: Alexandra Pastore; Kirke wears Gucci top; Bodas top (underneath); (from left) Theodora Warre earring; Paige Novick earring. Produced by Diane Solway.
Founded by American artists Nicole Eisenman and A.L. Steiner, Ridykeulous mounts exhibitions and events primarily concerned with queer and feminist art. Their work uses humor to critique the art world as well as the culture more broadly. As a solo artist, Steiner has worked in performance, video, and photography to explore questions about sexuality, gender, and politics. Eisenman, best known as a painter, was the subject of a solo show earlier this year at New York's New Museum and a 2015 recipient of the MacArthur Genius Grant.

Produced by Diane Solway.
The Turner Prize–winning artist Jeremy Deller, who represented the U.K. at the 2012 Venice Biennale, creates collaborative installations and projects that have included parades and battle re-enactments. His 2001 The Battle of Orgreave, which was filmed, brought together nearly 1,000 people in a public re-enactment of a violent confrontation between miners and government forces. Here he creates a poster in the style of famed 19th-century British designer, craftsman, activist, and poet William Morris, who pioneered the Arts and Crafts movement and was also a social activist. Vote for the artist as social activist.

Vote William Morris, designed by Fraser Muggeridge Studio. Produced by Diane Solway.
Kathryn Andrews's first U.S. solo museum show, "Kathryn Andrews: Run for President," riffed on Bozo the Clown's presidential bid—something Bozo's alter ego, Larry Harmon, actually pursued in 1984. (You might say there are still imitators.) The exhibition included a mural of political-documentary photographs that invited viewers to think about how politicians, celebrities, and artists use imagery to gain and maintain power.

Produced by Diane Solway.
Moscow-born, New York-based painter Sanya Kantarovsky loves pictures—whether by the Russian masters, Western modernists, or Soviet political cartoonists—that tell stories. Drawing on a wide range of sources, his tantalizing paintings and drawings are tense with drama and dark humor.

Photograph by Adam Reich. Produced by Diane Solway.
Born in Poland and based in London, Goshka Macuga, a 2008 Turner Prize nominee, makes large-scale tapestries, sculptures, photographs, and theatrical installations that explore how art can be used to spark public debate and bring about social change. She was the subject of solo shows earlier this year at the New Museum in New York and the Prada Foundation in Milan.

Produced by Diane Solway.