Marc Jacobs Model Ana Cristina Is Addicted to Tattoos
The breakout beauty on balancing her creative pursuits, the politics of modeling, and vegan cooking.
---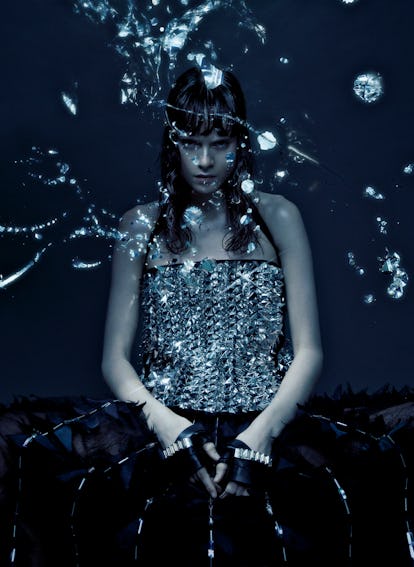 Ana Cristina always thought she'd be an engineer, a scientist, or at least work in some field related to math. But never considered being a model. Scouted around the age of 19 but wary of the industry, she worked in product research for a clothing company for a time before walking her first shows during the Spring 2016 season, nearly five years later. Since, she has appeared in shows for Marc Jacobs (her favorite, she says) and Rodarte, and continued her runway rule during the Fall 2016 shows when she walked for Lanvin, Carven, Fenty x Puma by Rihanna, and many others. In two months, she'll embark on her first couture week in Paris.
With a bold, edgy look—her eyes framed by a blunt fringe, fingers decorated with tattoos, a pierced septum—and a penchant for the grotesque, it's no wonder designers have started clambering to book her. She has the aura of a vet, despite only working two seasons, and refers to herself as a "mom" to younger models who are more at risk of exploitation, though she is also eager to acknowledge the strides being made towards legislation protecting models in the workplace. Indeed, age and weight restrictions have been passed in France and New York, and CNN recently highlighted the often unregulated labor practices in fashion.
"It's coming a long way," she said, adding that pay remains a pervasive issue — models often wait anywhere from three to nine months to receive a check for work they've done. "Things are coming to the table and that people are talking about it."
Though Cristina now models full-time, she does get the occasional day off. Between rounds of projects, she focuses on other creative pursuits: She designs jewelry, which she sells through her Instagram @thecatzpajamas (prices, though flexible, range from $30 to $120); she paints and sketches and takes photographs, posted to her Tumblr; and she's started dabbling in clothing design. By her own admission, she has a hard time sticking to one outlet — when she's bored, or frustrated, by an art, she moves on to another.
"I used to spend a lot of time outdoors, walking in the mountains or going to the desert," she said. She was based in Los Angeles for a time before decamping to Brooklyn in 2015. "I started collecting little bits of bones or feathers or anything dead on the ground that I could scavenge, and I have a lot of fun manipulating those dead things that people would see as trash or garbage or something that's gross into something that's art, that's something that you can wear."
She's also an avid (vegan) chef with a fondness for southeast Asian cuisine; the night before we spoke, she had made something she called a sushi-rito, a hybrid sushi roll-burrito stuffed with healthy fats and proteins, for herself and her boyfriend (not a vegan, but he plays along). They're also considering investing in a tattoo gun together and practicing on each other. So far, her existing tattoos have only increased her cachet — designers seem to tend towards models with a distinctive look for their runway shows of late — but she said she does get the occasional side-eye from passersby who think the symbols, drawn from astrology, tarot, and alchemy, are "culty" or "part of some creepy religion." She's holding off on getting any more for now ("the addiction is real," she said), but she's by no means finished. Consider it a work in progress.
After we spoke, the model-artist offered up her minimalist beauty secrets, revealing her apparently deep, deep love of baby tomatoes and her DIY workout routine, and the unexpected outcome of an attempted spa-cation.
Your look in three words: Mildly offensive thrift.
Never leave the house without: A sketchbook.
Beauty from the inside out: I love eating tomatoes.
Exercise regime: Lethargic living room dance cardio.
Snack of choice: Baby tomatoes.
Beauty essentials: Vitamin E oil and rosehip oil.
Favorite hair professional: My bed and my boyfriend.
Pharmacy find: Sometimes Duane Reade's got cheap tomatoes.
In-tub must-read: The Big Lebowski.
Spa-cation at: The only time I've been to a spa, my mom, sister, and I ended up at a Harvard Anesthesiology grad party.
Dream destination: Colombia.
Always in your suitcase: Watercolors.
Fragrance of choice: Pheromones.
Best advice from mom: Never promise anything.
Beauty icon: Prince, because omg Prince. Swoon.
Watch W's most popular videos here:
Photos: Marc Jacobs Model Ana Cristina Is Addicted to Tattoos
Chanel jacket, $10,950, and skirt, $9,400, Chanel stores, 800.550.0005; Off-White c/o Virgil Abloh turtleneck, price upon request, off—white.com.
Photo by Bryan Huynh, styled by Jimi Urquiaga.
Chanel top and skirt, prices upon request, Chanel stores, 800.550.0005; Louis Vuitton gloves, price upon request, louisvuitton.com.
Photo by Bryan Huynh, styled by Jimi Urquiaga.
Lanvin dress, $7,750, Lanvin, New York, 646.439.0380.
Photo by Bryan Huynh, styled by Jimi Urquiaga. Hair by Tim Aylward, makeup by Sophie Haig. Model: Ana Cristina at NY Model Management. Photo Editor: Biel Parklee.
Hair by Tim Aylward, makeup by Sophie Haig. Model: Ana Cristina at NY Model Management. Photo Editor: Biel Parklee.