From Kendall Jenner to Cindy Crawford, Anastasia Soare Knows Good Brows
She dishes on the secrets to Kardashian-Jenner brows.
---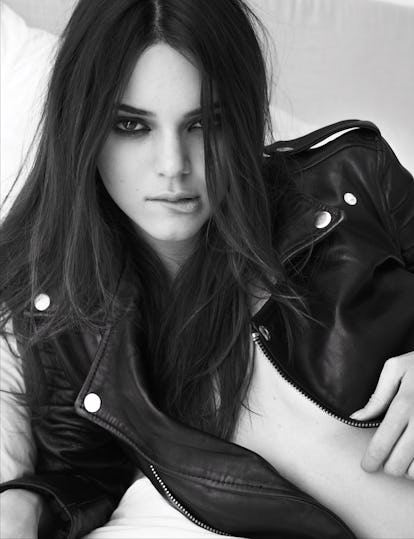 With a Beverly Hills salon and an endless list of high-profile clients, "Anastasia Beverly Hills" is practically synonymous with "good brows." Founder and chief executive officer Anastasia Soare has tended the hairs of everyone from Cindy Crawford to Kendall Jenner and launched product after product for her loyal cult following. Just after launching her Contour Cream Kits and ahead of the debut of a new Brow Definer (mark your calendar—it's out in January), Soare reveals why it takes her two hours to get ready.
What was your first beauty memory? I was five. I remember watching my mother have her nails and hair done at the beauty salon she used to go to in Romania. She ran her own business with my father and worked six days a week, so on Sundays, her only day off, she'd bring me with her to the salon as a way to spend time with me while simultaneously getting all of her treatments done. I was mesmerized by the beauty world from an early age.
What was your worst beauty blunder? I always joke about how as a teenager, I plucked my brows so much, they were super thin and round. I looked surprised all the time!
Who has the best eyebrows right now? What I like most about brows is that they're unique to your own face. So there is no real "best," just what's best for your particular face. That being said, I really love all my clients' brows, especially Kendall Jenner's. I'm always thrilled to see her beautiful face and gorgeous brows in all the magazines.
Kendall isn't the only Kardashian-Jenner who is a fan of you and your products. What's the secret to getting Kardashian-worthy brows? Good genes! The Kardashian-Jenner girls are blessed with thick, dark brows and beautiful bone structure, so it's hard to go wrong! I do enhance them, of course, with Dipbrow Pomade and Clear Brow Gel. With thick brows, you need to make sure they stay in place so you're always photo-ready.
What is your personal morning beauty routine? It takes me two hours to get ready every morning and I love every minute of it! First, I work out. I exercise 5-6 times a week beginning at 7 a.m. Afterwards, I shower and take my time picking out my outfit. I love fashion and putting my clothes together. Then I blow dry and curl my hair and apply makeup. I wear everything – foundation, concealer, contour cream, blush, shadow, Liquid Lipstick, and even false lashes if I'm going somewhere fancy!
What products are always in your purse? I always have at least a few tubes of ABH Liquid Lipsticks so I can change up my look depending on my schedule. I also love Grether's Pastilles mints, and usually have a few tins inside my bag. And, of course, I never go anywhere without my tweezers. I've had to whip them out at the most unexpected times!
What is your ultimate beauty pet peeve? Uneven, misshapen brows. I'll feel an urge to fix them if I'm speaking to someone who has them.
What are you currently obsessed with? Snapchat! It's so fun. I'm completely addicted.
You can follow Soare at @ABHcosmetics.