André 3000 Says He Understands Kanye West's Fashion Rants Because He Lost Millions with Benjamin Bixby Line
"All of it was me. My own money."
---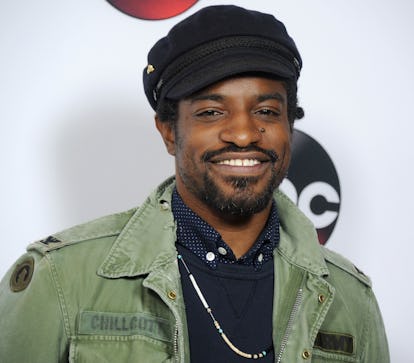 Gregg DeGuire/WireImage
Committed OutKast fans will remember that back in the late aughts, André 3000 turned his love of fashion into a short-lived career with the preppy ready-to-wear line Benjamin Bixby. While, with that move, André 3000 opened the door for his peers to create their own clothing brands — like Kanye West's DONDA and, later, Yeezy line — he wasn't able to keep it afloat for long. But, as the rapper born André Benjamin revealed over the weekend in a panel at ComplexCon, he has no regrets.
"I️ knew the next time I️ got into fashion or design [after OutKast's clothing line] it'd be something I️ really love," he told the audience. "The reason I️ took that route was because hip-hop had this image of 'we don't wear these types of things' and I️ knew we wore different clothes. So Benjamin Bixby was my personal way of trying to say, 'This is how we do it.' The clothes I was trying to make were all my sketches and designs. I was like, 'Let me take this. Let me not get an investor.' So all of it was me. My own money. Unfortunately, I️ lost millions, to be honest. It was an expensive lesson. But I can tell you, it was the best times, the best lessons in my life about my self and creating things."
One of the lessons Benjamin learned is that it's much harder to create and fund a line as an individual than with financial backing, a point that Kanye West has made repeatedly over the years — especially throughout his Yeezy tour — which André 3000 can empathize with. "Because I️ was so against how people looked in hip-hop looked, I went really hard trying to prove that we didn't," he said. 'So in doing that, I kind of shunned — I️ didn't do parties we didn't have a website. I just wanted to prove to everyone that this was for real. I was going to Paris to fabric showrooms. I️ remember we were in Hong Kong, and I was there working for a month, and I️ saw a flyer for a performance that was N.E.R.D. and Kanye West. So I went to the show and I saw Kanye and Pharrell backstage. They were like, 'What you doing here?' And I️ was like, 'I'm trying to make this clothing thing happen.' Now when I️ see Kanye and Pharrell killing it, they've both opened doors. It's a beautiful thing. Kanye is passionate about what he's doing. Now when I see Kanye rant I totally understand. If you lose millions trying to do it, it's a funny thing."
In André 3000's conversation, he also revealed a long-running mystery of how and why he became featured on Kanye West's The Life of Pablo track "30 Hours" without a verse. As it turns out, it's actually his harmonizing vocals in the background, but the rapper had gone into the collaboration with the intention of laying down a verse. The problem was he never got inspired to do so. "Sometimes people send me records — like great, great names — and I actually want to get on the song but I'll try to write to it and it just don't work. It's not a factory like Coca-Cola," he said of his process. "It has to feel a certain way. [That happened recently with his contribution for The Life of Pablo.] Kanye was like come to the studio so I️ went to the studio and we were all sitting around listening to a song that I ended up not being on, which it says I'm featured on. I did a background vocal thing and people were expecting a verse and I️ was expecting a verse too. I️ tried to write to it. I tried a few different ideas and it just didn't work. I️ never did a song for Pablo. Kanye records everything in his house so I️ was just harmonizing and he actually put it on the record."
These days, Benjamin is more focused on his film career, as it was recently announced that he would be co-starring in Claire Denis' debut English-language film High Life, a sci-fi thriller with Robert Pattinson and Juliette Binoche. "In music it's a total personal thing," he said of the difference between the two art forms. "I'm the writer director the actor. Music stars me. In film It's me surrendering myself to a whole crew of people. You have a job. You wake up at this time and have to be here and I️ actually enjoy that. Sometimes being at someone else's will actually makes great things. Great magic happens when you collaborate. I️ recently just finished a sci-fi movie with Claire Denis and we'd sit around and say what crime did your character commit? It's that collaboration of, 'What is your character thinking?'" The film is slated to debut in 2018.
Related: Kanye West, Uncensored and Unfiltered, on the Fashion Industry: "I Wouldn't Say Anyone is On My Side"