Robert Pattinson and André 3000 Are Co-Starring in Sci-Fi Film High Life
And they're headed to space.
---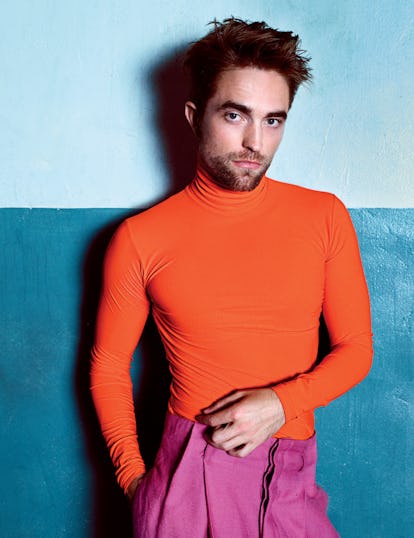 Photographs by Mario Sorrenti. Styled by George Cortina.
Robert Pattinson has been a vampire, a wizard and, most recently, a car wash employee, but for his latest role the chameleon actor will be headed into space. Pattinson will be co-starring in the English language feature-length debut film from cult director Claire Denis, and he'll be joined by some very familiar faces. André Benjamin, better known as one-half of OutKast aka André 3000, will be appearing alongside Pattinson as the pair trade in jail sentences for a mission to a black hole, Variety reports.
Dubbed High Life, the sci-fi thriller has all of the makings of a buzz-worthy project. Aside from Pattinson and Benjamin's involvement, it will also feature actress and Prada fragrance model Mia Goth, French actress Juliette Binoche, and Lars Eidinger, Agata Buzek, Ewan Mitchell, Jessie Ross, and Claire Tran. Not to mention, visual artist Olafur Eliasson will play a role in the film as well as the designer of the black hole Pattinson and Benjamin travel to.
The project marks the first time Pattinson and Benjamin will be working together, though considering the British actor is a renowned music fan (and musician), they'll have plenty of things to talk about in between takes. Pattinson hinted at the project in his recent W cover story, saying, "I'm finally doing this movie with Claire Denis in the summer. She is just one of my heroes. It's taken three years to get together. I met her over three years ago. I just wanted to work with her. And the meeting went surprisingly well. It's in English. But I think it's her first fully-English movie. It's a sci-fi movie, but it's incredibly strange in lots of ways and difficult and not that cheap."
It will be interesting to see how Pattinson prepares for the difficult role, given his recent experimentation with method acting. For Good Time, Pattinson revealed that he not only worked at a car wash, he spent a day in character as well. "Just for a day until Benny started pulling off people's windscreen wipers and stuff, and we were like, it's actually committing crimes," he said of the duration he worked at the car wash. "But we spent a few days in character and we spent a whole day in Yonkers, just kind of talking to this guy in a, in a mechanic's [shop]. So that was fun. I've never done anything like it, where you just kind of full-on go in character, to spend an entire day in character. We did it a few times."
Read his full cover story here.
Related: Robert Pattinson Explains How His Iconic Photo With Beyoncé and Death Grips Came to Be
Robert Pattinson Tells the Story of His First Kiss: