Angelina Jolie Looks Nearly Unrecognizable as a Blonde in New Film Come Away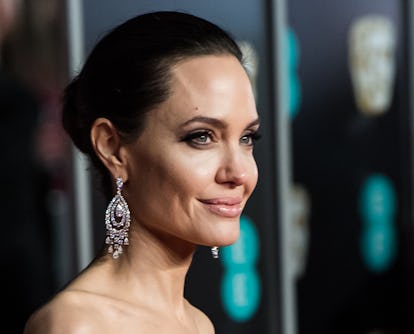 Samir Hussein
Angelina Jolie is no stranger to changing up her look, so it isn't surprising that her latest movie role has taken her hair color in a new direction.
The actress's look was revealed in a group selfie posted by costar David Oyelowo from her latest film, Come Away. In the photo, posted on Instagram, Jolie is seen flaunting a loosely pinned blonde wig in a long-sleeve Victorian black dress. The hair color itself seems to pay homage to Jolie's Oscar-winning role in Girl, Interrupted.
"Our film COME AWAY is now in the can! Can't wait to share this magical reimagining of Alice in Wonderland and Peter Pan with you all," Oyelowo wrote on Instagram.
In September, fans got a first look at her make-under, clad in a period-piece costume featuring a long, army-green skirt and a white blouse. According to Deadline, Come Away is set to be a prequel to Peter Pan and Alice in Wonderland, chronicling the titular characters before their films. In the film, which takes place before Peter goes to Neverland and Alice ends up in Wonderland, Jolie and Oyelowo will portray Peter and Alice's parents, who are coping with the death of their oldest son.
Come Away isn't the only fantasy film in Jolie's queue. The 42-year-old actress is also set to star in Maleficent 2 with Elle Fanning and Michelle Pfeiffer in 2020. The movie serves as the sequel to the 2014 blockbuster Maleficent, which follows Maleficent and Aurora as they join forces to protect the realm and all its inhabitants.
Jolie's last onscreen role was in 2015's By the Sea, alongside ex-husband Brad Pitt.