Angelina Jolie Talks Privilege and Family While Accepting Humanitarian Award From United Nations
"We've been led to believe that international institutions and treaties, commitments on human rights built over generations, are a straightjacket upon the interests of individual countries. "
---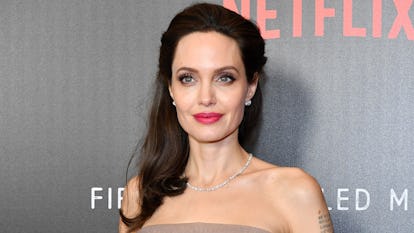 Dia Dipasupil/Getty Images
On Friday, December 15, Angelina Jolie attended the 2017 U.N. Correspondents Association Awards at the Cipriani Wall Street, where the actress and humanitarian received an award honoring her years of work bringing attention and aid to refugees around the world. She took her children Pax, Knox, Zahara and Shiloh with her to the event.
In a black strapless gown, Jolie looked elegant, glamorous and dignified receiving her honor. In her acceptance speech, Jolie mentioned her coworkers at the UNHRC (United Nations Human Rights Council), saying, "I remember many of our field visits and I learned so much from you," and thanked the correspondents for their efforts. "I want to thank and honor the staff who routinely serve under difficult conditions and every kind of danger because they believe in and value every refugee life," she said.
In a humble and self-aware moment, Jolie recognized that due to her privilege and the fact that she's just part of a team, she's able to pursue other projects and have a family outside her work with the UN, whereas many of her female colleagues "have been unable to have a family because of the dangerous places they have worked for years on end and the sacrifices they have made."
Reflecting on her identity as a global citizen and the work of the UN in today's world, Jolie eloquently put into words what so many of us should keep in mind:
"It is being suggested by some people today that to consider yourself a global citizen is to care less for your country, to be insufficiently patriotic. We've been led to believe that international institutions and treaties, commitments on human rights built over generations, are a straightjacket upon the interests of individual countries. As if the only way for any nation to rise is at the expense of others. like everyone here, I love my own country. I am proud to be American. But I also feel a sense of responsibility towards all other people all around the world fighting for the freedoms that we are very lucky to have secured years ago. And for me, this is what it means to be a citizen of the world: seeing yourself in the struggles of others."
Related: Angelina Jolie Calls for an End to Sexual Violence Around the World
Cara Delevingne, Kate Hudson, Angelina Jolie and More Actresses Who Have Cut Their Hair for Hollywood
To play the '70s and '80s supermodel Gia Carangi in the HBO TV film Gia, actress Angelina Jolie cut her dark hair into a shorter style.

Photo by Getty.
After shaving her hair for her role in V for Vendetta, actress Natalie Portman paired her buzz cut with taupe smoky eye and a nude lip on the red carpet.

Photo by Getty.
Anne Hathaway chopped off her long, brunette hair for her role in the musical Les Misérables, and won an Oscar.

Photo by Getty.
Actress Tilda Swinton went completely bald for her role in Doctor Strange, but let her hair grow back in stages.

Photo by Getty.
Attending theComic-Con International 2013, actress Karen Gillian debuts her buzzed cut that shaved her head for her role in Guardians of The Galaxy.

Photo by Getty.
South African beauty Charlize Theron went short for her role in the film Mad Max: Fury Road.

Photo by Getty.
Model and actress Cara Delevingne debuted her newly shaved head as she prepares for her role in her upcoming film Life in a Year.

Photo by Splash News
Kate Hudson gets into character for her role in her new film with singer Sia, debuting her recently shaved head.

Photo by Backgrid.