Angourie Rice Is Hollywood's Next Great Australian Star
The 17-year-old Ladies in Black actress on her rising star and her "first time" with Ryan Gosling.
---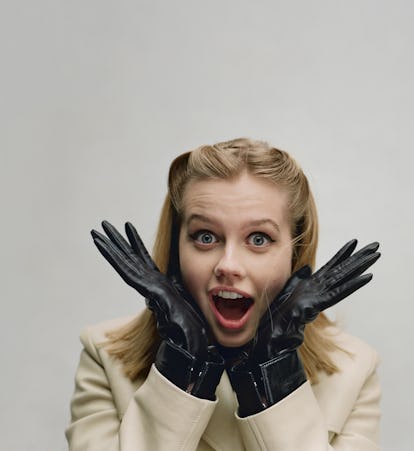 Photograph by Theo Wenner; Styled by Sara Moonves Hair by Didier Malige for Rene Furterer at Art Partner; Makeup by Aaron de Mey at Art Partner; Photography Assistants: Michael Didyoung, Justin Leveritt, Xavier Muniz; Fashion Assistants: Allia Alliata di Montereale, Mariana Suplicy; Tailor: Leah Huntsinger at Christy Rilling Studio; Production Assistant: Michael Beckert.
Rare is the woman whose "my first time" story involves Ryan Gosling. "I shared my very first Pop-Tart with Ryan," recalls the 17-year-old Australian actress Angourie Rice, who played Gosling's precocious tween daughter in the 2016 action comedy The Nice Guys. "We were hanging out in our characters' house kitchen, and there were Pop-Tarts and I never had one before. So he put it in a toaster, but I only ate half of it because I thought it was a bit gross."
When The Nice Guys, which costarred Russell Crowe and Margaret Qualley and was directed by Shane Black, screened at the Grand Palais at the Cannes Film Festival in 2016, Rice emerged as the film's breakout star. "Roles were different after that movie," she says. "Directors knew who I was."
Rice's rapid ascent was no accident, however. She starred in her first short film at the age of six and her first feature film at 11—a precocity she attributes to her playwright mother and theater-director father, who would bring her to his rehearsals after school and encourage her acting pursuits.
Since her breakthrough in The Nice Guys, Rice has turned up in such critical and commercial hits as Sofia Coppola's The Beguiled (as the hypersensitive Miss Jane) and Spiderman: Homecoming (as Betty Brant, the straight-A high school classmate of Peter Parker's crush). "I was really excited," Rice says of the blockbuster casting. "But also nervous because Marvel is such a huge universe." Earlier this year, she also starred in Everyday, based on David Levithan's best-selling novel, as Rhiannon, a 16-year-old who falls in love with "A," a nomadic soul who inhabits a different teen's body every day—a tough role, even for a seasoned actor. "The most challenging thing was jumping in and being emotional with people I had just met," says Rice of her more intimate scenes.
On Friday, Rice will headline Bruce Beresford's 1950's Australian drama Ladies in Black as Lisa, a shy student who gets schooled in how to come of age glamorously by two department store mavens. Adulthood is something Rice has been eagerly anticipating offscreen as well. For the last few years, Rice has had to balance busy filming schedules while attending high school in Australia, flying home to catch up on work she missed while filming abroad. She confesses she's something of a nerd and will "have a bit of a cry" if she doesn't ace a math test. "I wanted to do everything. I wanted to do all of my schoolwork and all of my acting at the same time," Rice says. (She will graduate in December so she can pursue acting full-time.)
"I've played characters who are quite wholesome and have a good heart," Rice continues, fingering her bangs she had to cut for the period film, which has her portraying—yet again—a nice girl. "But I think it would be a challenge to step away from that and play someone who isn't all good or all bad."