Anna Faris Addresses Her Breakup With Chris Pratt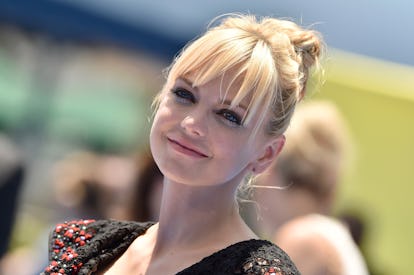 Axelle/Bauer-Griffin/Getty Images
It's been just over one week since Hollywood's funniest power couple Anna Faris and Chris Pratt announced their plans to separate, breaking the collective hearts of their fans. In that time, the two have mostly kept a low profile. One exception is Faris' Unqualified podcast, which has continued, and on her latest episode, the film and TV star decided to reach out to her fans.
"Hey dear listeners, I just want to thank you all so much for all the love I've been receiving, and I truly love you," Faris says at the start of the episode, which serves as her first official statement since she and Pratt revealed they are breaking up. No doubt both she and Pratt have received an outpour of messages since their unexpected announcement.
Ever poised, Faris' message to her fans is just as eloquent as the initial note she posted on Twitter, which can serve as a lesson in how to handle a celebrity breakup in the post-social media era. "We are sad to announce we are legally separating," she said at the time, in a screenshot posted to Twitter. "Our son has two parents who love him very much and for his sake we want to keep this situation as private as possible moving forward. We still love each other and will always cherish our time together."
Over the past week, the pair have continued to be in each other's lives with E! speculating that Chris Pratt is still living in their shared home. "We're from the same place," Faris recently explained to Happy Living. "We both know the same trees and smells and birds. It sounds corny, but those are things that ground us in everything outside of Hollywood."
Meanwhile, in the same interview, which took place before she and Pratt announced their separation, she said, "There was a time when I was willing to make any cute boy that looked at me. I felt like if someone was attractive and wanted to hook up, it was a validation of my own identity." She also added that "I can't stand confrontation, which maybe is a character flaw. But having said that, I do feel like when I do get upset, which is rare as my husband and family would say, I have a hard time letting go."
While you're grieving the end of their relationship, take a stroll down memory lane and flip through their best red carpet moments.
Related: Remembering 2017's Most Devastating Celebrity Breakups