Remembering Anne Slater, a Legendary Fixture of New York City Society
The socialite passed away in her sleep on Christmas Eve.
---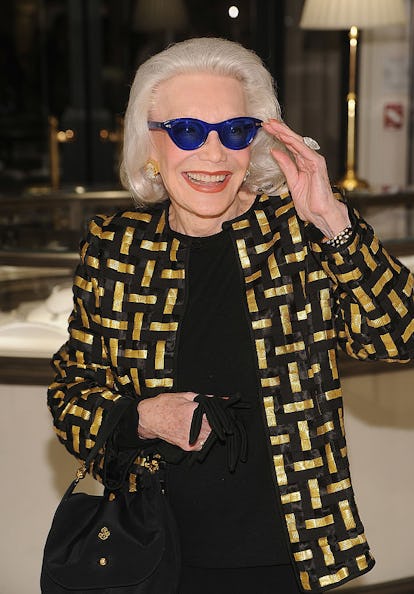 Dimitrios Kambouris/Getty Images
Anne Slater, a socialite who could always be spotted in her signature cobalt blue glasses, has died, according to remembrances on social media.
A fixture of New York's society circuit for decades, Slater entertained the likes of Grace Kelly and Gloria Vanderbilt with a sense of humor and a sharp wit—she is, after all, known for coining the phrase, "A woman needs four animals in her life: a mink in the closet, a Jaguar in the garage, a tiger in bed and an ass to pay for it all." Eventually, she landed herself a spot on Vanity Fair's International Best Dressed List Hall of Fame.
News of her passing came by way of social media, as many whose lives were touched by Slater shared their condolences and remembrances after she reportedly passed away "peacefully in her sleep Christmas Eve." She is survived by her close companion John Cahill, who broke the news. From club kids to design editors, many paid tribute to Slater on Instagram and Twitter, sharing photos an anecdotes of the chic socialite and her warm spirit. Of course, in just about every single one of the remembrance photos shared on social media, Slater is wearing her iconic blue lucite frames that she almost never took off.
Former club kid James St. James shared a photo of the "incomparably chic" Anne from a 1986 copy of WWD. "Very sad to hear about the passing of socialite/philanthropist Anne Slater, who died in her sleep, Christmas Eve," he wrote in his caption on Twitter.
Wendy Goodman, design editor of New York magazine, also shared her remembrance on Instagram.
Goodman also shared some photos of Slater in her 14-room apartment at 998 Fifth Avenue, which was up for sale in 2006 after Anne's 53-year residency in the home. "Anne's apt in a 1910 Stanford White -designed building included a gallery and an enfilade of public rooms to rival any mansion," captioned Goodman on her Design Hunting Instagram.
When Goodman interviewed Slater in 2006 for New York, the society doyenne referred to the city as "a moving cocktail party," one where her own soirees were legendary for being "a little fuller" than the norm. With her passing, the city has lost not just a direct connection to its storied past, but a grand dame who was the epitome of uptown class.
Related: A Socialite Just Sold the Storied Grey Gardens Estate for a Discount: $15.5 Million
Be My Guest: An Upper East Side Apartment, Formerly Vacant, Gets An Artsy Overhaul