Annette Bening Taught a Filmmaking Class on Zoom
In a master class put on by the Tribeca Film Festival, the actress discussed her relationships with Sam Mendes and husband Warren Beatty.
---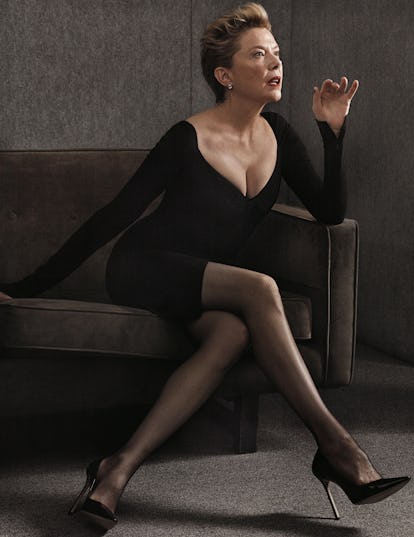 Craig McDean
Seeing Annette Bening's face through a medium-size rectangle on Zoom was enough to make a meeting filled with young filmmakers giddy. On Wednesday night, the "American Beauty" actress hosted a master class for Chanel and the Tribeca Film Festival's Through Her Lens program—whose events are usually held in person, but were moved onto digital platforms this year. Instead of IRL cocktail parties and screenings, Bening was joined by Glenn Close, Yara Shahidi, Angelica Ross, and Angela Bassett for a series of master classes with first-time directors, and conversations that will air on the Tribeca Film Festival's website beginning today at 1 p.m. Eastern Time.
Bening has spent her time in quarantine doing a healthy amount of video appearances, as she told the group assembled in the Zoom room, which included director and producer of Rest Stop Crystal Kayiza and Jalena Keane-Lee, and Benediction's Zandashé L'Orelia Brown—all of whom are involved in the Through Her Lens program, which aims to amplify the voices and work of emerging filmmakers. Bening, who will appear next in Death on the Nile in December, said she's been attending virtual galas, making videos for the Arts Vote initiative, and doing "what I can" for the Joe Biden campaign.
"I got my bookshelf in order and organized for it," she said proudly, gesturing to the background of her screen.
In the master class, conversation topics ranged from Bening's relationships with the various directors she's worked with, to her process on set (which involves having no one talk to her for at least one take.) A prevailing theme that ran throughout the evening was Bening's search for the self through her art. She said it's been a lifelong journey for her, from her early, insecure days starting out as a stage actress transitioning into doing films, into her current-day confidence as an industry heavyweight.
"That search for authentic expression is the uncertainty and the fear which we all have," she said. "I always have that when I work. I've never been in a situation when I don't feel that nervousness, even when I was coming in to do this. To be a creative person, you're not going to land in a place of equanimity. It's the same feeling: that butterfly in the pit of my stomach, the way it always was—but now, I'm even more aware of it."
Every project she's worked on had this effect, but Bening pointed to her experiences working with Rodrigo Garcia on Mother and Child, Sam Mendes for American Beauty, and her own husband Warren Beatty on Rules Don't Apply together, as being especially profound.
"I have really interesting, and in some cases, complicated relationships with the people I've worked with," she said. "I've certainly learned from each of them. With Sam, I was going to do a play at the time he was working on American Beauty. He came to meet with me and ended up postponing the shooting of the film since I was doing the play. Sam had this really interesting thing he still does: he's very confident, but he's never arrogant. In the first couple of days of shooting, we shot this scene inside a fast-food restaurant which, in the film, ended up being shot in the fast-food drive-in lane. I heard that we had to redo it, and I thought it was because of me at the time; I thought I wasn't good. But Sam had the confidence to go to the producers and say, I need to redo that. That takes guts."
"In the case of my husband, I had worked with him, but had never been directed by him. We were about to work on Bugsy together, and I remember meeting an actress and she said, 'He's the best director I've ever worked with.' He let me improvise. Now, of course, I see why he gets so excited about everything you're doing. That's what great directors do, they're just as invested as you are. In these very naked moments, you really need that support and that intimacy of that person."
In an interview following the Through Her Lens event, Bening grabbed a glass of water and settled back into her seat in front of the bookshelf, adjusting her rimless glasses. She said she'd gotten a chance to see what each of the filmmakers were working on, the various projects they spent the day pitching. "I really feel for them," she said. "They're in a vulnerable position."
The pandemic and political climate has hit Bening—and Beatty, with whom she's spent the past six months at home—hard. They watch and discuss the news "incessantly," and Bening admitted she's trying to stay centered and calm by helping out wherever she can—whether that's through Biden's campaign, aiding ailing nonprofits, or simply saying yes to organizations who ask her to show up.
Arts advocacy work is vital for the actress, who sees it as a way to give back to the public education she received while coming up in the industry. When she was young, Bening's mentors weren't other actors—she says she'd only seen "Bambi, Peter Pan, Odd Couple, The Sound of Music, and that's kind of it" when she got to high school. They were her teachers. Her 9th grade English instructor, a "really eccentric, but so passionate" woman, was a great influence on Bening's acting career. This teacher took the class to see a Shakespeare play, and directed their performance of "Man's Relationship to God."
"She had a temper tantrum and threw a table because we weren't doing a good enough job," Bening said, laughing.
When the actress reached the American Conservatory Theater in San Francisco, Bill Ball, who ran the program, became another mentor of hers. "He had that little bit of genius that is intoxicating to be around," she said. Bening was funneled from the conservatory into the repertory company, allowing her one of her first jobs. This was in the 1960s, when various theaters (the Old Globe in San Diego, the Guthrie in Minnesota, the Arena in D.C.,) were being funded by public money.
"What is more illustrative than the experience of doing something?" Bening said, of finally getting to go on stage. "Kind of nothing."
Bening is at a particularly "intense and bittersweet" point in her life: she's an empty nester whose time alone with Beatty in the house has made her even more aware of that fact. The 62-year-old actress said having children who are adult-age is a unique stage, one that has her worrying about whether she "got everything in." She's also considering, for the first time in her life, asking her kids to help her get on social media. Bening has spent her entire career as a relatively private public figure ("When I was starting out in movies, I had an ambivalence about being a public person. I still do. It's my nature, whatever."), keeping her personal life somewhat guarded in the media. But given the current state of the world, she feels an obligation to shine a light on certain issues.
"I feel like we have more of a responsibility than ever as public people," she said. "But I wouldn't want to do anything about myself. Once you go down that rabbit hole, then it's like, does that mean I have to promote whatever project I'm in? And I don't really want to do that. I want that to be somebody else's job, not mine."
A key thing to understand about Bening—whose booming voice's volume level is made that much more apparent when she deliberately lowers it to demonstrate what a quiet person sounds like—is that the seasons of her life have been marked by her craft. As she put it, she's appreciative of every stage—from the beginning, when she was unsure of her abilities, to present-day.
"One of the good things about getting older is that you have more life experience. You still struggle—that uncertainty is part of creativity—but you do know yourself a little bit more," she says. "Having people who are inspiring, reassuring, loving and enthusiastic is so important. And, by the way, it's not like it goes away. We continue needing that our whole lives."