Annihilation Trailer: Natalie Portman Searches for Oscar Isaac in a Strange, Beautiful Forrest
Natalie Portman stars in the 'Annihilation' trailer alongside Oscar Isaac and treks into a hauntingly beautiful forrest.
---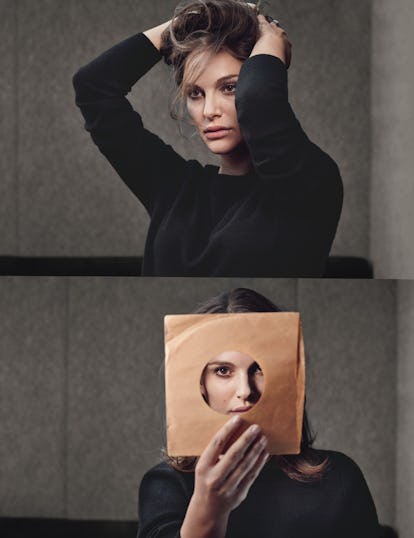 Photographs by Craig McDean. Styled by Edward Enninful. Hair by Orlando Pita for Orlando Pita Play; makeup by Peter Philips for Dior. Manicures by Michelle Saunders for Essie at Forward Artists. Set design by Piers Hanmer.
Natalie Portman has done sci-fi with Star Wars, dystopian futures with V for Vendetta, and unsettling creepiness with Black Swan, so who better to star in Annihilation? Based on Jeff VanderMeer critically acclaimed novel, the film finds Portman playing a character known simply as "The Biologist" leading an all-female group of scientists into a strange forest area known as "Area X" on a hunt to find her husband played by Oscar Isaac and known simply as "The Biologist's Husband."
Along the way, the team encounters all sorts of strange and unsettling creatures and plants with bizarre biological traits (in case you're wondering, VanderMeer got his inspiration during a hike through the ever strange state of Florida).
The trailer itself is pretty cryptic, and begins with Portman and her team, armed with guns, trekking off into the forrest and pacing through a strange but beautiful light that otherwise would make a great Instagram background if it wasn't so forbearing. We then find her in quarantine being interrogated by a group of other scientists like she was a host on Westworld. It then cuts between the interrogation, flashbacks to some marital problems and steamy kisses between Portman and Isaac's characters, and moments from the Area X excursion.
On Tuesday, Entertainment Weekly also shared an image of Portman's character examining the mouth of an albino not-quite-alligator creature.
Annihilation is the second directorial effort of Alex Garland who wrote the script for 28 Days Later but is now known best for his directorial breakthrough Ex Machina. The director tells EW that while he wanted to make the film as haunting as possible, it was also key to capture the beauty described in VanderMeer's book. ""The beauty part of it was quite important," he said. "Even when it's grim, and something dark is happening, there's quite an overt beauty, and we took pains to make sure that happened."
Jennifer Jason Leigh, Tuva Novotny, Gina Rodriguez, and Westworld's Tessa Thompson also co-star, and the film is scheduled for release on February 28, 2018. In the meantime, we should expect another, longer trailer since this one is marked as merely the teaser.
In a rare bit of restraint for Hollywood, Garland has chosen to keep his film as a stand alone story even thought VanderMeer's book eventually grew into a trilogy.
Related: Red Sparrow Trailer: Jennifer Lawrence is a Sexy, Russian Spy
Natalie Portman Might Still Think About Kissing Patrick Swayze: