Netflix Will Keep "Anthony Bourdain: Parts Unknown" Available for "Months to Come"
It was originally supposed to leave the service on June 16.
---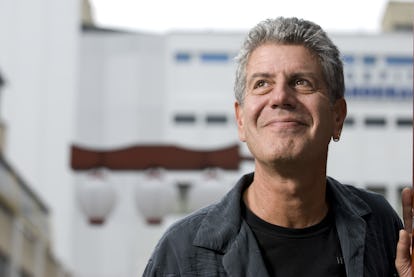 Paulo Fridman/Getty Images
Netflix users in the United States will be able to keep streaming Anthony Bourdain: Parts Unknown for longer than they thought. The show originally was slated to leave the streaming service on June 16, around a week following Bourdain's death on June 8. But on Tuesday, Netflix announced it will be extending the show's limit indefinitely. "Some fans have noticed that Anthony Bourdain: Parts Unknown was scheduled to come off Netflix US on June 16," Netflix announced Tuesday on Twitter. "As of today, we've extended our agreement that will keep Parts Unknown on the service for months to come."
The company did not indicate how many months this would be, or elaborate further on its reasons for prolonging Parts Unknown's end date. (It seems like outspoken fans are responsible.) Currently, the first eight out of the show's 11 seasons are available to stream on Netflix. It's unclear whether the last three seasons will become available on Netflix as well.
Last week, CNN confirmed that Bourdain had died at the age of 61 of an apparent suicide. "It is with extraordinary sadness we can confirm the death of our friend and colleague, Anthony Bourdain," the network said in a statement last Friday. "His love of great adventure, new friends, fine food and drink and the remarkable stories of the world made him a unique storyteller. His talents never ceased to amaze us and we will miss him very much. Our thoughts and prayers are with his daughter and family at this incredibly difficult time."
In the wake of his passing, many celebrities mourned the late celebrity chef with heartfelt tributes on Twitter. Meanwhile, fans flocked to Les Halles in New York City, where Bourdain once worked, creating a makeshift memorial with notes and flowers, Eater reports.
If you or someone you know is going through a crisis, please call the National Suicide Prevention Lifeline at 1-800-273-TALK (8255) or contact the Crisis Text Line by texting TALK to 741-741.
Related: How Anthony Bourdain Is Being Remembered as Everyone's Best Friend