Everything You've Ever Wanted to Ask Germany's Top Anti-Aging Dermatologist
The founder of Royal Fern talks about the beauty benefits of fern extract, how early is too early to start an anti-aging regimen, and why it's important to have a slice of pizza every once in a while: "Sometimes you have to cheat."
---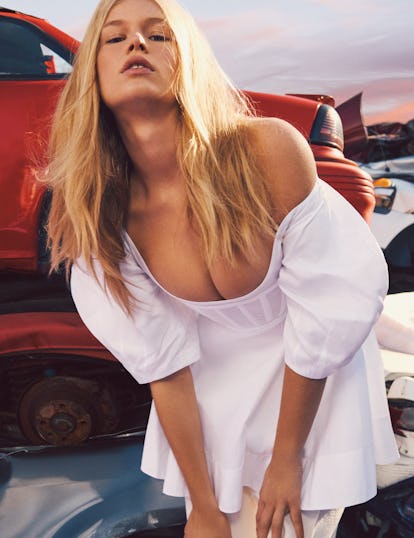 Photographer: Ryan McGinely Stylist: Edward Enninful
Perhaps more than ever before, Germany is at the forefront of anti-aging, thanks to dermatologists like Timm Golueke. The anti-aging obsessed from around the world seek out Golueke, who has had his own clinic on Munich's Maximilianstrasse (with high-end shops like Valentino and Jil Sander as neighbors) since 2004, for his expertise and non-invasive aesthetic methods. He made noise in 2015 when he launched his skincare range, Royal Fern, which is the world's only skincare line based around the plant. Fern extracts contain valuable substances that have been proven to positively influence all the signs of skin aging. No wonder the line, sold at the likes of Bergdorf Goodman and Space NK, has already become a cult favorite of beauty insiders. Here, Golueke talks about the secrets of German skincare, the one thing you should be doing for your eyes that you probably aren't, and more.
Germany is such an anti-aging mecca these days. Why do you think that is?
I think there is a big tradition, for example Dr. Hauschka, who has been on the market for a long, long time. It used to be more France over the last hundred years and Germany was more of a niche market. But a lot of German skincare brands have become huge in the States. I just read that Birkenstock, the footwear company, is even launching their own skincare line. There is a big tradition of healthcare and spa/skincare in Germany. We have a famous little town called Baden-Baden, where all those people from Russia over the turn of the last century came, to do what we call today 'wellness.' So, there is a tradition in Germany for healthy living, skincare and natural remedies, but it was a little bit sleeping the last 50 years but now it's coming up again.
What do you think prompted that awakening?
More and more, people want to know about what they are eating and they similarly like to know more about their skincare and what's going into it. They care that it's trustful, the ingredients are proven, and they also trust German science. It was never so big for cosmetics, but more for cars and especially technology, but now in the next year or two I think we will have more Porsches and Mercedes-Benz of skincare coming up.
You talked about how people overall care more and more about what they eat and how that's affecting them. Do you personally have something you swear by when it comes to your diet and its impact on your skin?
Of course, it's good to eat healthy things like antioxidants, things like edamame, but I personally believe that besides looking at what you are eating, it's very important to avoid the sun. But other than that, sometimes it's important to have a piece of pizza or whatever it is. It shouldn't be too strict because then maybe you are full of antioxidants or you are super skinny but you aren't really beautiful because you aren't relaxed and happy. It has to be a middle part of some sort. What we eat is very important for our skin, but sometimes you have to cheat. I always have at least one cheat day a week!
Is there something new in the beauty space (like a new super food or miracle ingredient) that you are excited about?
Ferns, of course! It's important to remember we have a patent on it. But also things like açaí berries, because of the antioxidant levels, they are great for breakouts and impurities. Like I mentioned before, soy and edamame are also huge. More and more people are using the power of nature and science in their skincare these days. You can buy things like Vitamin C and put it on your skin, but what's more important is how do you get the right ingredients into your skin at the right points. This science is very important and why it takes so long and the development of products is very expensive. People trust German skincare for this reason because we are known for our science.
Since you launched Royal Fern and tested out the products more and more, what have you learned about what it can do for your skin in ways you might not have known originally?
Good question. It's a big thing we discovered after people started using it and we got super positive feedback. Royal Fern is mainly about anti-aging of course, but a lot of people suffer from rosacea and have discovered it can also help with that a lot. People with rosacea and any kind of impurities look to fix that and anti-aging products, which can be complicated. On the one hand, they look to fix breakouts but they also don't want to get older and don't know what to do. Of course, it's not for someone who needs to take Accutane or something, but if you have impurities from time to time or rosacea, the fern plant helps, which we didn't know at the beginning. It's very exciting.
You have some new products coming out this summer. What can you tell us about those?
The next product will be in stores in September, and it's our Royal Fern hydrating intense face mask. It's firming, hydrating, and you wear it while you sleep. It comes with a little brush that you use after you have washed your face at night, then you leave it on over night. The next morning you wake up full of moisture, it's firming, etc. Ingredients include fern (of course) and chlorophyll. Chlorophyll, which is not very common like the fern, is so great for anti-aging.
How long do you suggest someone should try a new product before they can really determine if it is or isn't working for their skin?
That's a question my patients ask me all the time. Four weeks, at least. That's the amount of time for natural cell turnover, so you should give the product four weeks at a minimum. Of course, when you see an irritation or a rash, you should stop using it. But sometimes a new product can tickle a little bit and then it goes away.
How early should people start using anti-aging products?
It depends on the skin type and the way you live. If you live in California and you have been going to the beach every day since you were a ten years old, of course you have much more dry skin because you have been exposed to sun and wind. Also, pollution, if you live in a big city or something. But I would say that using skincare starts at puberty because you get pimples and all that. That's around the age that people start seeing me as a dermatologist, at age 11 or so. Often they are brought over by their moms because they have pimples and don't know what to use. Speaking on anti-aging, people usually come in their early 20s. They usually ask for extra add-ons, like products with a special interest like bleaching or something against impurities, and very important, eye creams. That area is the most sensitive area on our whole face and that's where we get wrinkles first. You shouldn't wait, especially with the eye area, to start using eye cream.
When it comes to anti-aging, what questions do you get the most these days from your patients?
The question you just asked me, actually. More and more people are asking their dermatologists what products to use. I have them bring in everything they use and it's shocking. They come with two bags full of products! A lot of people are lost in cosmetics. This is why they more and more ask their dermatologists what to use, which is a good thing. I think ten years ago people didn't dare to ask their dermatologist for anti-aging suggestions and products. They thought we only wanted to see their mole or give them advice on anti-aging products.
On the subject of hair growth and supplements, do you feel things like Biotin, Viviscal, even fish oil will have real impact on hair growth? There is so much push on all of them right now and I have had some dermatologists tell me they won't actually do much…
At the end, those are supplements. Those are an add-on, so I never prescribe my patients only supplements. It also depends on if you have genetic hair loss, or if it's thin hair because you are stressed or whatever, then supplements can help. But it's important to remember they are add-ons. Also big for hair loss is plasma, where you re-inject your own blood into your scalp. Or needle therapy, where we inject vitamins like Biotin directly.
What are some other treatments that are popular in your clinic right now and in Germany but not as big in the U.S. right now?
I think that more and more, it's one world right now. It's not that every country has its own laser system that no one else has. Here in Germany we have more fillers than in the U.S. because it takes a long time to get the fillers approved by the Food and Drug Administration, but it's mainly about different types of hyaluronic acids. It's not like we have different types of filler as in the material itself, it's more like different hyaluronic acids for different parts of the face. When I was in Korea last year, I got this skin tightening machine that uses ultrasound to lift the skin, called an Ultraformer, and we do that a lot. The difference isn't as big as it was ten years ago.
You mentioned Korea, which is such a beauty mecca these days. What are some other things you brought back from your last trip?
I was visiting clinics as well to see if they do anything we don't do. They really focus more on cosmetic surgery and I am a dermatologist, so what they do is really about plastic surgery. They break the bones to get slimmer faces. In my opinion, it's one step too fast what they do. But it's a different culture. Coming back to skincare, we have all the masks with snail and horse, but to me, those products can be a bit gimmicky. If we speak about things we see on social media, like the panda bear mask or something, I would consider those more like a nice gift. I am not sure it's really proven. But of course, they also have really established skincare lines that are very effective.
It's true. People go nuts for those masks (I'm guilty of it, too)!
I did it too. When I was in Korea, I bought a ton of masks as gifts because I thought I probably wouldn't be back soon and then I went again and bought a bunch more. I gave them to some friends and people were really concerned. They asked me, "Do you think I really need a panda bear mask? Do I have dark circles?" Then I realized maybe it wasn't so charming. It's like bringing people soap or something.
Is there anything else (new) that you are excited about in beauty and skincare that you feel could be a game-changer going forward?
It's more like something I am desperately waiting and looking for. There has to be a working remedy for under-eye circles and wrinkles. Sure, you can use the cream and maybe some hyaluronic acid, maybe a little big of Botox, lasers don't really work because you risk hyper-pigmentation. I am waiting for a good device to get rid of under-eye wrinkles and circles. t's such a delicate area, it's very tricky. That will be huge.
When it comes to under-eyes right now, you are saying our best bets are eye cream, plus maybe some Botox or fillers, correct?
It's important to also include sunblock in your daily skincare for your under-eyes. We have a good one from Spain that has safe eye technology called ISDIN, meaning it isn't burning in the eye. It's totally transparent and good for around the eyes. Often we forget about the eyes because the sun products burn or you think they are too strong for the delicate eye area. It's very important to include the eye area with the daily sunblock regime.
Joy Ride: Anna Ewers Models the Best White Dresses of the Season
Chanel top, skirt, and bag; Oscar de la Renta belt; Calvin Klein Collection shoes.

Photographer: Ryan McGinely Stylist: Edward Enninful
Photographer: Ryan McGinely Stylist: Edward Enninful
Photographer: Ryan McGinely Stylist: Edward Enninful
Photographer: Ryan McGinely Stylist: Edward Enninful
Stella McCartney shirt and skirt.

Photographer: Ryan McGinely Stylist: Edward Enninful
Photographer: Ryan McGinely Stylist: Edward Enninful
Photographer: Ryan McGinely Stylist: Edward Enninful
Photographer: Ryan McGinely Stylist: Edward Enninful
Photographer: Ryan McGinely Stylist: Edward Enninful
Chloé dress; Maison Margiela tights; Céline mules.

Photographer: Ryan McGinely Stylist: Edward Enninful
Calvin Klein Collection T-shirt; Givenchy by Riccardo Tisci trousers; Achilles Ion Gabriel shoes.

Photographer: Ryan McGinely Stylist: Edward Enninful
Alexander McQueen coat, trousers, body chain, and shoes; Michael Kors Collection tank top.

Photographer: Ryan McGinely Stylist: Edward Enninful
Proenza Schouler top.

Hair by James Pecis for Oribe; makeup by Dick Page for Shiseido at Jed Root; manicure by Yuko Tsuchihashi for Chanel. Model: Anna Ewers at Women Management.

Produced by Mary-Clancey Pace at Hen's Tooth Productions. prop sylist: Robert Sumrell; Lighting Design: David Diesing; Lighting Assistants: Aubrey Mayer, Brent Lee; Digital Technician: Travis Drennen; Photography Assistant: Jake Silby; Creative Movement consultant: Luisa Opalesky; Fashion Assistants: Ryann Foulke, Dena Giannini, Nataleigh Lalonde; Set Assistants: Devin Rutz, Hue Hallums, Nathan Smith.

Photographer: Ryan McGinely Stylist: Edward Enninful
Watch German Twin Musical.ly Stars Lisa and Lena Dance to Rihanna