Antony Gormley's Statues of 100 Nude Men Spray Painted with Clothing
Sir Antony Gormley's Another Place installation is one of his most famous, but someone decided his nude sculptures needed to be covered up.
---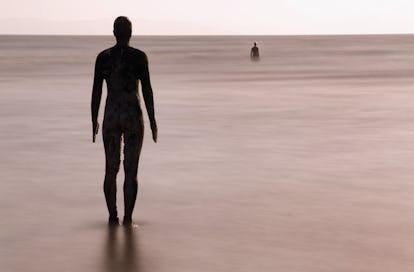 Christopher Furlong
The nude body is one of the oldest and most frequent subjects in sculpture, but someone apparently thought Sir Antony Gormley's famous "Another Place" installation of 100 sculptures of nude men was just too much. So they decided to spray paint clothes on some of the figures.
Gormley, one of Britain's most celebrated sculptors, is well known for his surrealist takes on the human figure. Another Place, first installed in 2005, features 100 cast iron figures facing the sea at Crosby Beach in Liverpool City Region. Before that the sculptures had spent time in Germany, Norway and Belgium before finding a permanent home in their present location (originally, they were supposed to move to New York next).
The figures, cast from Gormley's own body, are placed so they are partially submerged by water at high tide, and have faced some criticism before. There was a movement in 2007 to remove the sculptures with opponents citing safety concerns as well as for reasons of modesty, but ultimately it was decided they would remain.
Well, ten years on, someone has decided to protest the sculptures again, this time with spray paint. At least nine figures have found themselves suddenly clothed with the use of spray paint.
Though Gormley himself hasn't publicly commented on the incident, it appears that he isn't pleased and would like the spray paint removed.
"We want everyone to enjoy and interact with the impressive Antony Gormley statues on Crosby beach, which are synonymous with Sefton," a spokesperson for the local Sefton Council told the BBC. "However, following this incident, we have been contacted directly by Mr Gormley with a view of removing these permanent decorations which we will now look into."
Locals themselves are torn, according to an article in the local newspaper the Liverpool Echo.
"You wouldn't walk in to a gallery and draw a smiley face on a painting or sculpture," local Samantha Anderson told the paper.
Others have a different view, citing the fact that the sculptures have already evolved over time due to the accumulations of barnacles and other signs of aging. The painting is part of their lifecycle, and likely would wear off anyway eventually."Fast forward ten years or less this will be part of their history, it may be vandalism but this is often what happens to old neglected industrial steelwork… as it fades it will become a kind of historical timeline…leaving traces in cracks and crevices," Mike Fahey told the paper.
It's also not unusual for the figures to be temporarily clothes with the use of actual clothing.
The BBC notes that many of the statues are tagged with the name "Mokie," and one even reads "I am art," on its backside.
Related: Fearless Girl Statue Vandalized With Pro-Trump Apparel
See What's Trending in W Video: