April Horoscopes: The Astro Poets Share How to Stay Energized
Twitter's favorite astrologers are here to remind you that eventually, this stillness will give way.
---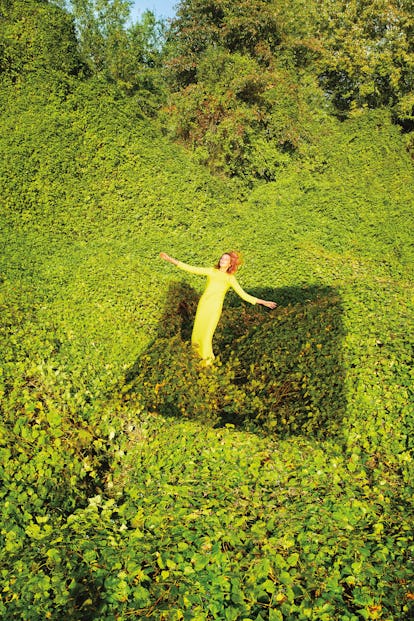 Ryan McGinley
The Libra full moon, which is this year's biggest supermoon, will arrive on April 7. Although it is spring, it will dredge up things from the past. And as you'll see in your April horoscope, it will bring with it a mood of stillness rather than motion. This will be needed to prepare us for the burst of energy coming later this month and before summer. That burst will start with the new moon in Taurus on April 23. Try to remember that there is still the ability for transformation in what may seem like lack of movement.
With you in the stars and on Earth,
Aries
You've been keeping a big plan for the future very secret, even from yourself. Even amidst the chaos of the recent weeks, you feel a sense of optimism. And you should. Continue to attend to your dreams. It may feel abstract this month, and like there isn't much movement, but your childish idealism should be protected. Your grandiose ideas about love and what's possible are things you will return to. They will remind you that you can turn anything around at any moment. Keep a little bit of red, as a garment or jewelry, on you at all times this April.
Taurus
Spring is always an energizing time for you. Despite everything going on in the world, the new energies in the air will provide you with a lot of solace. As much as you can, get outdoors (in safe distance from others, of course) and appreciate the trees and air. The natural world can give you much healing, especially now. In terms of luck, you will stay have a lot of it. It's best to harness whatever comes your way, in whatever forms it does, in the moment. So keep creating, keep moving, and most importantly, keep loving. Love makes everything hum, and this month, your Taurean heart is a song everyone will be clamoring to listen to.
Gemini
Going into this month, you may feel professionally disappointed or dispirited. You should welcome your recent solitude and consider your moves going forward. Spontaneity—which you thrive on, even in a work environment—should not be something you're asked to give up. And waiting for others to appreciate your talents is a fruitless position to be in—it will only feel powerless. April is not the big month to shake things up, but start planning. By summer, you may have the real courage to act on a professional opportunity that will be a game changer.
Cancer
You're feeling your intuitive skills in overdrive right now. You'll put them to good use, helping your friends and family members sort out their emotions. Being there for the people in your life is your true vocation, and right now, you will put most of your energy there. You might also feel the need to help these loved ones sort out any practicalities that they need help with. Remember help is only helpful when it's truly wanted. Don't waste your energy giving everything and having nothing for yourself. It's a cliché for Cancers, but this month, devote some time to baking for others. You'll enjoy everything about it—especially all of those sweet cakes.
Leo
Domesticity is a double-edged sword for Leos, and something you'll be contemplating a lot this month. You're an incredibly loyal and attentive partner, and appealed to the idea of life with one person. But it's not exactly going to hold you over forever, like it would a Cancer (or any water sign, really). You may feel guilty about the thoughts and ambitions you're having outside of your partner, or outside of your friends even. April will bring a lot of doubt about what you want and if you can even get it. You can. But you have to choose the stage over the kitchen. You'll have to choose yourself again.
Virgo
You're always good at taking charge during stressful moments. This month, you'll be even readier to get the job done, no matter what. This likely will involve using your otherworldly analytic skills to find good solutions to complicated problems that need solving. You might also be a helpful, friendly shoulder for quite a few friends to cry on (albeit virtually). After you've finished being strong for others, take some time this month to give into a new hobby. It will be crafty, but also hone your mathematical skills. You'll feel rejuvenated giving yourself over to something that interests you and doesn't necessarily affect your career goals.
Libra
This month will bring a lot of anger. In true Libra fashion, you may feel the need to repress and gloss over it. It will likely arise around people who are very close to you, more friends than lovers. Shooting straight from the hip isn't exactly your style, but you'll have to find a way to be both diplomatic and direct. April will test your ability to stand up for yourself. It will also test your patience with people who have perhaps already been given too much of it. Take immense pleasure in small things. Like the routine of getting dressed or having a cup of coffee alone. It will return you to yourself.
Scorpio
You're about to get many signals from others that now is your time to really shine. You aren't wrong to feel this way, as it is your time to blossom fully into who you really are. Elements of this person may shock you, but this growth is both necessary and inevitable. In terms of love, game on (again). Be sure to take many baths this month, filled with tons of floral concoctions, as there's nothing like hot water plus a spicy flower scent to really make you feel alive. You may also feel an instinct to draw or to write directly on paper, all old-fashioned style. Give in to these urges and maybe pen a letter to a long lost crush. The good news is: They still long for you.
Sagittarius
You will feel a surge of creativity. You will feel closer to your drive and ambition than you have been in months. The problem is, things around you may be a little quiet this April. It's not that the doors you're knocking on aren't interested; it's that they'll arrive to where you are closer to the beginning of summer. Until then, keep changing and keep making. Continue to set goals for yourself and continue to indulge in them, even in secret. There are many professional rewards that await you, and love, if you want it, is yours. But do you want it? You may be too eager to wait. At least for right now.
Capricorn
You've been working very hard this past month. In fact, your work has been so excessive that no one truly knows how many hours you've put in other than you. You're humble this way, always ready to put in the time to do the thing right. And so even though people may not know completely how much you are sacrificing to help out with the task at hand, you should know how deeply you are appreciated for your skill and devotion. Keep at it, as you are needed and necessary. And while you may be too busy for love, save a little time for some flirtation. A little harmless wink here and there is good for the soul.
Aquarius
Early this month, there will be the possibility for trust to return between you and a very close friend. Perhaps this lack of trust has gone unremarked upon, but you've felt it. This spring has not provided the solid footing you've wanted in your personal relationships. It's not like you to chase after people, either. As much as you can, don't busy yourself with trying to fulfill the expectations of those who have rarely understood you. It may seem obvious, but you're carrying around too much guilt right now in terms of what you have and haven't been able to provide in your friendships. Remember that even at your most distant, those who truly know you can read your intentions.
Pisces
You are always in touch with your mystical side, but this month, you'll be extra spiritually inclined. Use this power to help your friends whenever you can, as being a good friend is one of your greatest superpowers. Also, take lots of moments this month to reconnect with some old-fashioned mood lighting in the form of seductive candles. You will enjoy the whimsy of the wick and the ways you can use the flame of the candle as divination. Take some time to do some prayers for everyone else, but also for yourself. Self-love is a good thing to remember always, but especially now. Your energy keeps the zodiac going, so refuel it however you want to.
Related: What to Read While Self-Isolating, According to Your Zodiac Sign
18 Photographers Share Images to Inspire Amid the Pandemic Panic:
"I was walking the streets in Northern India many years ago and stumbled on these two teenagers in the park laying together. Sometimes I feel like I live in a world of self-serious imagery and was always proud this image felt sincere, universal, and tender."
"I met Dhani and his family last summer staying with them for three nights deep in the mountains in Olivella, Spain, just south of Barcelona. The house runs on complete solar power and all we really had were each other's company, music, and the scenery. I've remained in touch with them and hope to one day reunite with them once the dust settles from the virus."
"I took this picture during a two-month experiment of going offline in a Greek meditation community. During that time, I felt some of the inner noise clear out and I connected with people in a way I had never experienced before. The silence and solitude we are experiencing around us right now, though somber, makes me think of this time. I wonder if it could be an opportunity to clear out some of the noise around us, look inside ourselves and consider what meaningful human connection really is."
"I spent a lot of time last summer walking around Coney Island. I saw him stretching and asked if I could take a photograph. He said 'Yes, but make me look good.' I never got the chance to ask his opinion. Looking at this picture in the context of now, it makes you appreciate all the fleeting moments we share with others and the memories we hold onto of them."
"My friend, Kanada, and I went out near the springs in Austin to take photos before she left for her new life journey. We arrived and it was empty except for one area and we both felt confusion and sadness seeing the springs dry. We were able to find this one spot still with water and it brought forward a symbol of hope in my heart during these confusing and dangerous times. The water isn't all gone…just a little low, and it can all come back and even stronger than before."
"Nature and beauty are the things helping me survive mentally right now."
"Over the years, I have been compiling a collection of hand photographs, which feels especially poignant at this moment. On this day, Mariska told me that her extra eyes protect her. I found her self-awareness inspiring, and I hope the image relays the importance of taking care of yourself and others."
"This photo makes me think that spring is on its way—something to look forward to. Thinking beyond the quarantine. The warm, long, sunny days that will make everything better."
"I made this photo during a trip to a commune. The window sill is from the kitchen of a young woman named Hannah, who uses plants that she grows and forages to make medicine and healing balms. I have been thinking of how essential human collectivity is to our survival, and how incredibly valuable it is to support one another and the earth. It becomes obvious how much we all need each other during times of crisis."
Alive After Five, Anaconda, MT (2017), Jacq Harriet

"I'm inspired by the prospect of end-of-summer carnivals and comeback parties—we'll never take them for granted again."
"I took this photo almost four years ago while swimming in a lake at sunrise with my two best friends. I look at it now and can feel the closeness we shared, the warm mud, water, air, the passage of time, the continuation of things, and it all feels pleasantly simple."
"It is frighteningly radical to care for each other—so we have to make it our second nature."
"In this time of isolation, I am lucky enough to share that time with the people I love; my partner, Jackie, and cat, Frankie. I should share more photographs of them."
"In Marrakech, I asked this man if I could take his portrait, and without prompting him he raised his arms and made a series of wild, heart-wrenching expressions. This unexpected, visceral and ultimately fleeting moment shared between him and I reminds me how surprising and vulnerable the human condition can be, and to be as tender toward others as I can, especially in the role of photographer."
"Companionship has the ability to bring comfort in the midst of the uncertainty. The palpable tenderness keeps me wishing for warmer days, where we all can come together again."

Photograph by Lea Winkler.
"This picture feels important and relevant. The most obvious point is that it's a spring flower, outside taller than the rest, and is a pair held up by one stem. It's like 'alone together,' you know?"
"This photograph helps me appreciate all that I had taken for granted."
"I find some comfort in this little house I passed on a walk two summers ago, tucked away in a village in Scotland. I wish I were there now, and look forward to the day when I can go back."