April Release: Drew Barrymore
Drew Barrymore Talks About Reliving Her Rehab Experience, Her Estranged Mother And Her Love Life
---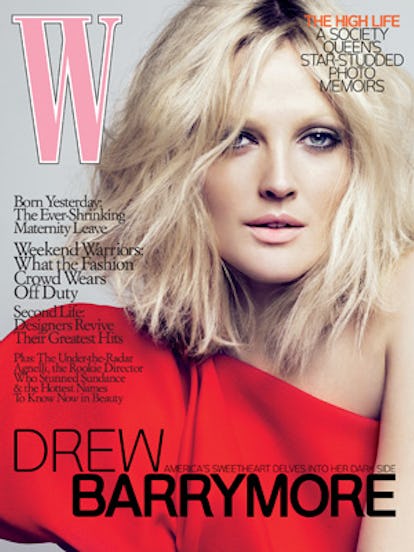 Drew Barrymore opens up to W magazine about how isolating herself to prepare for the dramatic role as "Little Edie" Beale in the upcoming HBO film, Grey Gardens, reminded her of being back in rehab … "I got institutionalized as a kid, and I felt like I was back there. A lot of times I found myself unhappy and isolated, and the only other time I felt that way was when I was in there. It was absolutely trying to relearn to live. You are learning to become someone else."
Following are other comments from Drew's interview found in the April issue of W:
ON FEELING LIBERATED PLAYING EDIE'S WITHDRAWN AND DARK CHARACTER…"I was excited to bring my own pain to something. I mean, contrary to my happy-go-luckiness, I have so much darkness in there. Playing Edie, I felt like s—. I thought, I'm afraid beyond anything I've ever known. I'm miserable; I'm scared; I feel sick all the time. And I was like, Good! At least I have somewhere to put it. You know what? I'm not f—in' happy all the time. I like making people feel good, but it was great not to have to please anybody. I was out there for myself and for her."
ON HER FIVE YEAR RELATIONSHIP WITH EX-BOYFRIEND FABRIZIO MORETTI OF THE STROKES…"One of the most, if not the most, important relationships I've had in my life. We're still very close. I'm just learning who I am and how relationships work and how to make them function. No different from anyone else."
ON HOW THE RELATIONSHIP WITH HER MOTHER COMPARES TO THE ONE BETWEEN EDIE AND HER MOTHER IN GREY GARDENS…"My mother and I split ways when I was very young and have never really reconciled. Edie chose her mother over the world."
ON RECONCILING WITH HER FATHER WHEN HE WAS DYING OF BONE-MARROW CANCER…"He was so feeble, I could actually nail him down. He was such a flighty bird—unattainable and off doing his own thing. I'm sure it's affected my relationships with men. I'm sure I'm sadder about it than I admit, but I accept that a lot easier than my mother's and my relationship, which is more tumultuous."
ON HOW SHE HAD NEVER FOUGHT AS HARD TO WIN A MOVIE ROLE AS SHE DID TO PLAY EDIE…"I understood. He [writer-director, Michael Sucsy] thought, She talks like a Valley girl and probably doesn't have what it takes. I had nothing to prove that I could do this."
ON THE PARALLELS AND DIFFERENCES BETWEEN HERSELF AND EDIE…"All roads could have definitely led me to being a little bit cloistered and insane, but I'm not afraid to put it out there, and Edie had a lot of fears that really held her back."
ON THE TIGHT CIRCLE OF FRIENDS SHE CALLS HER "TRIBE," WHOSE MEMBERS INCLUDE ACTRESS CAMERON DIAZ, BEST FRIEND AND PRODUCING PARTNER, NANCY JUVONEN, AND CHRIS MILLER, VICE PRESIDENT OF FLOWER FILMS, HER PRODUCTION COMPANY…"They're the glue. They're everything to me."
ON STARTING HER ACTING CAREER AT SUCH AN EARLY AGE, STARRING IN HER FIRST COMMERCIAL AT 11 MONTHS…"I feel like I came out of the womb and was punted—there you go, out in the world!"
ON HOW THE SET AND CAST AND CREW OF E.T., INCLUDING DIRECTOR STEVEN SPIELBERG, PROVIDED HER WITH THE STRUCTURE AND FAMILIAL TIES SHE WAS MISSING AT HOME…"I came to the profound understanding that I had found my place. So I wasn't going to let it go for anything in the world. For me it was survival."
ON HOW SHE FINALLY "FEELS AT HOME" PROFESSIONALLY…"I'm finally like, I can do these things. Now I can start to experience more joy and not be so worried all the time—that would be a really important liberation for me."
ON DEPARTING FROM THE FAMILIAR "ROMANTIC ROMPS" TO PLAY EDIE AND DIRECTING HER FIRST FEATURE, WHIP IT…"It's been the years of fears—three straight years of discipline and effort."
ON HER REACTION TO STEVEN SPIELBERG'S RESPONSE TO SEEING THE ROUGH CUT OF WHIP IT…"I don't want to sell out the moment because it's so personal and private. It was very emotional for me. I was like, 'This is who I became because of your guidance.'"
ON GREY GARDENS COSTAR JESSICA LANGE …"We fell in love. When we're together, we hold hands and sit really close."
ON BEING AN OPTIMIST BUT WORKING HARD AT IT…"I get out of bed with a spring in my step like, I'm going to f—in' rock this day. I'm going to make people happy. Here I go."
Please credit the April issue of W for the above. For additional information or to schedule an interview with a W editor, please contact Engelman & Co. at 212.645.9222. Thank you.