Inside Aquazzura's Decadent New Madison Avenue Shop
Designer Edgardo Osorio is a true New Yorker: He takes his coffee at Sant Ambroeus, and now he's putting down roots with a new Aquazzura storefront on Madison Avenue.
---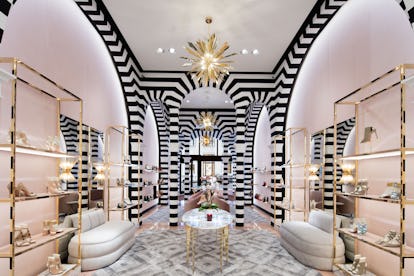 "If I weren't a shoe designer, I'd be a decorator," says Aquazzura's Edgardo Osorio, seated on a petal pink Vladimir Kagan-inspired loveseat in his recently opened New York boutique. "I'm very passionate about interiors." At home in Florence, he resides with his partner Riccardo D'Almeida in a 15th century palazzo filled with a kaleidoscopic mix of modern art and furniture—and he has applied that same exuberant, classical-meets-contemporary aesthetic to his shops in Florence, London, and now New York. Designed by Ryan Korban, this latest one features eye-popping striped arches, suede walls, Venetian marble floors, and a sublime dome, hand-laid with gold leaf. "It's like the Duomo of Madison Avenue," jokes Osorio.
All your stores are unique to one another, but they're all characterized by stripes. Why? In Florence, I have lunch every day by Santa Maria Novella, which is covered in stripes. And all around the cathedral are striped arcades and striped columns. Stripes are a recurrent theme in Florentine architecture, and I find them captivating. They're classical, but also so modern, and I love that juxtaposition. I've never come across a stripe I didn't like!
They lend quite a wow factor to this store. I'm not a minimalist—I never will be. And in interiors I think more is more. Especially when it comes to retail. You need to give people a shopping experience. You're driving them into the store to discover.
And what will they discover, shoe-wise, here? Well, aside from our complete spring and resort collections, we're doing the Christy flat—which is our bestseller—in skins and colors that are exclusive to this store. We also have our bridal collection that just launched.
The pineapple is sort of your logo; I'm surprised I don't see any in the décor. Ah! Well, if you look from the front of the store straight back, the shape of the arches along with the spiky Tony Duquette chandeliers resemble a pineapple.
Genius! It happened by chance. We didn't intentionally design it that way.
You're situated next to the new Met Breuer and across the street from the Apple Store. You couldn't have found a more perfect location. I love Madison Avenue and I think if you're opening a store in New York, Madison is it. We have a particularly amazing location on this block, which has really taken on a new life recently. Plus, it's my neighborhood. I stay at The Mark Hotel three months out of the year; I go to Sant Ambroeus for coffee in the morning; I work out at the gym in the Gagosian building…
You're a regular New Yorker! New York is my favorite city in the world. It has an energy unlike any other place. Whenever I don't come for 6 months, I feel like I'm missing out on something. I started selling my shoes here—my first appointments were here to show buyers. I really launched the line here. So for me, it was so important to create a store that was special.
And that gold leaf dome is pretty special. It must have cost a fortune. Let's just say we need sell some shoes.
Photos: Inside Aquazzura's Decadent New Madison Avenue Shop
Edgardo Osorio. Photo courtesy Aquazzura.
Edgardo Osorio with models in Aquazzura. Photo by Chris Floyd.