Dylan Sprouse and Barbara Palvin Have Been Hanging Out, Sparking Dating Rumors
They've been hanging out a lot.
---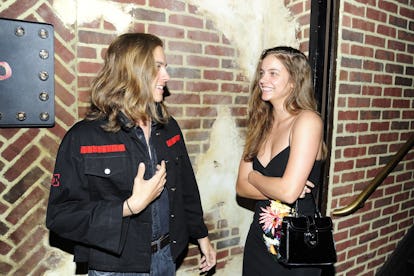 Paul Bruinooge/Patrick McMullan via Getty Images
For as many high-profile breakups that have unfolded this year, 2018 has brought together a whole new class of couples. Now, the latter might include Dylan Sprouse and Barbara Palvin. The pair have been spending quite a bit of time together as of late and, last night, they made their first appearance together.
Palvin and Sprouse posed for photos all night long at a screening of Puzzle in New York City. They were all smiles too, while joking around for the cameras. The actor and Victoria's Secret model posted about the evening on their own social media accounts. Palvin uploaded a selfie of the two of them on Instagram stories with the caption "Movie night" and a heart emoji. Meanwhile, Sprouse shared a photo taken of them at the event with the caption, "Having a hair competition… who won?"
While posing for photos together and sharing them on social media is hardly the definition of dating, last night wasn't the first time Sprouse and Palvin have been spotted together. Earlier this month, the two traveled to Russia to take in a World Cup game together. Palvin made an appearance on his Instagram with the caption "sports," but Sprouse later deleted it.
Their friends who were with them, however, did not delete their pics of the couple. One uploaded a photo of Palvin and Sprouse with the caption, "Baby angels have landed in Moscow ?????." The same person also shared another photo of the two in a group setting with the caption, "Best way to finish this season ⚽️⚽️⚽️⚽️❤️❤️❤️???✨✨✨✨"
Palvin also revealed that the pair were heading home together from the game as she shared a selfie of them on a plane with the caption, "Tired but made it to New York," as Cosmopolitan shared at the time.
Whether dating or not, neither Palvin nor Sprouse are romantically linked to anyone else at the moment. Sprouse has been single since separating from his last longterm girlfriend, Dayna Frazer, last summer after she posted a cryptic selfie on social media with the caption, "When you find out your bf cheated on you lol," as Buzzfeed captured. Sprouse later addressed it on Twitter, writing, "I will say this and only this: by adhering to an assumption based on limited information, you neglect the complicated nature of this issue. This is complicated and it will remain complicated, but those who know me and who have known me, know well enough what kind of person I am. The truth always has two sides, and those sides have motivations, and those motivations, despite how cloudy they currently seem, are private." At least for now, Sprouse is keeping any other potential relationships private, as well.