Which Future Big Celebrities Will Star in the Are You Afraid of the Dark? Film Adaptation?
It screenwriter Gary Dauberman is bringing the Canadian horror anthology series Are You Afraid of the Dark? to the big screen.
---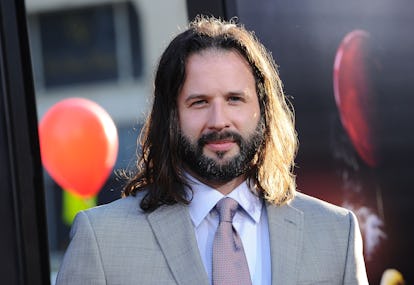 Jason LaVeris/Getty Images
Are You Afraid of the Dark?, the Canadian horror anthology that helped launch the careers of a young future A-lister, Ryan Gosling, and future scream queen Neve Campbell will reportedly return as a film, with It screenwriter Gary Dauberman at the helm. After the success of It, Dauberman will rejuvenate Are You Afraid of the Dark?'s Midnight Society, otherwise known as the ragtag group of tweens who gather around the campfire to tell scary stories, ranging in topic from urban legends and dark fairytales to scary clowns and vampires.
Dauberman is also producing two other films, The Children and The Nun, which is another installment in the Conjuring series. Dauberman also wrote another Conjuring spinoff, Annabelle: Creation, earlier this year. The new Are You Afraid of the Dark? film will be developed by Paramount Players, a subsidiary of Paramount Pictures, which has access to properties under other Viacom labels such as Nickelodeon.
After solidifying his status as a master of horror by raking in $13.5 million on It's opening night, and with an It sequel already slated to hit theaters in 2019, Dauberman is about to be very busy. The blockbuster even got a stamp of approval from indie darling Xavier Dolan, who called It his "favorite film of this century."
That is quite a bold statement, but considering the cult following surrounding It and the cult following surrounding the series that originally ran for seven seasons from 1992 to 1996 before coming to Nickelodeon in 1990, Dauberman's Are You Afraid of the Dark? is sure to be a closely followed. Plans are also likely in place to put an even darker, scarier twist on a show that once ran as children's programming on Nickelodeon. Are You Afraid of the Dark? is not to be confused with Goosebumps, the other Canadian horror anthology television series based on the books by R.L. Stine.
Which future big names will be gathered around to dish some campfire tales? Sprinkle some dust on the nearest campfire after gossiping about a creepy tale with your best friends and maybe you'll find out. Since Finn Wolfhard made waves in It earlier this year, can this be our official request to have all of the kids from Stranger Things get together and tell scary stories for the big screen?
Related: It's Bill Skarsgård Says the Scariest Scene Was Cut From the Movie
See W's most popular videos: