Aretha Franklin Is "Gravely Ill" and Her Death Is "Imminent," According to Close Friends
The queen of soul has long been plagued by rumors of her ill health.
---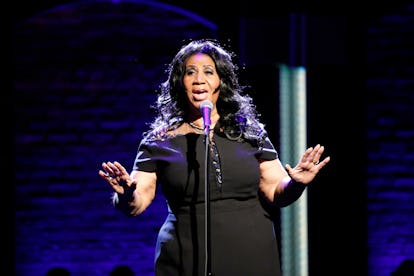 Jon Pack/NBC/Getty Images
Aretha Franklin is critically ill, according to a tweet by Detroit news anchor Evrod Cassimy early Monday morning that was later corroborated by People magazine.
"I am so saddened to report that the Queen of Soul and my good friend, Aretha Franklin is gravely ill. I spoke with her family members this morning," Cassimy wrote. "She is asking for your prayers at this time. I'll have more details as I'm allowed to release." Later, he continued, "Just got a chance to speak to Aretha Franklin. She is resting and surrounded by close friends and family."
People magazine separately spoke to an anonymous source, reportedly a member of Franklin's inner sanctum, who supported this account: "She has been ill for a long time," the source said. "She did not want people to know and she did not make it public." Nevertheless, the friend said, her death is now "imminent"; those closest to her were told up to two weeks ago that "she could go at any time," per TMZ, which also reported a separate source said Franklin has been suffering from cancer.
Rumors of Franklin's poor health have plagued the musician in recent years, though she's declined to address them publicly: In response to a query from Jet magazine, she said, "I am not going to even deal with that." In November of last year, a fan account posing as Franklin's official Twitter (@arethafranklinn, in lieu of @arethafranklin) broke the news of her supposed death, prompting her to respond that she was "doing well, generally," and to wish her followers "thanxxxx for your concern." The 76-year-old icon announced her retirement last year, while planning to indulge in a bit of post-retirement entrepreneurship with a new nightclub. She had dialed back her public performances recently, though, notably, a 2015 Kennedy Center Honors performance made then-president Barack Obama cry. Despite a surprising number of death hoaxes, based on the reports so far, the news unfortunately seems to be real this time.