Aretha Franklin Reveals Post-Retirement Plan to Open Nightclub in Detroit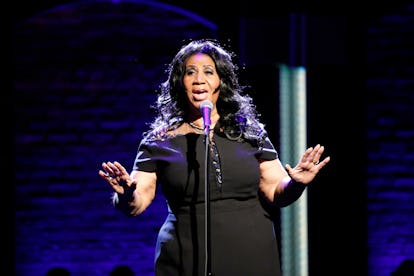 Jon Pack/NBC/Getty Images
Nightclub owners demand a certain level of R-E-S-P-E-C-T, and Aretha Franklin is about to find out what that means to her.
In an interview with the Detroit Free Press this week, the iconic musician revealed that, upon her previously announced retirement at the end of this year, she will move back to her hometown of Detroit and open a nightclub. "I'm interested in doing a small nightclub downtown, and [Bruce Schwartz, Detroit relocation ambassador for Bedrock Real Estate Services] and I have been talking about this for a couple of years now," Franklin told the newspaper. Bedrock Real Estate Services President Dan Mullen said in a statement to the Detroit Free Press that the company "would love to work with Aretha, and we look forward to hearing her ideas for a club downtown."
The "Natural Woman" singer also shared that she will occasionally grace clubgoers with her legendary vocal talents. "From time to time I would sing, and of course, I would have special artists come in to perform for the city that people in Detroit like — Detroit favorites," she said, adding that the name of the club is a no-brainer: "It would be Aretha's!" Franklin, who currently resides in Bloomfield Hills, a suburb of Detroit, said she is tying up loose ends in preparation for her return to the city limits, where she grew up. "I'm cleaning house," she said. "I'm going to be moving back into Detroit, and I'm just getting things ready for that. My granddaughter just went to college, so I'm spending time with my grandchildren, and I'm also readying the new CD."
The 75-year-old announced her retirement earlier this year, telling Detroit TV station WDIV Local 4 in February that although she will continue recording new music, 2017 will mark her last year of touring. "I feel very, very enriched and satisfied with respect to where my career came from and where it is now," she said at the time. "I'll be pretty much satisfied, but I'm not going to go anywhere and just sit down and do nothing. That wouldn't be good either." Franklin's next album is due out sometime later this year, and she told WDIV she had enlisted the help of longtime friend Stevie Wonder for the project, which she described as "kind of multi-[directional]." "Of course, several of the songs are going to be produced by Stevie," she said. "There's only one Stevie, right?" Yes, and only one Aretha Franklin.
Related: [Aretha Franklin Airs Her Feuds in Public Via Fax, As All Stars Should]
R.I.P. Aretha Franklin, Who Had Style to Match Her Soul
The singer posed for a portrait in a classic '60s formfitting cream pencil dress that featured a side knee-high split. He look was completed with a pair of matching cream mary jane pumps.

Michael Ochs Archives
The soul singer looked divine as she donned an embellished bell-sleeve caftan as she posed for a portrait.

Michael Ochs Archives
American soul singer Aretha Franklin stands backstage wearing a gold-embroidered gown and holding a Grammy Award, circa 1970.

Photo by Getty Images.
Never afraid to show off her voluptuous curves, Franklin was front and center at her concert in 1972, dressed in a navy blue and gold dress that accentuated her bust with a low neckline and her legs with a thigh-high split.

Photo by Getty Images.
Aretha Franklin performing a song on a 1975 Bob Hope television special.

Photo by Getty Images.
At the 10th Annual Music Awards in 1983, the singer shows off her award and curvy figure as she poses in a strapless sequined gown on the red carpet.

Photo by Getty Images.
Aretha Franklin, in powder blue, in a concert circa 1985.

Photo by Getty Images.
Franklin performing at the Chicago Theater.

Photo by Getty Images.
Franklin, in 1990, in a regal gown by the late designer Arnold Scaasi, looking every inch the Queen of Soul.

Photo by Getty Images.
Franklin wore this leopard-and-zebra print jacket, matching cuff, and cream minidress to the Arista Records Pre-Grammy Party. She accessorized her look with gorgeous gold chandelier earrings.

Photo by Getty Images.
Franklin sings "Some Day We'll All Be Free"at the inauguration for President Bill Clinton in January 1993, on the steps of Lincoln Memorial.

Photo by Getty Images.
The Queen of Soul arrived to the 39th Annual Grammy Awards looking radiant and glamorous in a cream dress and matching fur coat.

Photo by Getty Images.
Franklin performed at Radio City Music Hall for a VH1 special in a fuchsia and black patterned gown paired with a satin fuchsia and black shawl and black strappy sandals.

Photo by Getty Images.
Franklin stole the show with her performance, and hat, at the inauguration of President Barack Obama in 2009.

Photo by Getty Images.
Franklin stunned in a off-the-shoulder black satin gown during her performance at the Candie's Foundation 2011 event. She kept her accessories classic: a pearl necklace and earrings.

Photo by Getty Images.
The legendary songstress looked angelic in a white one-shoulder gown for her performance during Surprise Oprah! A Farewell Spectacular.

Photo by Getty Images.
Franklin looked radiant and effortlessly chic in a shimmering soft gold caftan while attending the 102nd White House Correspondents' Association Dinner.

Photo by Getty Images.
Franklin performing during the 2017 Tribeca Film Festival opening gala premiere of Clive Davis: The Soundtrack of our Lives, at Radio City Music Hall on April 19, 2017, in New York. Photo courtesy of Getty Images.

Taylor Hill
See What's Trending in W Video: