Ariana Grande Sent Food to Kentucky Voters Waiting in Line for Hours
There was an enormous turnout at the Kentucky Expo Center—the sole polling place in Louisville—after the state closed 95% of its voting sites.
---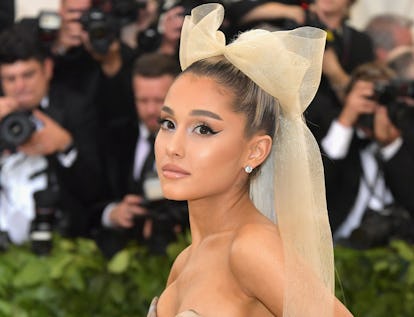 Neilson Barnard
A worldwide pandemic and thousands of protests against police brutality and in support of the Black Lives Matter movement are excellent opportunities for celebrities to use their enormous platforms, open their equally enormous purses, and show up for worthy causes. Some still remain mum on the subject of anti-racism, (or posted a black square on #BlackoutTuesday and left it at that,) but Ariana Grande is not one of them. She protested in Los Angeles in early June, donated to COVID-19 relief and various Black Lives Matter affiliates, and even put on for South LA Café, a local, black-owned coffee shop—less than 30 minutes after she posted a picture of her drink on Instagram, 150 customers showed up.
Yesterday—Primary Day for New York, Virginia, and Kentucky—Grande sent food and coffee trucks to the Kentucky Expo Center, the convention-center-turned-sole-polling-place in Louisville. The KEC experienced an enormous turnout on Monday, after the state closed nearly 95% of its polling places. The lines were predictably long, with extended waits and traffic delays for voters who'd traveled there to cast their ballots.
Given the socio-political landscape of this moment, voters were invigorated to have their voices heard. But with Kentucky polling places slashed from 3,700 to fewer than 200—in counties coincidentally populated largely by Black residents, there was just one polling place—some citizens might have understandably lost steam. Grande knew this, and posted earlier in the day a reminder for people to vote on Twitter, before sending out the trucks.
Grande's actions go beyond what was once accepted as a good way for celebrities to encourage citizens to vote (remember P. Diddy's Rock the Vote campaign in 2004? Seems a bit self-serving in this context, doesn't it?)
Her efforts are also a message to other celebrities looking to be involved in this movement: get creative and put those pocketbooks to use.
Related: Liana Finck on DMing with Ariana Grande and Making Art During a Pandemic