Daniel Chinchilla on Ariana Grande-Style Makeup
Beauty tips from Ariana Grande's go-to makeup artist.
---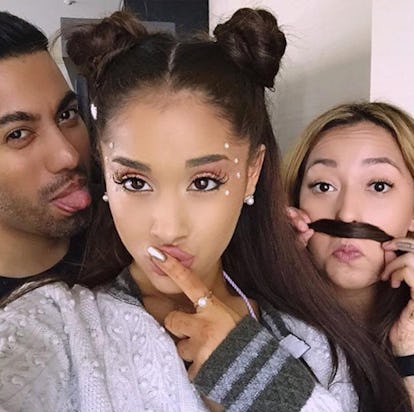 Daniel Chinchilla is Ariana Grande's main man when it comes to her flawless face. Here, the makeup artist talks beauty missteps, must-use routines and life as a pop diva's beauty guru.
Ariana has quite a strong signature look. How do you keep it fresh? It's all about a comfort level. If she wears her hair down, we do less makeup. There's a lot of planning involved in maintaining that balance.
How do you like to prep the skin for the red carpet or stage? Your makeup is nothing without good primer. I love the Smashbox primers. Also, by layering your makeup. The more you layer and dab, the longer it's going to stay on.
What's your favorite product that's always your in kit? Better Than Sex mascara by Too Faced.
What step do you consider a must in a woman's beauty routine? I think it really goes back to priming. Even though it's a couple of extra steps, it's going to make a world of difference in how your makeup stays on. And taking your makeup off at night! Makeup removal is two steps: first remove all makeup, and then cleanse the skin.
What is a common beauty blunder? Red lipstick (and bold lips in general), that doesn't stay put.
How would you fix it? I like to apply the lipstick, blot it off with a tissue, apply it again and set it with powder. Another way to prevent lipstick from feathering is with lip liner. I fill in the whole lip with the liner and then apply the lipstick on top. It gives your lipstick a base, like a primer.
Are there any beauty products that you're not into? Not in terms of products. The one technique that I just don't get is this whole highlighting and contouring thing that's going on. It's not necessary for the everyday woman. My sister just texted me about it and I said, "You don't need a contour kit… you need a bronzer!" It's too much product on the face. The heavy products are better for stage.
Where do you want beauty on Instagram to go next? I want to see red carpet makeup, simple and flawless makeup, a Kevyn Aucoin-type beauty that's just pretty.