Ariana Grande, Demi Lovato, Jennifer Hudson, and Miley Cyrus Will Be Joining March for Our Lives
David Hogg announced the news on CNN.
---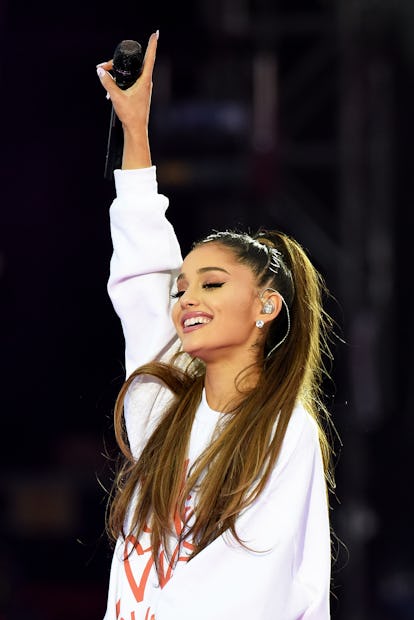 Photo by Getty.
Ariana Grande, Demi Lovato, Jennifer Hudson, and Miley Cyrus will be joining in at the March for Our Lives.
The march calling for gun control is set for March 24 in Washington, D.C., organized by the student survivors of the February 14 shooting at Marjory Stoneman Douglas High School in Parkland, Florida, which left 17 people dead. On Wednesday, student survivor David Hogg appeared on CNN to speak about the forthcoming event. There, he announced that the four famous singers would be standing with the students.
"We're gonna have four major independent women that are standing with us and walking beside us," Hogg told CNN. "They're gonna be standing there with us and marching with us and they're just some of the few people that are really coming out and stepping up with us."
All four women have been outspoken proponents of gun control, with Hudson and Cyrus commenting on March for Our Lives just this week. "I am completely inspired by the students and communities standing up for the future safety of everyone and to honor those we've lost from senseless acts of gun violence. I stand with you and raise my voice with yours. #ENOUGH," tweeted Hudson on Wednesday. And on Friday, Cyrus wrote, "Please support the powerful message of change, unity and healing from student survivors of the #StonemanDouglas shooting. Listen to their song #SHINE http://smarturl.it/ShineMSD & be a part of the movement to help end gun violence!"
In late February, Lovato brought Marjory Stoneman Douglas students with her onstage. "It was such an honor to meet them and hear their courageous stories," she later said in a statement. "I want to make sure their voices are being heard and we can provide them with the mental health and post-trauma care they need." Meanwhile, although she has not made any statements about the Parkland shooting itself, Ariana has called for more gun control in the wake of the shooting in Las Vegas last October. "My heart is breaking for Las Vegas," she wrote then. "We need love, unity, peace, gun control & for people to look at this & call this what it is = terrorism."
According to The Hill, other celebrities who have said they plan to join the march include Jimmy Fallon, Chelsea Handler, Julianne Moore, Jimmy Kimmel, George and Amal Clooney, and cast members of Modern Family.
Previously, March for Our Lives has received sizable donations from major names such as the Clooneys, Oprah Winfrey, and Gucci.
Related: A 17-Year-Old Activist on What the Nationwide Gun Control School Walkout Really Meant