Ariana Grande Ponders the Future of Her Ponytail
She knows exactly what her signature style means to fans.
---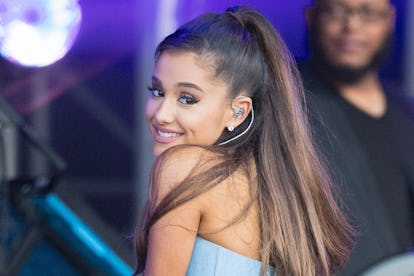 RB/Bauer-Griffin/Getty Images
What would Ariana Grande be without her ponytail? The hairstyle has been a mainstay of her assent to pop stardom, but the latter might be what's helping to keep her there. In a new cover story for The Fader, Grande poses in her signature hairstyle, currently dyed a mix of platinum, brunette, and purple.
At one point during the accompanying interview, the reporter asked the pop star if, as a sort of response to all of the changes in her life—including her upcoming album Sweetener, public discussions about her anxiety, her split from Mac Miller, her new SNL star boyfriend Pete Davidson—Grande would ever ditch her trademark hairstyle. Her answer was both decisive and explicitly business-savvy. "The pony has also gone through an evolution, and I'm proud of that," she explained. "Old pony? I don't know if she's that girl. But new pony? I like her. I mean, it's like a Victoria's Secret angel without angel wings. It's still her without them, but when she's with them it's like, 'Ohh, I get it, she's an angel.'"
Grande is clearly savvy about how exactly her fans see her. True stans aren't going to go anywhere if she switches up something as inconsequential as a hairstyle, but she knows her image is built, at least in part, on the pony. And luckily for fans of her signature 'do, it's not going anywhere.
Over the years, Grande has still managed to mix up her look, all within the confines of a hair tie. The ponytail has been cornrowed, dyed, and twisted up into a bun. We're so used to seeing Grande in her ponytail that even the slightest change can send her fandom into a tailspin. Fans were quick to note (read: freak out) that in the imagery for her latest single, "No Tears Left to Cry," Grande stayed true to form in a ponytail—but positioned it at the nape of her neck rather than the crown of her head. Did the change signify a darker Grande? A more mature sound? A sleeker production style? Stay tuned this summer, when Sweetener makes its debut and all mane-related questions will (hopefully) be answered.