Pete Davidson Responds to Trolls Who Say He Can't Date Ariana Grande Because of His Borderline Personality Disorder
He spoke out on Instagram Stories.
---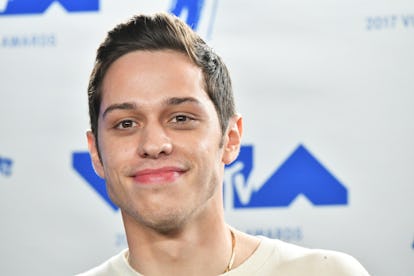 Steve Granitz
Pete Davidson is clearing up misconceptions about dating with borderline personality disorder. After some folks on Twitter suggested he was unable to be in a stable relationship with Ariana Grande because of his BPD diagnosis, the Saturday Night Live star took to his Instagram Stories on Thursday with a PSA.
"Normally I wouldn't comment on something like this 'cause f— you," he wrote. "But I been hearing a lot of 'people with BPD can't be in relationships' talk. I just wanna let you know that's not true. Just because someone has a mental illness does not mean they can't be happy and in a relationship. It also doesn't mean that person makes the relationship toxic."
Davidson opened up about having BPD last September after receiving a diagnosis in December 2016, telling Marc Maron that he's managing his BPD with the help of medication. "It is working, slowly but surely," he said on WTF with Marc Maron, per Rolling Stone. "I've been having a lot of problems. This whole year has been a f—ing nightmare. This has been the worst year of my life, getting diagnosed with this and trying to figure out how to learn with this and live with this."
The comedian elaborated on seeking mental health treatment for BPD in his Instagram Story on Thursday. "Everybody is different and there are a lot of treatments for mental illnesses and I have done/am doing all of them," Davidson continued. "And I encourage those who struggle to seek help as well[;] it has changed my life for the better. I just think it's fucked up to stigmatize people as crazy and say that they are unable to do stuff that anyone can do. It's not their fault and it's the wrong way for people to look at things.
"I may be crazy but at least I'm aware of it and not afraid to be honest about it and I'm not hiding behind a Twitter or Instagram account," he added. "I'm simply writing this because I want everyone out there who has an illness to know that it's not true and that anyone who says that is ill and full of shit. Mental illness is not a joke[,] it's a real thing. There's kids out there killing themselves. And it's f—ing horrific. For all those struggling[,] I want you to know that I love you and I understand you and it is going to be okay. That's all. Love to everyone else."
Previously, news broke that Davidson was reportedly dating (and getting matching tattoos with) Ariana Grande following the latter's break-up with Mac Miller. Although neither celebrity has explicitly commented on the relationship, Grande took to Twitter this past Wednesday with a reality check for one internet commentator who was romanticizing her time with her ex.
"How absurd that you minimize female self-respect and self-worth by saying someone should stay in a toxic relationship because he wrote an album about them," she wrote, adding, "I am not a babysitter or a mother and no woman should feel that they need to be. I have cared from him and tried to support his sobriety [and] prayed for his balance for years (and always will of course) but shaming/blaming women for a man's inability to keep his shit together is a very major problem."
"Of course I didn't share about how hard or scary it was while it was happening but it was," Grande continued. "I will continue to pray from the bottom of my heart that he figures it all out and that any other woman in this position does as well."