Poster Girl
With arguably the most popular political site on the Web, an endless roster of high-powered bloggers and a smart new book, Arianna Huffington is more influential than ever.
---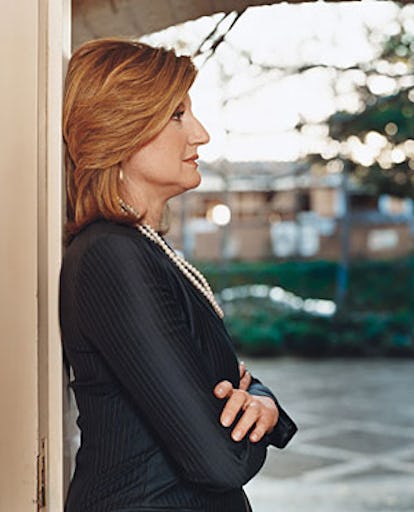 Polished yet relaxed, her copper hair casually blown dry, not coiffed in the helmet of days gone by, Arianna Huffington dips into her blueberries and yogurt as if she has all the time in the world. We're talking in her Italianate mansion in the Brentwood section of Los Angeles, and though it's a Sunday, she's been up since 6 a.m., scouring the morning headlines; hiking with Norman Lear's wife, Lyn; lunching with David Geffen; and correcting the galleys of her 12th book, Right Is Wrong, due out in May, in which she pours scorn on her former political allies.
"There's no question that it's harder to dismiss me or write a caricature now," says Huffington, who has spent much of her life in the public gaze, and not without controversy. Over the years, she's had various incarnations—Cambridge scholar, best-selling author, socialite, Republican wife, conservative pundit, self-help guru and liberal activist. But there's little doubt that she's ideally cast in her latest role: editor in chief of the Huffington Post, the news Web site and group blog whose edgy commentary has made it a must-read in liberal circles.
In person, the statuesque Huffington is softer and less imposing than she appears on TV. Dressed in a black pantsuit and a blouse with a plunging neckline, she has a ready laugh and the ability to create an instant intimacy. "She can do anything—give a speech, a toast, tell a story," says director and writer Nora Ephron, a longtime friend. "But she can also sit there and make you think you're the only person on the planet." Known for her sharp wit and her trademark Gabor-sister accent, "she's as fast on her feet as any comedian," says Ephron, who auditioned Huffington for a role in her 1998 film, You've Got Mail, after spotting her on TV debating liberal poster boy Al Franken. "She was a Republican then, but for me, being funny trumps everything." (Still, she wasn't cast.)
Chez Huffington, there's no separation between life and work: Her two daughters, Christina, 18, and Isabella, 16, a housekeeper and assorted assistants come and go through the Henry Higgins–style library, crammed with family photos, books, an oversize desk and numerous laptops logged on to the HuffPo, as it's increasingly known. Central command is up the circular stairway in the corner, past the landing and hidden behind the sliding bookcase. Here, in the Huffington Post's West Coast bureau, an office resembling a college dorm room, four staffers keep tabs on the traffic. (The editorial office is in Manhattan.) Huffington jokes with them as she clicks on to 23/6, a new comedy site financed by Barry Diller's IAC, in which the Huffington Post is a partner. It's an unlikely sight: a 57-year-old woman giddily surfing political campaign-ad parodies with her tech-savvy, twentysomething cohorts.
As a cybersalonista, Huffington is perpetually brokering connections among the A-listers she knows from Hollywood, Washington, the media and beyond. She launched the Huffington Post in 2005 as the left's answer to the Drudge Report, introducing boldfaced names to the blogosphere. The betting was that it would last as long as the Segway. Today, it is the fourth most-linked-to blog, as ranked by Internet tracker Technorati; in February it surpassed Drudge for the first time, drawing 3.7 million unique visitors to Drudge's 3.4 million, according to Nielsen Online. Recently, London's Observer magazine ranked Huffington Post first on its list of the world's 50 most powerful blogs. And last June, the site expanded its coverage to include media, lifestyle, business and entertainment. Informed by a dishy, largely anti-Bush sensibility, the HuffPo features links to the stories it deems most vital and blog posts from a mix of celebrities, politicos and experts, none of whom are paid. On any given day they might include Hillary Clinton, King Abdullah of Jordan, Bill Maher—and, of course, Huffington herself.
"She's become the personification of a media brand," says her friend Tom Freston, former Viacom chief. "And there aren't many media outlets still centered around one person. She's the engine."
In Huffington's hyperlinked world, dinner parties, Davos summits, political roundtables—and even hikes and doctor visits—are all fodder for the HuffPo. Cofounder Kenneth Lerer, a former AOL Time Warner executive, hatched the idea while a houseguest of Huffington's. He recalls observing her at her desk, fielding "hundreds of calls" to pitch causes and solicit advice. "I thought, Is there a way to put that on the Internet?"
"She's got three BlackBerries going—she's 24 hours a day," marvels the hardly laid-back Endeavor chief Ari Emanuel, who speaks to her daily and blogs for her; self-help author Kathy Freston recalls spying her in downward-facing dog during a yoga class checking her messages. Willow Bay, an editor at the Huffington Post, recently gave her a fanny pack to hold all the gadgets she brings along on their weekly brainstorming hikes in the Santa Monica Mountains, which, like Huffington's frequent soirées, regularly include a cast of influential insiders.
It wasn't that long ago that Huffington was variously dismissed as a social climber, "intellectual lap dancer" and political opportunist—famously changing stripes in the Nineties when she ditched Newt Gingrich's Republican party for the left. As the wife of oil heir and Republican Congressman Michael Huffington (who publicly came out as bisexual following the couple's 1997 divorce), she was seen as a schemer who drove his run for political office. She was similarly derided during her own failed 2003 Independent campaign for governor of California against Arnold Schwarzenegger.
The bad press, says Huffington, "is just another lesson in how you keep going. Do I let the fact that I was caricatured during my ex-husband's campaign be present for me? That was yesterday. Who am I now? What am I doing now? It didn't come easily, but I've really worked on myself to get to that point—to not carry it with me."
Perhaps as a result, the Athens-born Huffington (née Stassinopoulos) is finally regarded with the kind of gravitas she's longed for since becoming the first foreign-born female head of Cambridge University's vaunted debating society in 1971. ("Has technology become our master?" was among the topics she kicked around with the late Benazir Bhutto, who debated for Oxford's club in those years and later blogged for the HuffPo.)
"People still marvel at her ability to keep reinventing herself," says Washington Post and CNN media critic Howard Kurtz. "But even skeptics recognize that she has built something in the Huffington Post. She's no longer the political gadfly trying to sell herself. Now she's selling something much larger."
By setting up camp at the crossroads of old and new media, Hollywood and Washington, baby boomers and the Facebook generation, Huffington intends for the HuffPo to bridge the divides. "It's evolved into one-stop shopping for people as interested in Britney Spears as Barack Obama," says Kurtz. Huffington enthuses both about its recent hiring of journalists to do original political reporting and about how Universal Studios president Ron Meyer's preteen daughter "live-blogged from the MTV Awards."
Her friends, meanwhile, refer repeatedly to her missionary zeal: "Daaahling, would you like to blaaagh?" says comedian Tracey Ullman, trotting out the spot-on Huffington impersonation she does on her new Showtime series. Ephron recalls thinking "in your dreams" when Huffington first approached her. But Arianna's "irresistible" persistence the day Mark Felt was outed as Watergate's Deep Throat made Ephron a convert—and later a HuffPo investor. "I got phone calls all day long from television shows, radio shows and newspapers, and I thought, I'm taking the high road and not writing about this," says Ephron. "That lasted until 5 p.m., when I got an e-mail from Arianna. By 5:06 I had written something. By 5:16 it was up on the site."
Huffington's nose for the zeitgeist showed itself early. At 23, during the height of the feminist movement, she wrote a controversial best-selling antifeminist book, The Female Woman, which she says "took on the denigrating of motherhood." She also wrote biographies of Maria Callas and Picasso (both prompting allegations of plagiarism) and lived in London with Bernard Levin, the celebrated London Times political columnist who was twice her age and the love of her life. When he wouldn't marry her, she moved to New York, where she made inroads into high society. "She was very ambitious," notes her Callas publisher Lord Weidenfeld, recalling the party he took her to for William F. Buckley Jr.'s National Review. "I said to her, 'There are all these grand couples in America. If you want to succeed, you should be demonstratively cool to the husbands and demonstratively friendly to the wives.' And this is exactly what she did."
Her smarts and charm won people over. Ann Getty, then a close friend, set her up with Texan Michael Huffington and paid for their 1986 wedding dinner for 500 at the Metropolitan Club. "The groom's mother was apparently upset with the seating plan," recalls Lord Weidenfeld, "because a lot of relative strangers with glamorous names were seated at the main tables, and all the old Texan families sat in another room." Her friendship with Getty cooled after Arianna reportedly overspent on the event.
"They were both tall, attractive and interesting," recalls Getty when asked why she brought the couple together. "I had no idea that he was gay." (In a letter to W, written in response to Arianna's claim in the December 2001 issue that she was shocked by his public admission of bisexuality, Michael insisted that he had told her about it before they married.) Today Arianna will say only that "it was a mistake for me to talk about it. What matters is that he and I are now friends and interpreting our past."
Her husband's election to Congress in 1992 gave Arianna a national platform. In Washington, she joined Gingrich's brain trust and oversaw her husband's 1994 bid for the Senate, which he narrowly lost after spending a then unprecedented $30 million. She advised him against running, she insists, recalling that she was excoriated in the press. "It was painful," she says. "I learned so much about how destructive political campaigns are."
But Huffington can give as good as she gets. In her new book, based partly on her blog posts, she directs her greatest ire at those who, unlike her, are unwilling to say they got it wrong. Now a progressive whose coterie consists almost entirely of those who befriended her after her conversion, she offers her own mea culpa. "I believed Newt when he said that the moral imperative of dealing with poverty is greater than balancing the budget. Then he cut Medicare. That moment made me question everything. In the end, he was interested in ideas as a way to power."
In 1996, when she quit the GOP, she says that she "never could have predicted" the takeover of the party by the extreme right. John McCain has been among the biggest disappointments to her. "I absolutely loved him in 2000 and gave him a book party here. But he totally sold his soul," she says, pointing to his position on Iraq and his pandering to the religious extremists he once denounced as "agents of intolerance."
This capitulation to the right, in her view, could not have happened without uncritical journalists. Among her targets in Right Is Wrong are Meet the Press's Tim Russert, former New York Times reporter Judith Miller and Bob Woodward, whom she dubs "the dumb blonde of American journalism" for missing the Bush administration's deceptive selling of the war to the American public while he had unparalleled access to its key players. "It's easy to say, 'Look what Fox has done to the media,'" says Huffington. "What's more insidious is what the mainstream media has done. Woodward refused to say, 'I was wrong; I missed it.' There has to be some accountability."
The day we meet, she's just fine-tuned a new chapter on McCain, working down to the wire—a habit she's determined to change. Though she's dated former California governor Jerry Brown and more recently Newark's young mayor, Cory Booker, Huffington says she's not seeing anyone right now. "I tend to identify dating with sleep deprivation," she jokes. Her first priority, she notes, is her daughters (both of whom have dealt with eating disorders), though boosting her site's traffic and revenues are likely a close second. Right now she's focused on expanding the Huffington Post's Living section, with its emphasis on spiritual life and the work-life balance. "Disconnecting," advises Huffington, as if offering an insider tip. "It's the next big thing on the Internet." Whether she's right or wrong, there's probably something to it.