Stylist Arianne Phillips's Love Affair with Gucci's Alessandro Michele Continues
The award winning costume designer collaborated with Gia Coppola and Gucci on a four-part film.
---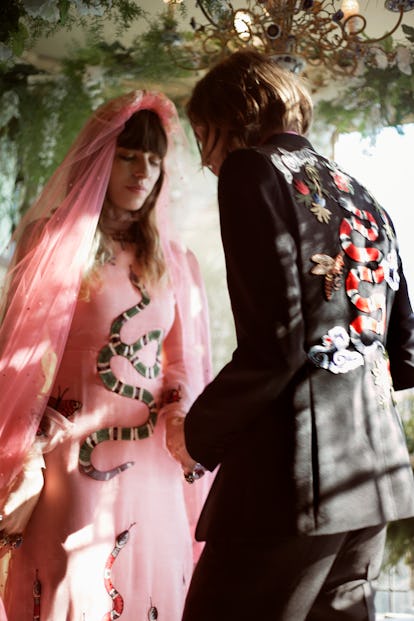 Award-winning costume designer Arianne Phillips has dozens of films under her belt, including W.E. and Walk the Line, both of which earned her Oscar nominations (other credits include A Single Man, Hedwig and the Angry Inch, and Girl, Interrupted). Fashion plays a heavy hand in her research, as the ultimate reflection of a time period, which is why Phillips is currently having a "totally love affair" with Gucci's Alessandro Michele–and she jumped at the chance to style his creations for Gia Coppola's new four-part film series for the brand's campaign with Conde Nast's branded content studio 23 Stories. The short movie revisits the ancient love story of Orpheus and Eurydice, set in modern-day New York City. Michele's clothing, with its flora and fauna details and rich colors, provides the perfect additional character to the mythic plot. This isn't their only collaboration, however, Phillips asked Michele to collaborate on her long-time client, Madonna's, Rebel Heart tour costumes. After a long day of shooting Kingsman: The Golden Circle in London, Phillips talks all things fashion, from Gucci to Madonna and the red carpet.
Tell us about working on the Gucci film. Branded content is a new genre, really. We had a lot of creativity and freedom to create this narrative, this story. And yet it is definitely [from] the perspective of a fashion film and it's the point of view of the Gucci brand. I'm a huge fan of Alessandro Michele–he's completely, in my opinion, revitalized not only the brand but the fashion industry. The way he uses embellishments is a departure from the minimalist fashion we've been in. His point of view is very modern. It's very ambiguous. His clothes can be worn day to night, man to woman. There's a real gender ambiguity to his collections. The great thing I love about Alessandro is that he creates character and stories with his clothes.
Do you follow the current fashion calendar? I go to shows sometimes but not on a regular schedule. I definitely pay attention to shows, if I don't see them in person, I'll look at them online.
How does fashion influence your work as a costume designer? As a costume designer you're telling a story, you're creating character. Certainly fashion, no matter if it's contemporary fashion or fashion from the 1860s or 1960s, is a reflection of what's relevant from that time. So I always look to fashion, whether it's historical or contemporary, as a reflection of what's happening in the culture. Currently I'm working on a contemporary film and I'm paying attention – I pay attention anyway because I'm a fan of fashion, and fashion is part of the work that I do when I'm not a costume designer. I do a lot of editorial, fashion advertising, and also working with Madonna for the last 18 years.
What's inspiring about Gucci in particular? As a costume designer, [fashion] is a perfect reflection of what is happening now, and I think it can be said about Gucci, that it's a real reflection of what's happening in our culture from the gender-bending clothes, from seeing those kind of androgynous women and men on the runway. It's part of the current zietgiest and conversation in our culture. And also this return to craft, this non-machine made thing. All the hand-embroidery, and embroidered denim. Taking things we love, like denim, and personalizing it. Alessandro has the ability to add these layers that feel very personal. Whether it's the appliques or the sequin embellishments. He has a wonderful sensibility and it's a real reflection, I feel, of what's happening out there. For me it's a welcome change from minimalism.
Another way fashion and film come together is on the red carpet. Do you pay attention to that at all? I don't really pay attention to the red carpet, there's so much of it. It's not really of interest to me. I don't really dress people for the carpet unless it's a friend or I have a relationship with them. The work that inspires me most, and that I'm better at, is really about illusion, whether it's creating a character for a film, or a fashion photograph. I'm much more interested in illusion or fantasy than dressing an actor for their real life on the red carpet. I really admire the stylists that do it. It's a horrible pressure that actors are under these days, not only to be great at acting, but then they also have to look good on the red carpet. To me it's an opportunity I think for actors to align themselves with brands or do endorsements, so it's not really my thing.
Speaking of red carpets, Madonna caused quite a stir on the Met Gala red carpet last month. The great thing about Madonna is that Madonna has been breaking boundaries and artistically expressing herself consistently throughout her career. And she has opened a lot of doors for a lot of artists by having her own singular vision and being brave about her choices. I thought it was incredibly creative and her and Riccardo [Tisci] from Givenchy put it together and I think all the power to her. Obviously with Madonna no matter what she does she stirs up a lot of controversy.
What was it like working with Gia Coppola on the film? First of all, it's so fantastic to work with a woman director, and she has such a great vision, it's a great set to be on. Gia Coppola is a director I really admire. I happen to have known her for a long time and watched her grow and I think she's got a great voice. Her sensibility and Alessandro's sensibility are so perfect together, it was beautiful. Lou Doillon is the lead in the film, and it was just a wonderful chemistry. Gia did a great job creating these characters. We did an editorial story together recently for V magazine, when we shot the Gucci collection. So we kind of had a nice precursor to the film. She's really brilliant and has a long career ahead of her.
It seems like Alessandro Michele has very quickly built up this Gucci girl gang… People have just responded to him. Immediately I responded because it was a departure and it felt very modern. We're having to redefine luxury right now, with all these mass brands. We have luxury brands that are available in every airport and every shopping street all over the world. Brands have to constantly set themselves apart. Alessandro was able to do that, he was able to bring back this modern way of using hand and craft and beautiful embellishments that warrant luxury. From his bags to his shoes, they're just covetable. They are It Girl clothes and they span such a vast group age. We asked him to collaborate with us for Madonna's tour this year, [before I even] met him. I have this total love affair with everything he does. There's an authenticity there and I think he was able to very quickly identify people who he wanted to collaborate with. Basically, we're all lining up.
Madonna at the Met Gala: See the Star's Most Outrageous Red Carpet Looks
Madonna in Versace at the "Gianni Versace" Costume Institute Benefit Gala at the Metropolitan Museum of Art on December 8, 1997. Photo by Ron Galella/WireImage.
Madonna in Louis Vuitton at "The Model as Muse: Embodying Fashion" Costume Institute Gala at The Metropolitan Museum of Art on May 4, 2009 in New York City. Photo by Kevin Mazur/WireImage.
Madonna in Stella McCartney at the "Alexander McQueen: Savage Beauty" Costume Institute Gala at The Metropolitan Museum of Art on May 2, 2011 in New York City. Photo by Dimitrios Kambouris/FilmMagic.
Madonna in Givenchy by Riccardo Tisci at the Costume Institute Gala for the "PUNK: Chaos to Couture" exhibition at the Metropolitan Museum of Art on May 6, 2013 in New York City. Photo by Larry Busacca/Getty Images
Madonna in Moschino at the "China: Through The Looking Glass" Costume Institute Benefit Gala at the Metropolitan Museum of Art on May 4, 2015 in New York City. Photo by Dimitrios Kambouris/Getty Images.
Jeremy Scott and Madonna in Moschino.
Madonna in Givenchy by Riccardo Tisci at the "Manus x Machina: Fashion In An Age Of Technology" Costume Institute Gala at Metropolitan Museum of Art on May 2, 2016 in New York City. Photo by Larry Busacca/Getty Images.
Madonna wears Moschino at the "Rei Kawakubo/Comme des Garcons: Art Of The In-Between" Costume Institute Gala at Metropolitan Museum of Art on May 1, 2017 in New York City.

Neilson Barnard/Getty Images
Madonna attends the Heavenly Bodies: Fashion & The Catholic Imagination Costume Institute Gala at The Metropolitan Museum of Art on May 7, 2018 in New York City. (Photo by Neilson Barnard/Getty Images)

Neilson Barnard/Getty Images