Armie Hammer's New Passion Project Is Being a Lumbersexual
As his last name would suggest, it turns out Armie Hammer has actually become quite proficient at construction work during the pandemic.
---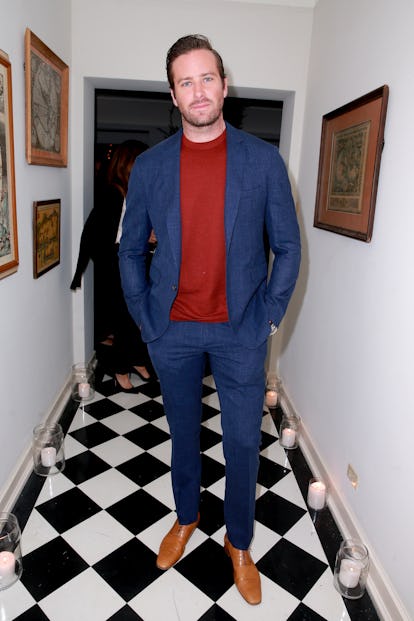 Rich Fury
Quarantine has been interesting for Armie Hammer, who, months after debuting his handlebar mustache and floppy mohawk, seems to have pivoted to becoming lumbersexual not only in dress and appearance, but in practice as well.
Last month, the actor opened up about his quarantine productivity (among other things) in British GQ, but Hammer shared the reasons behind why he got into his pandemic passion project on Jimmy Kimmel Live! last night. He approached the stage wearing a full space suit, helmet and all—which he had to "settle" for because "they were out of the Outbreak costumes—and a pair of white Birkenstocks on his feet. His quarantine mustache has been shaved off, but his quarantine activity indicates he knows his way around some tools.
His friend bought an old motel in the California desert, and he's been staying there with his friend, while his kids presumably stay with his soon-to-be ex-wife Elizabeth Chambers. But Hammer hasn't just been hanging around. No, like many of us, that quarantine boredom kicked in, and after he somehow tired of "picking boogers and seeing how far I could flick them," the actor packed up and headed out to Joshua Tree to do some construction work on the motel.
There's nothing like a little nominative determinism to get people talking about your quarantine habits, is there? After a lot of sanding floors, taking down old drywall and replacing it with new drywall in the motel, Hammer—whose last name implies that maybe he might not be so bad at construction after all—managed to make it to Jimmy Kimmel Live! to promote his upcoming remake of Rebecca (as well as Death on the Nile, which should come out "eventually" he said). We're looking forward to the day Hammer announces he's built an entire house.