Party Like a Miami Art Collector
Jorge Perez threw a dinner at his own museum and got Wyclef Jean to perform.
---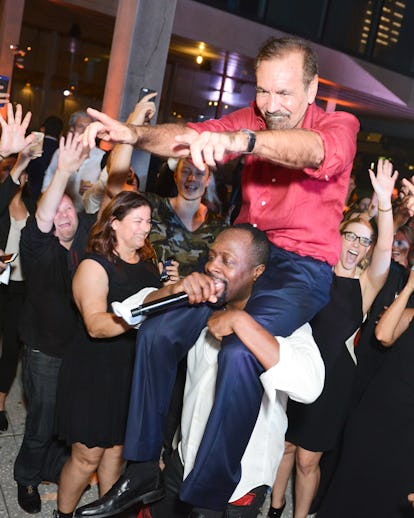 On Monday night, a little before midnight, a 66-year-old man was on the shoulders of the rapper and singer Wyclef Jean as he performed on a stage in Miami. The man's hands were fully in 'raise the roof' position, a grin was plastered across his face, and sweat poured down his forehead and stained his bold burgundy shirt. He looked overjoyed. The man was Jorge Perez, Miami's condo king and the largest donor, and indeed namesake, of the museum where Jean was performing.
"I don't feel 66," Perez said after he'd climbed down from the stage. "I still have my energy, I still love life…"
In Miami, collectors are like overlords, each protectively watching over the small and competing fiefdoms that make up the city's sprawling art scene. Don and Mera Rubell have their own private collection, the car dealership magnate Norman Braman is building a new home for the Institute of Contemporary Art, or ICA.
The waterfront museum is Perez' domain. Four years ago, Perez, the founder of the luxury developer the Related Group, staked his ground when he donated a chunk of his fortune – $20 million in cash, $20 million in art – to what was then called the Miami Art Museum. By Monday, it had been a year since its official opening and Perez was enjoying the fruits of his labor.
The design magazine Surface, which features Perez in its most recent cover, threw him a dinner and he decided to party the only way billionaires know: by enlisting a pop star to perform at his lavish venue for a hundred or so of his nearest and dearest. He met Jean over about a decade ago at an event at the White House during the Clinton administration and instantly saw a kindred sartorial spirit in the colorful rapper: "He was wearing a big fur coat then," Perez said, admiringly. Around him, Jean was now leading the crowd in a conga line.
Though it was only the first night of the weeklong series of parties around the Art Basel fair, Perez was not planning on pacing himself.
"I tend to avoid a lot of parties, but I think this one week in Miami is so special. I don't work. It's like a vacation and I just party all week long," he said. Jean, the featured entertainer, egged on his patron: "Eternal youth is naturally in our energy, he shouldn't have a problem at all keeping up." By Tuesday afternoon, the collector was out and about again, this time taking in the offerings at the Untitled art fair.
Photos: Party Like a Miami Art Collector
Jorge M. Perez and Wyclef Jean. Photo by bfa.com.
Jorge M. Perez and Wyclef Jean. Photo by bfa.com.
Wyclef Jean. Photo by bfa.com.
Mario Testino. Photo by bfa.com.
Melky Jean. Photo by bfa.com.
Jean Pigozzi. Photo by bfa.com.
Casey Fremont Crowe, Eric Shiner, and Liz Swig. Photo by bfa.com.
Ben Pundole. Photo by bfa.com.
Kathriene Pawson and John Pawson. Photo by bfa.com.
Marcel Wanders. Photo by bfa.com.
Jaun Mosqueda and Spencer Bailey. Photo by bfa.com.
Marc Lotenberg, Almine Ruiz-Picasso, and Bettina Korek. Photo by bfa.com.
Jeanne Greenberg-Rohaytn. Photo by bfa.com.
Jillian Choi and Steven Learner. Photo by bfa.com.
Bettina Korek, Casey Fremont Crowe, and Doreen Remen. Photo by bfa.com.