Arthur Chatto, the Queen's Grandnephew, Is the Internet's Newest Crush
The internet has no chill.
---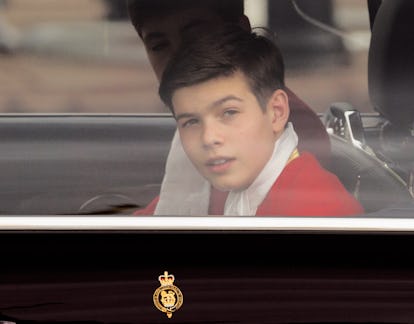 Max Mumby/Indigo/Getty Images
Arthur Chatto is the Queen's grand nephew (by way of his mother, Lady Sarah Chatto, the Queen's niece), he's 23rd in line to the throne, and he is freshly 18 years old. But more importantly to the internet at large, he is very handsome and increasingly "swole." Several years after being photographed serving as his great aunt's page boy, The Daily Mail discovered that Arthur Chatto has his very own Instagram account, filled with thirst traps, chiseled cheekbones, and even a shirtless selfie.
While Arthur's Instagram boasts only 16 posts, his profile still sheds plenty of light on what the young royal has been up to. The caption of one photo reveals that he attends the all-boys boarding school Eton College, where he serves on the Combined Cadet Force. (Prince William and Prince Harry both attended the famously blue-blood school as well.) The CCF aims to provide its members with a wide range of "military skills," "adventurous pursuits," and "leadership experience." He also shared a photo of his parents—Sarah and Daniel Chatto—on their wedding day, his dog Sealy, and adventures traveling through Iceland, Devil's Dyke in Brighton, Snowdonia, Wales, and the Matterhorn in Switzerland. He also shared a shot of himself playing the bagpipes with the caption "Angering the neighbours." But the picture that has been capturing the hearts of the internet is Arthur's recently posted shirtless mirror selfie, featuring Calvin Klein undies, ripped arm muscles, and a smoldering facial expression. Just check the photo's heart-eye emoji-ridden comments if you don't believe us.
The 23rd in line to the throne has made scarce public appearances over the past few years, but when he was younger, he was photographed rubbing elbows with his higher-profile relatives including the Queen, Prince Harry, and Prince William on multiple occasions. Arthur's clearly been too busy with school to stay in the royal spotlight—but perhaps his newfound social media fame will change that.
Check out a few of his handsome Instagram posts, below.
Related: Everyone Finally Discovered Eminem's Daughter, Hailie Scott, on Instagram