Artist Bradley Theodore Talks Tokyo Street Style and Science Fiction
The consummate collaborator, Theodore is teaming up with actor Kate Miller on her upcoming "Rose Petal Pistol" project and an art book, Once Broken.
---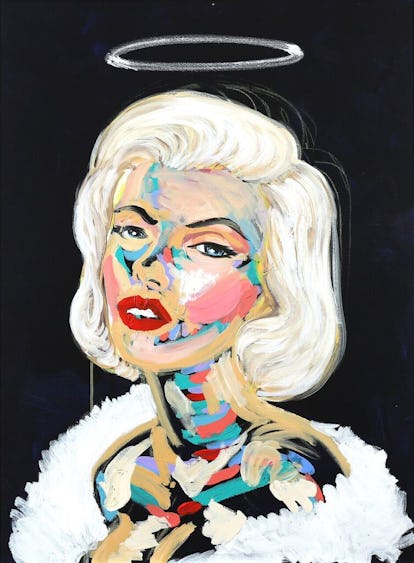 Last February, artist Bradley Theodore painted a mural at the New Museum for Italia Independent's Soho boutique opening. At the gala, he met and traded numbers with the actor, dancer, and artist Kate Miller (née Gorley) and her then-boyfriend, Silicon Valley actor T.J. Miller (they married in September).
The encounter, and blossoming friendship, provided the foundation for their upcoming artistic collaboration, an art book entitled Once Broken that also forms a part of Miller's new website-cum-portfolio, "Rose Petal Pistol," which went live today. Miller will create a book filled with her poetry, and then she'll pass it off to Theodore to do what he will with it. He describes the pair's working relationship as akin to that between a songwriter and a composer, albeit with words.
"This is probably the first time that you'll see artwork with words on paper from me," Theodore explained. "There's a different community for it. … You can omit things; you can bring things out." He relates it to the pioneering work of David Carson on Raygun magazine, who Theodore credits as the first graphic designer to break up typography, or to Alexander McQueen's Fall 2009 collection with its "ravaged" houndstooth — taking an established look or design and turning it on its head. (Though Theodore is a visual artist, his ties to fashion run deep — he's friends with Donna Karan and some of his most recognizable pieces are skeletal, abstract portraits of fashion icons like Kate Moss and Karl Lagerfeld.)
Theodore, a School of Visual Arts alum and nearly lifelong New Yorker (his family immigrated to the United States from Turks and Caicos when he was a child, and he relocated to the city as a teenager) has a busy year ahead: When we spoke, he had just returned from London, where his first solo show in the city had recently opened at Maddox Gallery. Later this summer, he resumes his travels (back to London, and then Thailand). In September, he opens yet another show and hopes to debut a new series of sculptures (adaptations of his fashion celebrity portraits into three-dimensional works) — and that's not to mention the gallery show for which he and Miller will collaborate again, adapting the art book into a "happening," as Miller termed it. Ahead of the launch of Rose Petal Pistol, Theodore shared his style and artistic inspirations, his early exposure to fashion, and his affection for Japanese culture.
You [and Kate] are working on a gallery show together, as well. How does that overlap with the book? I was at Frieze this weekend and I saw a large amount of artists that had put together these large-format art books that were actually canvases that were folded in half. The whole idea that the show itself is a story. [When] you do a group show, you're coming together based on a story, bringing it in to where it's creatively cohesive. The actual book is about the story where you're at your lowest point and you rebuild yourself to this new individual.
You're often identified as a street artist, but your work has appeared in galleries and spans gallery work, street art, and fashion, so I'm wondering if there's a difference for you between those identities and where your work is located. Not necessarily. In all my pieces, I use a brush and paint. I don't spray paint, so if I paint a painting on a wall, it's the same exact paint that I'm using, the same technique that I'm using on a canvas. For me, the focus is how you translate your creativity from one medium to another. The book will be a translation of my creativity — it'll be the third step. You go from the canvas to the wall, into a book. How do you make that special? That's what I focus on.
So aside from this collaboration with Kate, you've also worked with Mackage and with Alexis Bittar in the past. I'm wondering why working with other artists is interesting to you. I think when you work with people, it's interesting. Your knowledge can only stretch so far and your enthusiasm only gets so far unless you're inspired by other people. I acknowledge the fact that we are all inspired by people. There's somebody in your life that you really drew energy from. I think we need more collaboration. The Mackage situation was that we curated their store with a bunch of artists — some were known, established artists, and some were unknown artists that no one had seen before. Some had social media impact but they didn't know how to translate their work in actual, physical form, so I kind of acted like a mentor in helping them, presenting them with this is how and what you should do with your artwork.
Do you have any dream collaborators? Oh, of course. I'd love to collaborate with Karl Lagerfeld. He's next level. He doesn't go halfway, and he doesn't quit. He's always come on top. I think it's through sheer determination and sheer hard work and just understanding your skill level and trying to make it better. Fashion is one of the hardest industries in the world. It is the hardest industry in the world. I don't know anything harder than fashion except for being a gourmet chef. You just have to always stay fresh.
What's your earliest memory of fashion? There used to be a vintage magazine store [in the East Village], and it was one of those places you could only find in New York during the '90s. It had every issue of Vogue, every issue of Harper's Bazaar, every issue of Life, every old, vintage fashion magazine you could ever imagine. This guy went back to the '50s or the '40s. Now, the resurgence of social media allows people to have access to information they didn't have before, but those images, just seeing them for the first time, information wasn't so readily available, so having these little gems was just amazing.
Do you have a favorite? There was a magazine called Tokion that only came out with three or four issues, and one of the issues they did was an issue called Samurai. The Samurai issue was real, real fashion-forward, back before Galliano's 2007 Japanese collection he did for Christian Dior.
What is your favorite recent collection? Who really, really killed it this year? I think Surface to Air. I liked the new collection from Alexander Wang.
How would you describe your personal style? My personal style's developed over the years. As a kid, I think I was more of a flyboy. I'd have tailored pants with custom pockets on the side of it, and then later on I became a skater, so I was wearing Tony Hawk, Chad Muska stuff. Then, I went into a kind of rock and roll, Lenny Kravitz, bell bottoms, small, skinny t-shirts, wearing bug-eyed glasses, hanging out with house DJs. As I started traveling, I went through a Japanese phase where I was wearing early Comme Des Garçons, Bounty Hunter, Bathing Ape, Supreme, and then I went to more of a classic phase where I wear Aquascutum suits, Paul Smith, a little more classic. I try to be on trend.
You mentioned Japanese designers and [Tokion], and I'm wondering whether there's something about Japanese fashion in particular that influences you. It's a country that's been very important in terms of world history. They've interacted with most of the world. You have every different type of influence, but the best of the best. The first time I saw Burberry Black was in Tokyo, and it started in Tokyo. That's right before Burberry reemerged, taking the Burberry Black influence and bringing it into the mainstream. They require a little higher standards, so when you're looking at their standards for fashion, you gain a higher standard yourself.
Who are some of your style influences? Lenny Kravitz. His style's just always on point. He's the one that got me wearing bell bottoms. In Japan, there's Hiroshi Fujiwara. Whatever he wears is always hot. There's also a guy who owns a store called Skullshit. He's a punk-rock king out there. He throws these humongous punk parties and has this cool punk brand, and when I was in Tokyo he took me out.
What about artists? Do you have any artists in particular that have influenced you? I'm a big Renaissance fan, so I love Michelangelo. I love his sketchbook. I always sketch from his sketches. Da Vinci, too — Da Vinci's sketches were amazing. Big fan of Francis Bacon, Willem De Kooning, a local artist in New York called Ray Smith — he's just a genius — Ron Gorchov — he's like 80 years old. These are artists that influence where I live as an artist. They're really raw and straight with what they do. Jeff Koons. Brilliant guy.
So the Tribeca documentary — was that your first foray into film? Yeah, it was. I've done stuff for school and I've done computer stuff, but never actual film.
What was the last movie you saw? Yesterday, I saw Captain America: Civil War. I'm a secret sci-fi head.
Do you have a favorite sci-fi movie? Dune. Classic. They could have done a better job, but it's one of the best… and then Star Wars. I'd put Star Wars first. Star Wars was like a proper, flawless film, and then Dune was trying to get where Star Wars was.
Is sci-fi something that influences your art? No. Because I used to study computer graphics, I think my art is me going the opposite of that direction. It's like a Saville Row tailor versus a laser-cut pattern. They both are similar, but they're very different.
What are you listening to right now? The last thing I just downloaded was the Doors greatest hits, and I always have Prince, Prince's greatest hits.
Watch W's most popular videos here:
Photos: Artist Bradley Theodore Talks Tokyo Street Style and Science Fiction
Bradley Theodore. Photo by Karim Tabar.
"Coco Flowers," from Theodore's London show at Maddox Gallery.
Bradley Theodore. Photo by Getty Images.
Bradley Theodore attends the the Italia Independent New York Boutique Opening. Photo by BFAnyc.com.
Mackage X Bradley Theodore. Photo by Getty Images.
Bradley Theodore with his work.
"Kate Moss," from Theodore's London show at Maddox Gallery.
"Monroe," from Theodore's London show at Maddox Gallery.
This interview has been condensed and edited.