Ashanti Opens Up About Her Hands-On Approach to Her Own Career and Creating "Ear Candy" Collaborations
The R&B singer opens up about making moves that empower herself and others, and what she looks for in an ideal musical collaboration.
---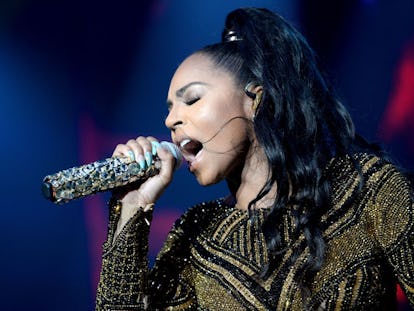 Scott Dudelson/Getty Images
For 15 years, many have attempted to imitate Ashanti's casual, airy vocal stylings that defined the sticky summers of the early 2000s, but few have been able to carve out the same niche. Ashanti skyrocketed to the top of the charts as the queen of R&B collaborations in the early aughts after singing with rapper Ja Rule on "Always on Time," then lending vocals to Fat Joe's "What's Luv?" and releasing her critically acclaimed self-titled album in 2002—which featured collaborations with both Ja Rule and Murder Inc. Records producer Irv Gotti. After winning a Grammy and eight Billboard Music Awards, starring in films and television, and recording five studio albums, Ashanti has positioned herself as a cornerstone of early aughts nostalgia, and will finally release her much-teased sixth album, on which she pledges to be the strongest, most authentic version of herself.
Murder Inc. Records—which formerly represented not only Ashanti, but Christina Milian, Bobby Brown and Vanessa Carlton as well—gave a 22-year-old Ashanti a major career boost in the early 2000s. Her singles "Foolish" and "Rock Wit U (Awww Baby)" ruled the airwaves for about two years, and garnered both commercial and critical success. Recently, the R&B singer rekindled her working relationship with Ja Rule, after the two performed their rendition of "Helpless," the R&B love song between Alexander Hamilton and Elizabeth Schuyler for The Hamilton Mixtape and embarked on a tour together, which has sold out at least twice so far.
In addition to recording her five other studio albums, the Long Island native has also gone Hollywood in the past—she appeared in the Samuel L. Jackson led basketball drama Coach Carter and had a lead role in the raucous teen romantic comedy John Tucker Must Die alongside Brittany Snow and Sophia Bush—and recently acted in and executive produced an upcoming film called Stuck. The film, which Ashanti describes as being "about six people from different walks of life and nationalities getting stuck on the subway together, which causes different kinds of cultural tension" also features Giancarlo Esposito and Amy Madigan.
Between acting, producing and performing, she gave us a taste of her slammed schedule. "Recently, I had a show in Indio, California that ended around midnight, drove back to L.A. for two hours, did a fitting for an hour and a half and then went directly to the airport to fly to Hawaii," she said. "When I landed, it was straight to the venue for sound check and then two back-to-back sold out shows in one night."
She's incredibly hands-on when it comes to taking charge of her own career, but also somehow still finds the time to pal around with her famous friends, whether it's for leisure or for work. "I've been working extremely hard for the past few months touring and recording my album, releasing a single, not to mention shooting the Ciroc French Vanilla commercial and having to promote all of the above," she said. In the commercial, Ashanti makes an appearance with an Internet famous roster that includes DJ Khaled and the memed restaurateur known as Salt Bae.
Diddy and French Montana—whom Ashanti familiarly refers to as "Puff" and "Frenchy" and has known since she was a teen—are main characters in the commercial who pop bottles of vodka while Ashanti slowly emerges from a pool in a glimmering bikini. Diddy told her she could finally have her "Bo Derek moment," in reference to the model's iconic swimsuit shot, if she took a role in the commercial.
To make sure she would be ready for her big "Bo Derek moment," Ashanti worked hard to keep herself fit on all fronts, revealing that, "Staying healthy in all forms—mentally, spiritually and physically—is so important to me. I try to eat clean in addition to doing detoxes. My favorite herbalist is Tracy Piper, she has the most amazing detox regimens and I feel brand new after spending three days with her" The singer's regimen is strict, as she keeps herself to an uncompromising schedule. "You would be surprised how many toxins, metals and all kinds of craziness we breathe and eat every day. It's super important to get that stuff out of your system along with hitting the gym," she declared. Ashanti also finds solace in the spiritual, revealing, "I do a lot of praying…just being grateful for the many blessings."
In terms of her sense of style, Ashanti also said that she gleans inspiration from past looks and remixes them with the trends of the moment that she finds most inspiring and comfortable. "Everything I'm doing right now is about feeling confident and sexy, whether it's an oversized t-shirt with over-the-knee boots or a jumpsuit with a great pair of heels. It is crazy for me to see all the stuff I did come back into fashion. It's all back from oversized jeans with crop tops to vinyl material and vintage prints!" She's not pressed if anyone wants to copy any of her early aughts style moments, either; rather she sees the imitation as a teaching moment.
"Recently, I was doing a fitting with my stylist and he was showing me some new pieces from Juicy Couture. He was raving about them and I had to school him and say that these were things I owned from my first album! Honestly, it makes me happy to see that vibe come back because I feel like that the next generation gets to bring their own flavor," she said.
After starting her own independent record label in 2009, Ashanti leaned into spreading the word about the importance of standing up for women, especially in light of the recent explosion of sexual assault news in Hollywood and the music industry. "I think it is crucial to support other women in such a male-dominated industry," she said. "As a woman and being the boss of my own record label Written Entertainment, and having the rights to the master version of my records, calling the shots is actually a blessing but also a lot of hard work. I hope to encourage more women to take control of their own destinies." Despite the exhaustive nature of performing and running her own label, Ashanti continues to use her platform as a way to protect other women in her industry from the power dynamics that are consistently abused by producers and popular artists. "What keeps me motivated is the love and passion for what I do," she said. "There is so much evil in the world, I'm just grateful that I can create music that really touches people."
When she duets on a track, Ashanti's keen ear for choosing the perfectly collaborative partner is astonishing. For years, she's worked with Ja Rule and other rappers to produce chart-topping ear worms that still hold up over a decade later. "The elements I look for when collaborating are melodies and complementing each other. If it's me and a rapper, he brings the ruggedness and I bring the sweetness. If it's another singer I just want our melodies and our voices to complement each other and create ear candy," she said of her ideal collaborations. Her new album—slated for an early 2018 release—is right on track to dole out plenty of that sweet "ear candy," as it will include collaborations and features with producers Metro Boomin', Swae Lee, Tory Lanez, 2 Chainz, Jeremih, Wiz Kid, French Montana, Ty Dolla $ign and DJ Mustard. She also worked with LT Hutton, the producer of All Eyez On Me, the biopic about Tupac.
On "Foolish" she crooned, "I keep on running back to you" to an undeserving lover, but on her next album, Ashanti aims to demonstrate her status as the authority figure of her own life. She knows that in the past her music has been more restrained, but her new music will be much more raw. "It's always worked best when my songs are relatable, so a lot of the themes are from my real-life experiences, like what happens down in the tropics or being the first one to make that phone call, or my real feelings regarding one of my exes," she said. Her upcoming album might differ slightly from her breezy, whispery early 2000s sound, but still offers a slew of fun party bops that fit in with Ashanti's idea of empowerment. "Get out of my face, say less. If it ain't about the money, say less," she defiantly broadcasts on "Say Less," her latest single with rapper Ty Dolla $ign.
The singer has no plans to hold back on baring her soul with the new songs she plans to release next year. "Someone's feelings are going to be hurt off of this one. There are some records that are a bit cocky and some that are just super vulnerable, like explaining how I put my blood and guts on the table, and in the same breath got betrayed faster than I could ever imagine," she said. Gone are the halcyon days of gentle, airy ballads focused on being jilted by former lovers, and in comes the new Ashanti who strikes the balance of welcoming change while sticking to her roots. "Believe me, this is just the beginning."
Related: The Hamilton Mixtape Has the World Excited About a Ja Rule and Ashanti Song