Puff Daddy, Who Still Can't Stop, Won't Stop, Has Started Reading Self-Help Books to "Become a Better Human"
Fresh off producing Can't Stop Won't Stop: A Bad Boy Story, the new documentary about Bad Boy Records available now on Apple Music, Sean "Diddy" Combs shares his reading list, some business advice, thoughts on Lil Yachty, and more.
---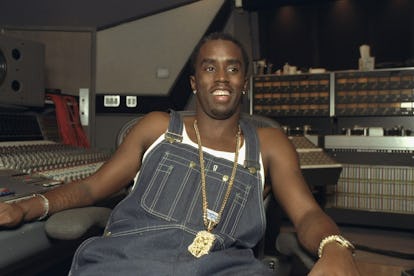 Sean "Diddy" Combs in 1997. Getty Images
Though he'd been running a hip-hop and R&B empire for well over a decade at that point, Sean "Diddy" Combs, aka Puff Daddy, couldn't believe it back in 2008 when a film was made about Notorious B.I.G.—and the actor Derek Luke was enlisted to portray Combs on-screen. "As far as watching someone playing me while I'm still alive and kicking, I was like, 'Damn, I didn't know this was going to happen,'" Combs recalled on a recent afternoon.
It came as even more of a surprise, then, that after Live Nation approached him to make a tour documentary a few years ago, the doc ballooned into a feature-length film about the origins and "life journey" of Bad Boy Records, the record label and entertainment company Combs started in 1993, after getting fired from his internship with Uptown Records CEO Andre Harrell.
"I felt like we'd definitely be around and doing our thing 20 years later, but I didn't think it would get to, like, movie form," Combs said of Can't Stop Won't Stop: A Bad Boy Story, which premiered on Apple Music on Sunday, and features everyone from Lil Kim to Mary J. Blige to Jay-Z. Fresh from producing the film, Combs shed some insight into how he got to be last year's top-paid entertainer in the world by sharing some of his routine and business advice in his culture diet.
Who would you most like to play you in a non-documentary movie?
I don't know, whoever's the realest character. [Laughs.] They just got to be real, they just got to be authentic. You know, this movie is not through my personal lens—it's a director's lens. It's the truth. There's no edit, no "let's turn the cameras off." I'm kind of caught out there a couple of times, all out of shape, shirt off, no haircut, because that's the story we wanted to tell. We wanted to tell the whole truth, and nothing but the truth.
What's the first thing you read in the morning?
I have this app that has these daily quotes like a conversation with god. You know, just how the stress of this world and we just got in tune with our life source all day. Instead of worrying about what's going to happen, just let it play out and really trust in god. I read that every day so I can get my trust up, so when I get hit with things, I'm also feeling with my faith.
What books are on your bedside table right now?
It's in my knapsack, and I've only read the first two pages, but I'm reading _Chop Wood, Carry Wate_r by Joshua Medcalf. It's just a book about life—the type of book you start reading and putting on your nightstand when you're 40 and 45, trying to become a better human, you know? [Laughs.]
What TV shows have been keeping you up at night?
Man, everything's kind of dry right now. This is the first time I'm understanding people who don't watch TV anymore. There's so much going on, and TV will depress you right now. So I've just been really listening to music and trying to get in tune with myself, because I keep turning that thing on and feeling like there's nothing but a lot of death and destruction and poverty going on. Sometimes you need to take a break, so I've been taking a little TV and news and negativity break. We need a little bit more balance in TV—shows that make you feel happy.
How do you typically get your news?
On CNN, and I get up to the minute reports. I still, as a leader, need to stay aware of current events—it's just watching it on television over and over I don't think is the best for me right now.
What's the last movie you saw?
Table 19. I do watch a lot of movies.
What's the last song you had on repeat?
I just had the new DJ Khaled and Rihanna song ["Wild Thoughts"] on repeat all morning.
What's the last concert you saw?
I was at Coachella, and then I was at the Rolling Loud Festival. I saw Migos, Travis [Scott], Kendrick [Lamar]. It was kind of dope.
Do you listen to any of the newer teen rappers, like Lil Yachty? What do you think of them versus the Bad Boy generation?
Yeah, yeah. They ain't like me and I'm not like them so I don't really compare the two, but I like Lil Yachty—he's my little homie and he's very, very, very talented, a true artist making an artistic statement. I love Future, French Montana, Migos, Kendrick [Lamar], Playboi Carti. And can't forget about 2 Chainz—pretty girls love trap music right now. [Laughs.]
What's the last piece of art you bought, or ogled?
I have this Anish Kapoor that I got that I really love. It's my newest art love, right in the entrance of my house. It's this big purple glass bowl.
What are your favorite social media accounts to follow?
The Shade Room, W, Vogue, Complex, Revolt, and Hypebeast.
Do you ever read your horoscope?
No, not a lot. But I am a Scorpio.
You were the world's highest paid entertainer last year. Do you have any business advice?
Be realistic, you know. That helps you to plan better, that helps you to understand when things don't go to the right way. Be realistic—words of wisdom from Puff Daddy.
Last thing: What's the last thing you do before you go to bed?
Use the bathroom. [Laughs.]
See W's most popular videos: