Ashley Benson on the Importance of Self-Care, and Why Her New Film Is Nothing Like Pretty Little Liars
It's where everything starts for the Pretty Little Liar.
---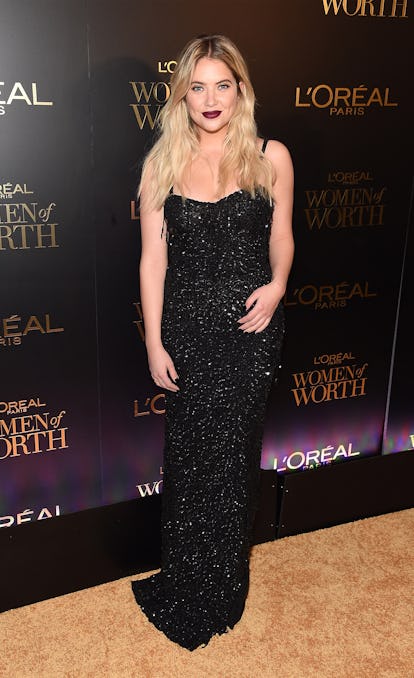 Kevin Mazur
When you spend seven seasons starring on a hit teen drama as well known for its over-the-top style as it is for its over-the-top plot twists, chances are you pick up a good beauty trick here or there. At least that's the case for Ashley Benson, who's spent practically her entire twenties as Hanna Marin on Pretty Little Liars, which went off the air in 2017. Off-screen, Benson herself has mastered the art of perfectly tousled blonde waves and edgy eyeliner in her downtime, most of which she spends in New York City. Currently, the actress is gearing up for the release of her first major post–Pretty Little Liars project: the upcoming film Her Smell, directed by Alex Ross Perry and costarring Elisabeth Moss, Cara Delevingne, Amber Heard, and Agyness Deyn, which will premiere at the Toronto Film Festival. "It's an indie movie with mostly a female cast and a departure from Hanna," Benson said. "I am really excited for people to see this movie. The cast was just amazing." Here, the actress breaks down the beauty tips she's picked up from set, and why self-care is so important.
What is your go-to beauty routine?
My beauty routine always starts with a shower, especially during the summer since it's so hot and I sweat so much. I am loving the new Olay Foaming Whip Body Wash because it smells amazing and leaves my skin soft with a nice glow. It is perfect for a night out. After I shower, I always apply coconut oil all over–it is my go-to. I always put sunblock on—it's a must for my everyday routine. To finish the look, I apply a hair oil for a natural-looking shine.
How do you maintain your routine while traveling?
I always make sure I have my necessities in my suitcase, like a solid moisturizer and hair oil.
What is your favorite form of self-care?
I love a good massage. I try to get at least one a week. A good workout is always important. I am a big fan of Rumble Boxing in NYC. It's a great workout and helps work off anxiety. I also love Pilates; it keeps your muscles long and lean like a ballerina.
What are your favorite beauty tips?
Always have a good eyebrow gel. If your eyebrows look great, you can get away with wearing less makeup.
What are the best beauty tricks you've learned from set?
Skincare is super important. Always wash your face regularly, and eye patches are super helpful. I also recently became obsessed with jade rollers. I use a cold jade roller on my face every morning to cut down on puffiness and also helps me wake up.