Selena Gomez and Justin Bieber's Hot Pilates Instructor On The Benefits Of A Heated Workout
Pilates instructor Shannon Nadj opens up about her heat inspired pilates workout class.
---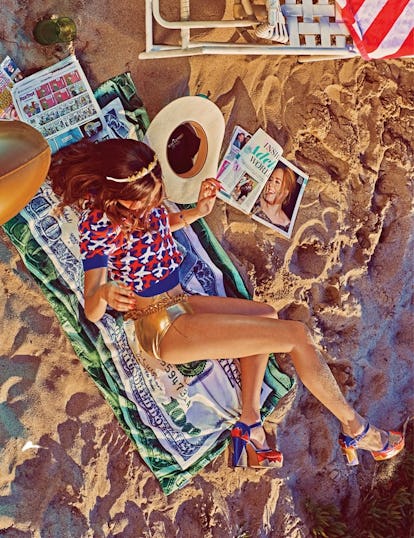 After they were spotted leaving West Hollywood's chicest hot pilates studio, leave it to A-listers and newly rekindled stars Selena Gomez and Justin Bieber to put heat-inspired workouts back on trend. But what exactly is hot pilates, you might ask? Take it from the source herself, Hot Pilates studio owner and instructor, Shannon Nadj, who taught the couple herself: "We're like the SoulCycle of pilates." From her intense sculpting classes to her powerful body toning sessions, Nadj has formulated the ultimate heat infused workout that have Hollywood's elite and professional athletes flocking to her chic L.A. studio. From the basics of pilates to the ultimate health benefits, here Nadj tells W why hot pilates should be your new workout for 2018.
How did you get the start in fitness?
I went to school in the New York and studied with Romana [Kryzanowska]; you can't get any more classical pilates training than with Joseph Pilates's protege. So my integrity with pilates is really important. I love the principle behind pilates and I love the results and everything that it stands for, I just wanted to bring it to a larger market and make it fun for people. To modernize it we added the music, to intensify it we added the heat, but it's heated to 95 degrees so it's not where you can't concentrate or can't breathe, it's just adds a little extra intensity. You're going to get a good sweat, you'll get the same benefits of detoxing, your muscles are warmed up and you are ready to go, and you'll feel like your butt got kicked, but in the most efficient, safest way ever.
How did you come up with the idea for hot pilates? What does the workout entail?
I'm all about efficient workouts, we don't have a lot of time in the day. So there was one day when I had to either workout or steam. I love steam rooms, so I decided I'm going to do my little pilates routine in there. And [I thought], "Why has no one ever thought of a heated pilates studio?" I thought of the idea maybe five or six years ago, but pilates wasn't that popular then. So I worked on the business plan for a couple of years and finally I felt that pilates was ready to go and people were trying it out more. I was basically in the heated steam room, doing my little classical mat routine, and never felt better. I started doing that regularly and my body just started changing.
Our most popular classes are our Pilates Sculpt and Pilates Booty. A breakdown of the class is 55 minutes long each, it's set to 95 degrees, we play music. Music is such an important element to the studio; it motivates you. It's a very intense workout, but for all levels. We love getting new beginners in here and showing them something new with their bodies.
What are the health benefits of working of using heat in a workout?
There are so many. First one is that you intensifying your workout, so your heart rate is going to be elevated. The sweat element, you're producing more sweat so you're detoxing your organs and your lungs and also preventing yourself from injury. When you're working out in the heat, your muscles are warmed up and also it lessens the warm up time and you can jump right into a workout. You still warm up the body, that's always an important thing, but we will guide you to keeping the body moving in the heat.
How do you cool down the body after a heat-infused workout?
After class, we always do a nice little cool down to get the body acclimated back to a normal temperature, get the heart rate down and stretch out. When you come out, obviously we suggest water, lots of water. But also if you wanted to add an element of really beneficial hydration, we suggest adding minerals to put into your water. So when you are sweating and overheating, you definitely have to replenish your body from natural sources. Coconut water is a natural electrolyte, lemon in your water is a natural alkaline. Also, I love adding a green drink.
Is this the type of workout that you can do on a regular basis? How would you incorporate it into your weekly routine?
I always suggest that when you first start anything new, try twice a week to get your energy up, and then as you get more comfortable with the heat and you become stronger, you can do it everyday. It's really like an addiction, you feel invigorated and you see results. It's just the community that we are building here; badass women who are in it for the same thing and supporting each other.
Is this workout for everyone?
I'll be honest, the heat isn't for everybody. It's a very specific person that's going to want to feel that intensity or go that hard. But I always like to say, try everything once with an open mind. Some people don't like the heat or their bodies don't adjust to it well, but we've rarely had anybody walk out of the class that couldn't do it. It is pilates, so it's intense, but it's more about smaller, concentrated, controlled movements. The heat just makes you feel like you are getting that intense pilates workout.
You've attracted such a popular clientele. Why do you think people are flocking to this workout now?
It's the results and the intensity of the heat. There's a trend of heated workouts that's becoming popular, but really it's down to the results. We are very organic with everything—the whole experience of the studio from when you walk in to the candles that we use and the eucalyptus towels that we provide. We keep it super fresh and spot clean.
[#article: /articles/5a281369f46871653c88d349]||||||