Madonna Admits She Uses Forks for Skincare and Self-Defense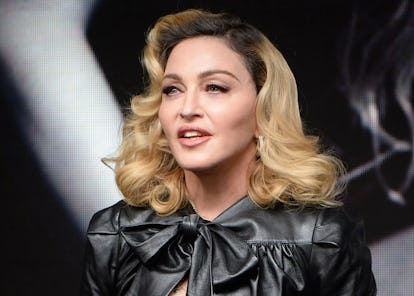 Kevin Mazur/Getty Images
These days, Madonna is more than just the queen of pop — she's also a bona fide beauty guru. The singer launched skincare line MDNA in the U.S. in September 2017, and has since given facials to everyone from Instagram star The Fat Jew to Jimmy Fallon. And while every Madonna interaction is bound to be full of unbelievable revelations, her latest Instagram post is especially interesting.
For starters, the pop diva is seen mid-facial, with her aesthetician, Skillets, dragging two fork-like tools across Madge's face to "tighten" her skin. Who needs jades rollers, anyway? The 59-year-old dons a Snapchat filter with bangs and a bow headband, and starts out by talking about Skillets's many talents, before things, uh, take a turn. "It's amazing, look at this little facial happening with a fork. Forks are really good, they tighten the skin," Madonna says. "Have you tightened your face with a fork? Have you ever stabbed someone with a fork? I've done both. Anyway, it's crazy." And then, just like that, the video abruptly ends.
We remember that tuning fork facials were a bit of a fad a few years back, but we've never heard of using an actual fork as a beauty tool.
It's perhaps no surprise whatsoever that Madonna would have stabbed someone with a fork at some point in her life, much less that she would casually admit to such cutlery-based attacks in a social media post. After all, her Instagram account is truly the gift that keeps on giving; from adorable videos of her children to topless pictures with Louis Vuitton bags, her feed is nothing short of #art. Oh, and who could forget the time she fought with customs in Portugal because they didn't believe she was really Madonna, and she chronicled the entire affair on her Instagram?
While she's busy living as a soccer mom in Lisbon and plotting her return to music sometime this year, we'd like more skincare tips and dark personal confessions in 2018, please.
Related: Madonna Polishes Her Cover of "Between the Bars" on Twitter in the Middle of the Night