Madonna Polishes Her Cover of "Between the Bars" on Twitter in the Middle of the Night
She might be a soccer mom now, but Madge is still keeping up with her "favorite song."
---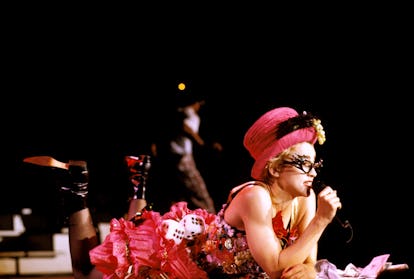 Ebet Roberts/Getty Images
At 4:35 a.m. on Thursday, in between images of her kids, promotions for her new skincare line MDNA, and outtakes from her world travels, Madonna posted a minute-long, black-and-white clip to her Twitter feed. In the video, Madge, wearing a pinstriped button-down and wire-framed glasses, strums her guitar softly and solemnly sings the second verse and chorus of Elliott Smith's "Between the Bars," a song off his 1997 record Either/Or. It's the indie folk classic album's 20th anniversary, and it seems even Madonna is here to celebrate.
"Between the Bars…………strumming my favorite song when everyone else is asleep. Eliot Smith #prayer #lullaby #love," she wrote, including the black heart, the red heart, the prayer hands, and the treble clef emojis. (Her favorite song it might be, but she did manage to lop off an "L" and a "T" from Smith's name.)
It's a popular song to cover: In 2006, Metric frontwoman Emily Haines recorded a cover for Rolling Stone; in the video, she sits on a stool with her sunglasses still on (extremely early-'00s) and bobs back and forth while singing alongside her guitarist. The Civil Wars performed it as a duet in 2009, as did Jessica Lea Mayfield and Seth Avett in 2015.
But her Twitter video is not the first time the Queen of Pop-turned-ultimate soccer mom has had a go at the most famous of Smith's canon. (She also introduced Smith's performance of "Miss Misery" at the 1997 Oscars, when he was nominated for Good Will Hunting.) In 2006, she told Q magazine it was the song from the past 20 years she most wished she had written—quite a claim for the author of "Like a Prayer," a song so bold it was condemned by the Vatican. (#prayer.) She then performed "Between the Bars" at the launch party for secretprojectrevolution, the short film about the prison-industrial complex she co-directed with Steven Klein, at the Gagosian Gallery in New York in September 2013. In a video from that performance—which is more performance art than stripped-down, early-morning cover—Madonna is dragged onto the stage, handcuffed, by two men in corrections officers' uniforms as the first chords of "Between the Bars" are plunked out on piano. She performs the song kneeling on the floor; men dressed in black dance around her during a piano interlude towards the end.
She also broke out the track just last year during her inaugural "Tears of a Clown" showcase in Melbourne, Australia. Videos from the performance depict an odd juxtaposition, Madonna perched on a stool at the Forum Theater, wearing a pink wig and striped tights, strumming away at the sad, sad song.
Still, despite several dry runs before her latest rendition of the song on her Twitter, Madonna is still working on nailing "Between the Bars." During her Gagosian performance, she unfortunately had a brief lapse in the lyrics—so it's probably for the best she's been dusting off her cover. Even if it's under cover of darkness.
Related: Madonna Visits Ex-Boyfriend Jean-Michel Basquiat's Paintings with Her Kids