Madonna Visits Ex-Boyfriend Jean-Michel Basquiat's Paintings with Her Kids
"My Past meets My Present!!"
---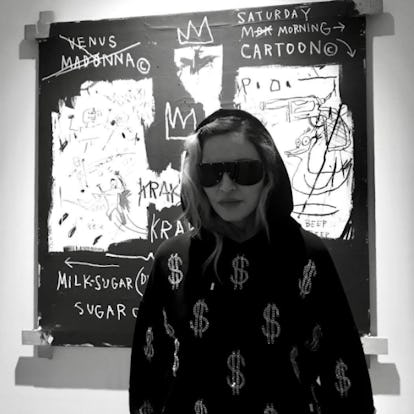 instagram.com/madonna
Out of all the mysterious celebrity unions that have transpired, Madonna and Jean-Michel Basquiat's would probably definitely crack the top 10. Back in 1982, the two icons briefly dated, just as they were both on the brink of mainstream fame. While their relationship fizzled out fast, it's stayed the subject of speculation over the past few decades—most recently, as a result of Madonna's latest Instagram posts. Today, the pop artist shared a few photos from a trip she took to visit her late ex-boyfriend's work, joined by her two adopted daughters Stella and Estere, who have become adorable staples on her Instagram.
"Apocryphal. …………JMB ♥️," she cryptically captioned one photo of herself, referencing the biblical term which means "writings or statements of dubious authenticity," perhaps a jab at the many rumors that have stemmed from their union. In the photo, Madonna stands in front of a Basquiat piece that shows her name with an "X" through it.
"Estere Stands stall in front of Fab Five Freddy! ????????," Madonna captioned another photo from her field trip to the Barbican Centre in London, which depicted hip-hop pioneer and Basquiat collaborator Fab 5 Freddy, most famously name-checked by Debbie Harry in Blondie's 1980 chart-topper "Rapture." "Because she knows…..,,,,,,,,,,,#epictimes"
Madonna also shared a GIF of Stella and Estere running in front of another work of art by Basquiat, with the caption, "My Past meets My Present!! JMB ♥️ #legend."
Last year, Madonna commented specifically on her past with Basquiat, telling Interview, "I remember getting up in the middle of the night and he wouldn't be in bed lying next to me; he'd be standing, painting, at four in the morning, this close to the canvas, in a trance. I was blown away by that, that he worked when he felt moved." The singer turned beauty mogul also shared some details from their breakup in another interview with Howard Stern, as Artnet News reported. "He wouldn't stop doing heroin. He was an amazing man and deeply talented, I loved him," she said. "When I broke up with him he made me give [the paintings he gave me] back to him. And then he painted over them black."
See what's trending on W video: