Madonna Shares Behind-the-Scenes MDNA Skin Care Line Video with The Fat Jew
Coming to the States next week.
---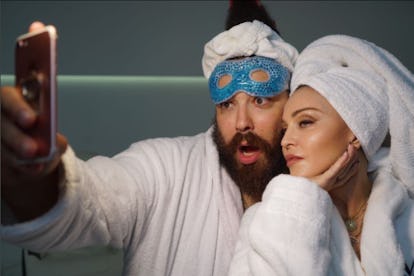 instagram.com/mdnaskin
Madonna's Instagram is the gift that keeps on giving. Not only is it a goldmine of adorable videos of her children, glimpses of her otherworldly life, and awe-inspiring selfies, it is also full of hilarity. That's in part thanks to a new video she posted that offers a behind-the-scenes look at her upcoming MDNA skin care line with a cameo from viral comedian The Fat Jew.
"Bitch, you're Madonna," he tells her in curlers and an eye mask. "Bitch, you're right," she says. The clip is full of similar exchanges with Madonna later telling him, "You have beautiful skin," to which he replies, "You have a symmetrical face."
It's only a clip of what's to come though as the video promises the full campaign will be out September 26. That date may also be the release date of MDNA, as in the caption Madonna revealed that her line will be launching Stateside next week. "Bitch I am MAdonna! ??? ???????????????And I'm so excited to share my new skin care line with you!! ??♥️?? ♥️??♥️????♥️??. Coming to America next week!," she writes.
Aside from the comical exchanges between Madonna and the Fat Jew, the video also offers a closer look at some of the MDNA products, including the chrome clay mask, which contains all-natural volcanic clap from "Italy's famous wellness spa town of Montecatini Terme in Tuscany," as the product listing touts. There is also closeups of the eye mask and the serum, which contains a formula created by Madonna "for her own personal use."
This isn't the first time Madonna and the Fat Jew have hung out. Back in April of 2015, The Fat Jew revealed in an interview with then-Hot 97's Ebro (below at the 26:00 mark), "I went to Madonna's house. We didn't fuck. It was really fun. She wanted to meet. [Her assistants] were like, 'Is there anything you want in advance?' over email. I was like, 'What do you mean?' They were like, 'Anything. Is there any outfit you want us to get for you? Or any snacks?' So I was like, 'Okay' and wrote 'mad snacks'. I could have gone a lot more HAM with it because I think they would have done whatever… We sat and we talked. She got mad spiritual. She went mad Kabbalah with me. I smoked a joint. She took a hit. She also gave me a massage."