Madonna Is Arguing With Portugal Customs Over a Package They Won't Release to Her
"Bitch I'm Madonna" has a new meaning.
---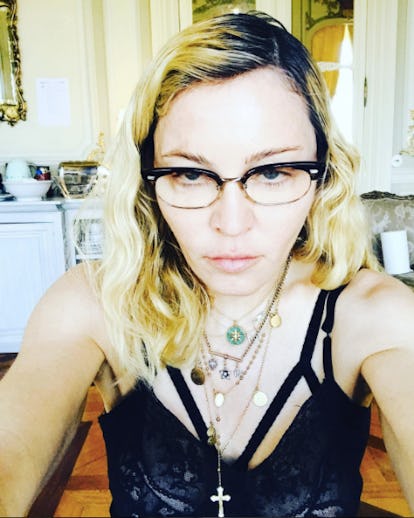 instagram.com/madonna
Madonna has been living her best life all summer long, as seen on her active Instagram account, with the exception of one minor hiccup: FedEx. Apparently, not even celebrities are safe from the frustrations of package deliveries, as the pop icon took to social media to vent about a recent one gone wrong. "When you've been arguing with customs all week ??. that you really are Madonna and they still won't release your package," wrote the recently turned 59-year-old. "?!#bitchplease #restingbitchface #bitchimmadonna ?."
In fairness, as one of the most famous faces in the world, Madonna surely has her lookalikes. But perhaps the local FedEx in Portugal isn't aware that artist recently moved to the country to become the world's most stylish soccer mom. The news of her move recently broke in the wake of Madonna posting up a storm from Lisbon, where she's cheering on her 11-year-old son David Banda, who plays on Portugal's famous Benfica club team. "Glorioso! ? Lisbon I had so much Fun! I cant wait to come back one day and unlock all of your secrets. ?????," Madonna wrote back in late May, before she reportedly purchased her own home there: a UNESCO-protected estate dating back to the 18th century dubbed the Quinta do Relógio, which she allegedly scooped for £5 million. Madonna isn't the only famous person to live in it either as the home apparently has a pedigree that includes being previously owned by the real-life nobleman that was the basis of The Count of Monte Cristo.
Even living in a famed historic mansion has its downsides though as Madonna is still waiting for her FedEx package to be delivered, giving a new meaning to her 2015 single "Bitch I'm Madonna." With her 10 million and counting followers on Instagram, you would think the issue would be resolved by now. Luckily for Madonna, who also shared the post on Twitter, it didn't take long for a FedEx customer service rep to reach out on social media. One FedEx employee tweeted in response, "Hi, this is Julie. I would like to help. Please DM your delivery address, tracking & phone numbers," which has since amassed 2,225 likes.
If only the rest of us could use our selfies as a valid form of identification.
Who Flexed the Hardest on Instagram During Summer 2017?
10 Famous Couples Spotted at the US Open Over the Years