The Essential At-Home Arm Workout, Courtesy of Georgia Fowler
The Kiwi model reveals how she's keeping her arms toned in quarantine—and demonstrates how to lift weights with water bottles instead of dumbbells.
---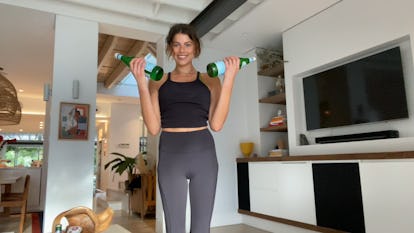 One of the most challenging—albeit superficial—hurdles of being in quarantine is figuring out how to shift exercise from the gym or outdoors, into the home. The New Zealand model Georgia Fowler has arrived to assist you on arm day.
Fowler—best known for walking the Victoria's Secret runway, but who has also been on the cover of Harper's Bazaar Australia, Numéro Magazine, and more—demonstrates how to tone your triceps, work out the shoulders and the biceps, and finish strong with a simultaneous ab and arm exercise.
Don't have dumbbells at home? "No worries. A lot of people don't," Fowler says, as she reaches for a couple bottles of San Pellegrino to use as stand-in weights. "You can grab some bottles of water, wine bottles, beer bottles, a coconut, whatever you can find."