Austin Powers Halloween Masks Are Sold Out, and It's All Baby Driver's Fault
Prepare to see a lot of Austin Powers this year.
---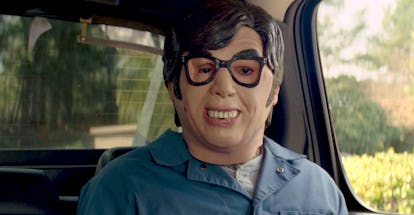 Baby Driver/YouTube
Baby Driver fans and Ansel Elgort obsessives who planned to don a Mike Myers mask as part of their Austin Powers Halloween get-ups may be disappointed this year. Austin Powers rubber masks are now flying off the shelves, and it's all because of a semantic misunderstanding in Edgar Wright's popular summer blockbuster.
The mask was worn in a Baby Driver bank robbery scene, as the result of a mix up between the thieves, who planned to rob a bank wearing Halloween masks. One of the robbers confused the request to look like Michael Meyers, the name of the Halloween slasher villain, with Mike Myers, the star of the Austin Powers films.
Another one of the robbers further confused the character of Michael Meyers with a different masked '80s slasher villain—Jason Voorhees, the antagonist of the Friday the 13th film franchise who tortures a group of teens at summer camp while wearing a hockey mask. Since no self-respecting bank robber would ever hit up a bank without a mask, the robbers move forward with the robbery, and the costumed trio successfully pull off the heist.
The surge of interest in the Austin Powers swinger-spy costume is more than welcomed by director Edgar Wright, as he told The Hollywood Reporter, "I have given people some very easy Halloween costumes, like Shaun in Shaun of the Dead." A Baby Driver Austin Powers mask-and-jumpsuit combo is a very easy look, indeed.
In the original Halloween—which was released in 1978—the murderous Michael Meyers actually wore a mask of a deformed Captain Kirk, the Star Trek hero portrayed by William Shatner in the 1960s. So, really, if you wanted to get technical, a "Michael Myers" mask is actually a Captain Kirk mask, and the Star Trek universe could not be further from that of Austin Powers, which is a parody of the James Bond 007 international spy flicks in the first place. Since the Austin Powers masks are selling like hot cakes, and sunglasses and bomber jackets have never been easier to come by, it might be worth it to just dress up as Baby this year, the unmasked vigilante who causes the least amount of confusion.
Related: Nick Antosca of Syfy's Channel Zero Picks the Best Horror Movie of the Iconic Franchises, From Chucky to Halloween