Meet the Australian Duo Designing Swimwear You Can Wear Anywhere, from the Beach to a Bar
Tuyen Nguyen and Michael Lim talk about their line Her.
---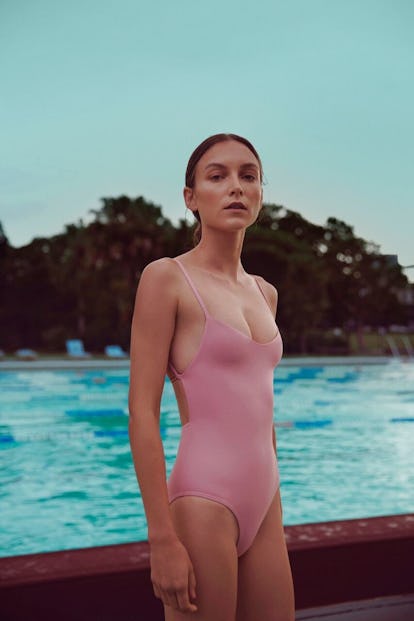 Courtesy of Her
Tuyen Nguyen and Michael Lim created the swimwear brand Her. in 2014 as an answer to impractical, fashionable bathing suits they saw on the market. Their goal is to offer functional, flattering, timeless swimwear to women of all ages. Naturally, they quickly earned a cult-following and are planning to launch their ready-to-wear collection later this year. Here, the Sydney-based duo open up about how their surroundings inspire them, why Romy Schneider in La Piscine is their ultimate icon, and more.
What is your favorite beach? One of our favorites is Clovelly Beach in Sydney. It's our go-to every summer. It's hidden in a little bay which makes it the perfect spot for swimming or snorkeling and then spreading out a towel and relaxing on the sun drenched concrete platforms that border it. Watching the subtle changes in the water, the cliff faces and the concrete platforms of Clovelly as the light rises and falls from sunrise to sunset has inspired our past collection color palettes.
Clovelly Beach gets very crowded on a hot summer day so sometimes we head over to Gordon's Bay, a secluded spot which is a 10-minute walk south of Clovelly. Gordon's Bay is an oasis – it's only accessible on foot via a coastal walking trail. It's quieter than Clovelly and there are lots of sprawling rocks that you can bask on with a book. When we give ourselves some time off from work, we love to take a drive down south and spend a weekend on some of the beaches within Booderee National Park on the coast of New South Wales. It has the whitest, most pure sand and crystal clear waters.
What is your favorite thing to do pre- and post-beach? In Sydney we're never far from the beach, so we don't have many rituals or make too many plans. We put on sunscreen before leaving the house, and after a swim there's nothing better than going to a local bar or pub for a drink with friends.
Do you prefer the pool or the beach? Summer for us is all about balmy days at the beach. There's no better way to relax than feeling the salty breeze hit your face, hearing the ocean and letting your bare feet sink into the sand.
What do you always bring to the beach? A book, sunscreen, water, a beach towel, a cotton shirt to cover up in and our film camera.
How would you style your swimsuit from the beach to a night out? All of our one pieces are designed to be layered. They create a timeless look when worn with loose, wide leg trousers, a pair of sandals and an elegant pair of gold hoop earrings. Or throw an oversized cotton shirt over one of our bikinis and pair with a long skirt and salt-slicked hair. As a natural progression of our swimwear, this year we're introducing our first collection of resort ready-to-wear. The pieces are designed for the modern traveller's wardrobe and are made to last from season to season.
What is your ultimate do's and don'ts at the beach? Growing up in Australia, we know it's so important to use sunscreen and reapply throughout the day. Spritzing a little oil through your hair and keeping your skin moisturized will also protect you from the salty air. The beach is all about feeling free spirited, so leave your heels at home and avoid over-accessorizing. Which swimsuit reference has influenced you most? Romy Schneider's timeless wardrobe and beauty in the film La Piscine. Her summer holiday look is sleek and feminine yet uncomplicated.
What is your favorite memory at the beach? Tuyen: When I was growing up, my family and I spent our weekends at La Perouse, just south of Sydney. We went swimming, exploring, fishing and more swimming! For dinner we cooked whatever we'd caught that day. It was the freshest seafood in Sydney. Michael: Catching my first ever wave at Maroubra Beach.
What are you reading this summer? Tuyen: I'm re-reading one of my favorites, The Alchemist by Paulo Coehlo. I was also recently gifted Wolfgang Tillmans' Abstract Pictures photo book. It's a beautifully printed book that you can get lost in. Michael: I'm making my way through The Art of War by Sun Tzu. What are three songs on your summer playlist? There are too many to choose from, but these three are on high rotation! "Junie" by Solange, "Love/Paranoia" by Tame Impala, and "Summer Madness" by Kool & The Gang.
The Ultimate Guide to Summer's Best Swimsuits
Watch Australian Actress Margot Robbie Audition for Marlon Brando's Role in "On the Waterfront"