Tyler Posey and Avan Jogia Will Play Boyfriends in Now Apocalypse, an Upcoming Comedy Series on Starz
The upcoming comedy series from Gregg Araki and Karley Sciortino will follow the young couple as they search for love and fame in Los Angeles.
---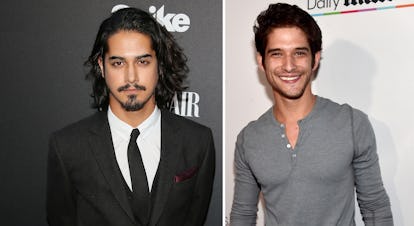 JB Lacroix
No, you're not imagining things—teen television heartthrobs Tyler Posey and Avan Jogia will play lovers in Now Apocalypse, an upcoming surrealist comedy series on Starz.
According to Variety, Steven Soderbergh (who has a preexisting relationship with the network thanks to The Girlfriend Experience, his Golden Globe–nominated series about call girls and escorts) will produce Now Apocalypse for Starz with Gregg Araki, the bad boy cornerstone of New Queer Cinema. Araki will cowrite the 10-episode series with Karley Sciortino, a sex columnist for Vogue.com and host of Slutever on Viceland.
The plot of the series sounds like a Tumblr fan-fiction dream come to life. Set in Los Angeles, Posey will take on the role of Gabriel, "an incredibly charismatic and mysterious guy," and Jogia will play Ulysses, the young man who matches with Gabriel on a dating app and "grows increasingly troubled as foreboding premonitory dreams make him wonder if some kind of dark and monstrous conspiracy is going on," after the two start seeing each other. Now Apocalypse could be extremely dark, extremely funny, or both, if Araki's previous work—like Mysterious Skin, his 2004 drama starring Joseph Gordon Levitt as an abused sex worker, and Smiley Face, the 2007 stoner comedy starring Anna Faris—are any indication of the tone of the coming-of-age series.
Jogia previously starred on the Freeform (then known as ABC Family) thriller series Twisted, and Posey may be familiar from his starring role in Teen Wolf and his recent recurring role on Jane the Virgin, opposite Gina Rodriguez. In Now Apocalypse, Posey will be joined by fellow MTV alum Beau Mirchoff, as well as Roxane Mesquida and Kelli Berglund, as they all come of age in the city, in search of love and fame.
Related: The Things Steven Soderbergh Will Tell You While Daydrinking in Central Park